Friday, December 31, 2004
Christmas celebrations and a whole week's holiday
It's so good to be able to sleep in and laze around all day long. That's what we have been doing for the past week. I have not don very much knitting, but Ihave done more spinning. I attempted to spin my first batch of single ply yarn. I left some of it as single ply yarn and I plied some of it. Here's a picture of it.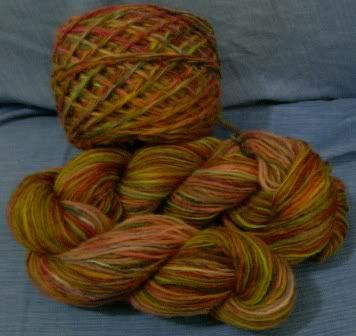 I dyed the pencil roving before spinning it. The pencil roving was dyed as a 'cheese' or cake and I just randomly poured colours onto it. It's looked a little strange before I spun it but after spinning, the colours look quite attractive.
Back to the Christmas celebrations. I scored well in terms of presents this year. I received an mp3 player (it also plays FM radio, which means I can watch tv in the gym - YAY!), and some icy pop makers (little plastic containers with holders for making icy pops), and a telephone (the old one in my house does not work, and that
really
defeats the purpose of having a telephone in the house). All these were from Chris. Thank you Chris! I also received some money for the 'wheel fund' and a cooking dvd. The most unusual gift I received this year was Knitwit.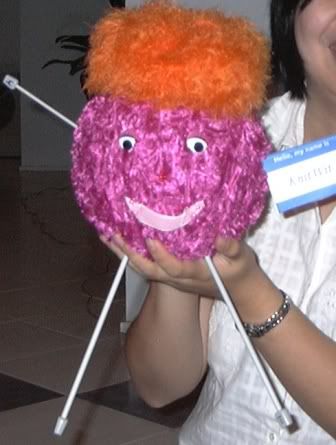 Knitwit now lives in a basket above my fridge together with my other odd balls of acrylic yarn. I think Knitwit is cute in an ugly but adorable kind of way. I also received a scroll with a make believe story about me called ' An Amish Way of Life'. I thought it was hilarious, especially since there have been so many jokes about me turning Amish since I bought my wheel.
Christmas Eve dinner was great. The potato bake was a hit, and the turkey rolls didn't turn out too badly. Chris' mum provided menudo and noodles. It was all yummy. On Christmas day we went to visit Chris' extended family and on Christmas night we had dinner with the Cooper-Garrett clan. It was an enjoyable Christmas celebration all around.
The only disappointment amidst all the celebrations this year was my car breaking down. The ignition barrel on my car died and we had to get it towed to the service centre to get fixed.
I dragged out my striped blanket yesterday to work on. It's been languishing in my WIP pile for a while now. It's really slow and boring as it is knitted entirely in garter stitch.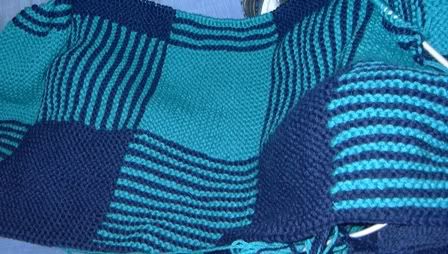 After I have knitted as many strips as I can in this striped pattern, I will knit a black border around it, just to make it larger. It won't be very big - probably about 4 feet by 4 feet.
Happy New Year everyone!
Thursday, December 23, 2004
I am all egg-tarted out
I worked at home today, and spent my time working and making Portuguese egg tarts. I had to make 3 batches before I could get the recipe right. I lost my original recipe, and man, was that a good recipe! Anyway, I pulled one off allrecipes.com. The custard bit came out too doughy. And so I had to tweak it.

This is the final recipe. Enjoy

Ingredients
4 egg yolk
2 whole eggs
1/2 cup milk
1/2 cup cream
3/4 tablespoon corn flour (or rice flour or just wheat flour)
3/4 cup sugar
1 large piece of lemon rind
1/2 teaspoon of vanilla essence
1 sheet puff pastry

Preheat oven to 200 degrees celcius

first cut the piece of puff pastry in half and place one half on top of the other. Then roll it like a swiss roll (or jelly roll). Slice the roll into 12 'rounds'. Flatten with a rolling pin.

Grease a 12 hole muffin pan. Line each hole with a piece of pastry

In a bowl, whisk the egg yolks, eggs, flour and sugar. Add the milk and cream to the mixture. Add lemon rind and vamilla essence

Stir the mixture over a pot of simmering water and cook slowly till it is thick enough to coat the back of a wooden spoon. When it is thick enough, take it off the heat.

Pour mixture into the pastry cases.

Bake till the tops are lightly browned (brown spots may appear, and that is ok).

Enjoy!


Wednesday, December 22, 2004
Wow! I did it!
I am SO proud of myself.
I dyed it, I spun it, I plied it and here it is:
Tada!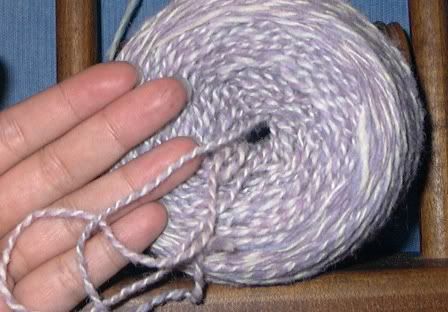 Ok, so I cheated a little, and it was spun from pencil roving but even so.. hey, for a beginner, it isn't bad, if I do say so myself
[insert big grin here]
I don't think it's clear in the pictures but there are subtle colour changes, deliberate ones, I might add, in the lavender part of the yarn. I think it is clearer in the roving. here's a picture of it in it's original form.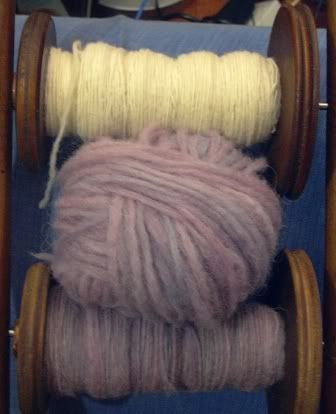 This is what it looked like before I plied it. The top bobbin holds the yarn spun from white pencil roving. The lavender stuff in the middle is the pencil roving that I dyed, and the lower bobbin holds the yarn spun from the lavender pencil roving.
Oh, and remember how I said that dyed some hand spun to use as ribbons on the Christmas presents. Here's a picture of a small skein that I dyed.

Ok, now back to that lavender/white yarn I am SO proud of.. what should I make with it? It's about 4 or 5ply thickness (that's fingering-sportweight for all you non-Aussies out there). Suggestions most welcome. :) Thanking you in anticipation of getting all those wonderful ideas!
Tuesday, December 21, 2004
3 more sleeps to Christmas Eve
That's right, I count sleeps to Christmas Eve and not Christmas day. that is because the big celebration at the Hernandezs' is on Christmas Eve. tehy are also the only people I know who open presents on Christmas Eve. Suits me fine, as I'd rather not have to get out of bed at some unearthy hour on Christmas day to open presents with the family.

All presents are wrapped and ready to go. I hand dyed some hand spun wool to use as ribbons on the presents. This year's present theme is 'home made' you see, and none of the presents are really home made, so I decided to compensate for that by adding hand made trimmings to the presents. I printed out some gift tags and they don't look half bad.

I am about 5 inches into my leaf panel tank. I still have another 20 or so inches to go. the pattern says that it should measure 22 inches in length, but I think I will make it a wee bit longer. I dout I will have it finished any time soon. The pattern is writtenfor knitting flat and I converted it to knitting in theround. what I now have to do is read every other row backwards, reversing the knit and purl stitches at the same time. I hope the pattern will become apparent soon so I can just knit by looking at the work rather than trying to decipher the instructions.

I got bored of spinning white fibre tonight, so I dyed some of the pencil roving with some pinks and blues and it's come out purple-ish. It's looking good. I can't wait for it to dry so that I can spin it. I am going to ply it with the yarn spun from the white pencil roving to get a twisted colours look. Now that I have unwound the roving into a skein, I think I will have to spin it off the swift as I dont have a winder large enough to wind it back into a ball or 'cheese'. Silly me forgot to wear gloves when dyeing the roving and now I have blue fingers! I hope it washes off tomorrow.

I also put up a tv for sale on Ebay. You can find it by clicking on the link on the right - yes, that's right, the one that says "things I am selling on Ebay". Interested? Only if you are in Sydney. It is so HUGE, and heavy, thee is no way I am going to attempt to post it. It's brand new and it's a prize from work which I don't really want. I also can't fit it into my house through the narrow door way!
Monday, December 20, 2004
Lots of knitting and some baking
I dove to Canberra (about 300km away) and on the weekend and stayed with Anne-Maree and her family. I had a lovely time knitting, baking and just hanging out.
I managed to slip in a visit to Maisie's, to see her stash and her baby. They are both lovely, as lovely as Maisie herself.
Her mother (Grand-moogi to all you KR-ers) taught me to make a Christmas cake and ice it. Wow! I thought it was a lot harder than it was. I guess it would be really hard to do a REALLY good job, but hey, for a first attempt this isn't too bad, is it?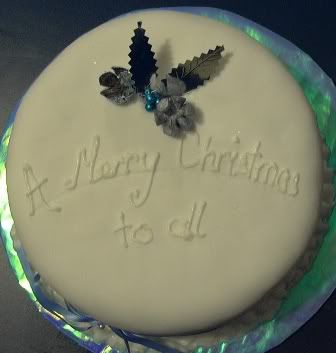 I didn't do the writing and it DID have a shell edging, but the shell edging melted during the drive home. Anne-Maree made the decorations. I DID roll out the icing and put it on the cake. The lumpy bits you see are the air bubbles. Like I said, it's not perfect, but hey, for a first try...
Before melting: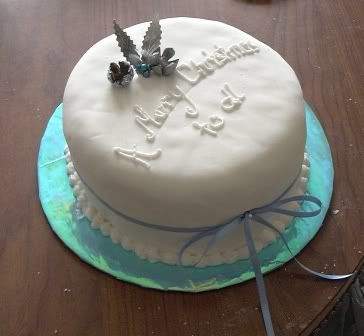 After melting: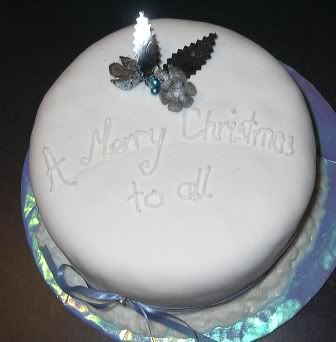 I guess it doesn't look too bad...
And look at the mess we made!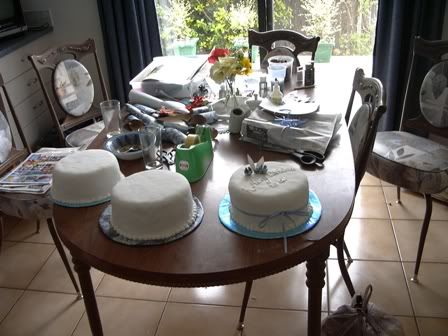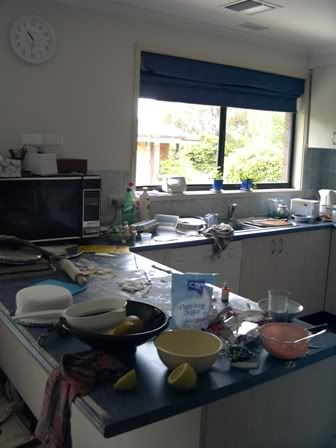 I re-started my shapely tank and it no longer is a shapely tank. I am going to make it a tank (not shapely) and have a leaf lace panel up the middle of the front. I'm plodding along.. and it's ot getting anywhere quick.
For Christmas ths year I am cooking turkey. Well, part of a turkey. I am cooking a turkey roll and some roast vegetables and potato bake. That's my contribution to the Hernandez clan Chritmas eve meal. Ok, that and christmas cake (and custard if I can be botherd to make it). I am thinking of making Portuguese egg tarts, but I may not have the time. For dinner with Sharlyn and family on christmas day, I am bringing pudding. It's too late now to make Christmas pudding, so I am going to cheat - I will buy a pudding and drown it in brandy a couple of days before Christmas. I think that will work..
Thank goodness I have done all my Christmas shopping! I heard that the crowds are really bad today at the shops. I am SO grateful I don't have to go shopping this week, well, apart from grocery shopping.
Thursday, December 16, 2004
My computer has been fixed. YAY!
My computer was fixed today. It's not wheezing anymore, and it is working just fine now.
Lots have happened since the last time I blogged.
I received (hristinac's present. Here it is
I thought I'd wait to open it, but I couldn't wiat. yes, I don't have enough will power. Isn't that lovely of her? I reeived 3 sandra magazines, 2 UK Knitting magazines and a pattern book for Rowan Calmer. Chris had to put up with me last night, flipping through the books saying, "Oh I want to make that, and this.. and OH! This one this one!"
I also received my gift from Diana. She sent me some yarn (the picture didn't turn out). I was very excited to find a variety of yarn, some of which I have never used before.
Have I mentioned I am going to Canberra this weekend? I believe I have. Anyway, I am! I am going to visit a few new friends from
KR
. I am visiting Maisie (that's Littlemaze to all you KR folks) who has just given birth to a beautiful baby boy (I know he is beautiful because I have seen the pictures!). I made her a baby hat which I hope the baby will grow into next winter. Here it is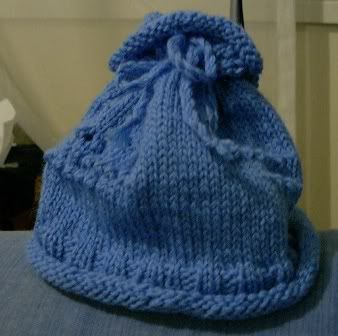 You can't tell from the picture that I have random yarn over holes on the hat. It ooks like a little like a 'ripped' hat. I have made it adjustable so that Maisie can lengthen the hat if she needs to as the baby grows.
I have also been practising on the spinning wheel.
Here is what the wool looked like when I first started spinning.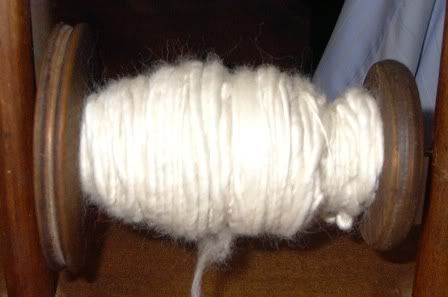 The flash bounced off it badly, but it really IS as uneven as it looks. I think you can see that. I went ahead and plied that with my brown yarn spun from sliver.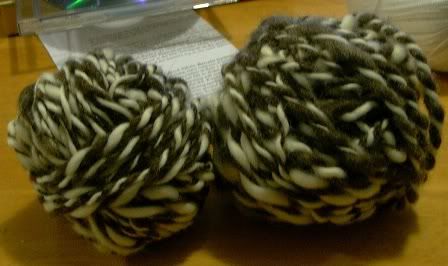 It doesn't look half bad, even if I do say so myself. I am planning to knit a hat from it, using large needles.
Ok, my wheel beckons...
Monday, December 13, 2004
My hdd died...
Yup, the hard disk on my laptop died - likefully died such that I can't even retrieve data from it. Lesson learnt - back-up ALL THE TIME!
I am now using a temporary notebook from work. The service engineer won't be out to look at it till Thursday. How unfortunate. Guess I won't be blogging much this week.


Thursday, December 09, 2004
Virginia Farm rocks!
I went to
Virginia Farms
today to buy some fibre. I wanted to be able to play with my wheel over the Christmas break,a nd I wanted to make sure I had stuff to ply with before the shops closed for the year. Jenny, the lady who owns the place rocks! She gave me a quickie spinning lesson. She made it seem so easy, but I am sure that is deceptive. She offered to let me have a go at her spinning wheel, but I decided that maybe I should learn to work the treadle first - Chris does not tease me for being 'unco' for no reason! I bought some 250g of white wool top and 200g of grey-brown sheepy looking sliver. I can't wait!
I also met a lady I had never seen before, and she recognised me from my blog! WOW! It's a little disconcerting, you know, being recognised from my blog. I don't know whether I like that. hwover, I guess that's what happens when you keep a public blog - people know what you choose to tell them.
I finished the Farrow Rib Scarf for Granddad tonight. It measures about 50inches. I ran out of black wool. It looks pretty good. I tried different cast off methods to see which would work best. I ended up casting off the 'normal way' (k2, pass stitch over, *k1, pass stitch over repreat from *)The firmer cast off seemed to suit this scarf as it did not really need any elasticity.
I packed Diana's gift exchange today and it should reach Melbourne by next week. I hope she enjoys it. I never know what to send for these gift exchanges. Oh , and that reminds me, I have not heard from Christina yet. I hope she has received her package, or will receive it soon, but I doubt she will get it till next week. the parcel has to travel from here to London, which is a fair way for anyone. Here's a picture of what I sent her.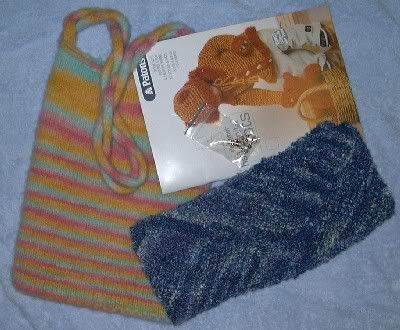 Want a closer look at those stitch markers?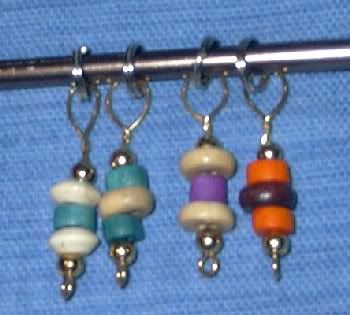 I am looking forward to going to
SSK
this weekend. I have never been to a knitting group before. What do I expect it will be like? FUN! (I hope) the pictures always look like they have lots of fun. i have wanted to join them for a while, and now I get to go play with them on Saturday!
I have not made much progress on the shapely tank nor Tempting. So much for finishing one of them by this wekend, huh.. Well, it's back to knitting for me.
Wednesday, December 08, 2004
Company End of Year party
The company I work for had their end of year party (otherwise known as Christmas party) at Luna park tonight. It was good for as long as the rides lasted :) I went on a few rides, but did not feel sick as most of them were rather tame. I ended up giving a lift to some of my colleagues and ended up getting home at about 10.45 It's not late, for a party night, but considering that I am expected to work tomorrow...

Mum made a good suggestion re the ribbon for Tempting. She suggested that I use a button insted of velcro as velcro is stiff. I am thinking that maybe I should use press studs. I had not even considered buttons till Mum suggested it.

I can't wait to get my spinning wheel. the postage was only $12.90!! Can you believe that? The total cost of my spinning wheel is $121. A brand new one would probably cost me 4 times as much. I can't wait!
Elann sale .. and I had to resist
Elann
is having a sale on its Peruvian Baby silk (baby Alpace silk blend). It's a 4ply yarn and I think it will be perfect for a lace shawl. However, having just purchased a spinning wheel, how can I justify the purchase of more yarn? And have you seen my stash of yarn?! But I want it so badly.. so I went ahead and filled my shopping cart with some sapphire, aubergine and mocha yarn.. and then I let it all go, and my selections vanished into the realm of virtual nothingness.
I keep telling myself that thee will always be a next time, but like the spoilt only child that I am, I want it, and I want it NOW!
I turned away from Elann in disgust and worked on Tempting. I have now completed just over 5 inches. It's coming along well. I told my mum that I didn't like the ribbon bow, and she agreed that it was a bit much. I am thinking of cutting lengths of different coloured ribbons, sewing the ends, and attaching velcro to the ends so that the ribbons are removable and I can change he colour of the ribbon depending on my mood. Can anyone come up with a reason why that will not work? So I won't have a big bow on my front, just a neat little ribbon detail on the neckline.
Granddad's scarf is 60% done. I have completed about 35 inches. I will knit another 15 inches and see whether it is long enough. If it isn't I will knit an additional 10 inches. I don't know how long it needs to be, but I suspect somewhere between 50 and 60 inches is a good length.
Today I went for my first Pilates class in nearly a year. Oh man! I never knew my belly had those muscles. I feel sore now. I have never worked those muscles before and pulling them in was hard work. It was a good work out, though, and I probably had a better work out today than I do most other times I have been to the gym. So far I have lost about 4kg in as many weeks. My aim is to lose another 11 and then I'll stop. It's not like I am starving myself or anything like that. Hey, it's me, and food is my friend. I am just trying to be more selective about what I eat. I hope to have lost the other 11kg by mid next year. Wish me luck!
Monday, December 06, 2004
A new haircut, and a spinning wheel!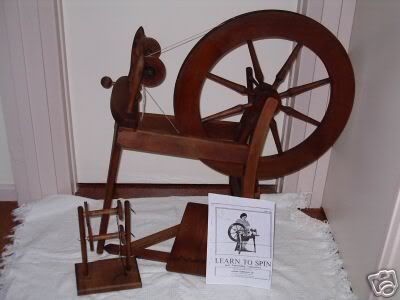 That's a picture of my new baby. I bought it from a vendor on Ebay today. I think it's an Ashford traditional wheel, but I don't know for sure as it was only described as a solid wood Ashford wheel. I did not think I would win it as I was not willing to spend more than AU$120 for it. I thought I would be outbid when I placed my bid of AU$110. However, I won the auction! I am so pleased I am beaming from ear to ear. I hope it gets here soon!
For Christmas this year, the Hernandez clan has decided that everyone gets a $15 present from everyone else. I have decided that this year I shall ask for cash. At first I contemplated Lincraft or Spotlight vouchers. However, since winning the bid on the wheel, I have decided to ask for cash contributions to the 'wheel fund'.
I also had a haircut today. There is a new hairdresser at the corporate park where I work. My hair was annoying me all day, especially when I had to go out to Macquarie Shopping Centre at lunch time. Even when I had it up in a ponytail, it was ticking to the back of my neck. Yuck! So I walked into the hairdresser's and had it all cut off. She cut off so much hair that her assistant had to sweep the floor twice while I was there. the whole time she was cutting my hair she was commenting on how much hair I had and how thick it was and how wonderful it was. My thick hair, the bane of my life. Seems like everyone loves it - everyone but me, that is. I have been told that I will appreciate it more as I age and see my friends balding. Hmm...I find that hard to believe. So far the haircut looks good. However, it's always hard to tell how good a haircut is until a few days later - I like to wait and see how it is wearing before I decide whether I like it.
Granddad's scarf now measures 26inches. I hope to finish it well before Christmas so that I can wash and dry it before giving ti to him on Christmas day. I knitted it at the Hernandezs' yesterday and got Kitty hair all over it. I know he's not allergic to cat hair, but it would be nice to give something that does not look dirty and hairy.
Sunday, December 05, 2004
10 inches and going strong...
Yes, that's the Farrow Rib Scarf that I am referring to, and I am rater enjoying knitting it, cotrary to what I thought before. i had thought that I would get bored. However, I have found that I get into a sort of "Farrow Rib groove" and I knit inches without realising it. I think I will have it done by Christmas day.
I have knitted up to the waist of the Shapely tank. It's not going to be as closely fitted as I thought it should be. ut I think it will still be wearable. I am rather concerned that the arm holes may be a bit too low. We'll see.
When Tam cam over for coffee yesterday, we had fun knitting and talking about knitting. Apart from Anne Maree, she's the only other knitting friend I have met in real life. I'd like to meet more knitters. It gets a little lonely being the only knitter I know. There's nobody to share my creations with nor to talk about knitting related stuff. I have frends with whom I can share most other aspects of my life, but not knitting. Yes, sure, Chris comments on my knitting and tells me how much he likes this that and the other. However, nobody really 'shares' it the way only a knitter could. I am glad Tam came. (Thanks for visiting Tam!)
well, I have to work on that business requirements document that I promised work taht I would. I know it's the weekend, but it has to be done
, but heck! I hope someone appreciates it!

Oh and I saw this article today. It's a great read for anyone wh has ever been asked to knit anything for anyone else! :)
Saturday, December 04, 2004
Shapely tank front completed
Here it is, being blocked. It looks huge, doesn't it? Well, I thought so, and so I measured it. It's not huge, it's only 21 inches across, exactly the measurement I needed.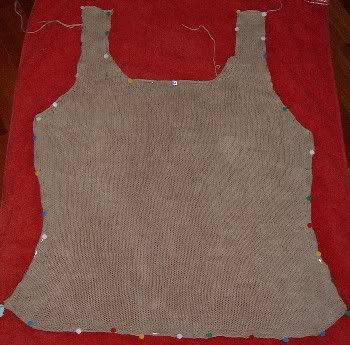 I am now knitting the back.
It's a surprisingly easy piece to knit. I hope to have it done by net week, and all sewn up so I can wear it this summer.
I also crocheted a star.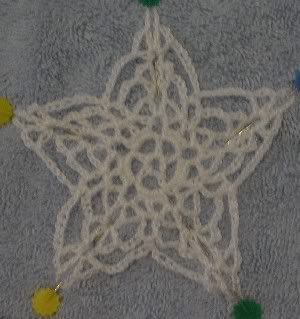 At first I thought it would be a good idea to make one for each member of Chris' family. I thought maybe they could have one ornament each on the giant Christmas tree they put up every year. But then, maybe it's not worth it. Will it be apprecaited? Somehow I think they will appreciated store bought boubles more. So I am not making them anymore.
Here are some of the stitch markers I made yesterday. I used small rings for them, and they fit up to a needle size of about 5mm.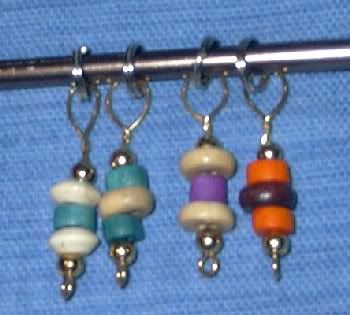 I have made some progress on the Farrow Rib scraf I am making for Grandad. So far I have completed about 10 inches. Slowly and steadily I am getting there. I love the Farrow Rib pattern. I think it makes a nice manly scarf pattern. i just don't know how long to make it. maybe I will just knit till I run out of wool.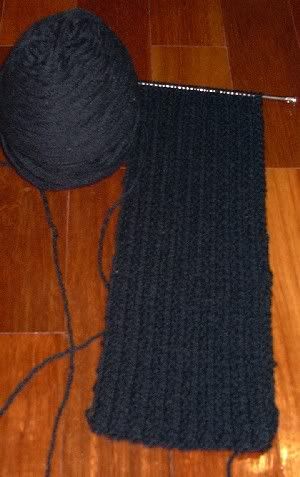 So, who knows how long a man's scarf should be?
Friday, December 03, 2004
Thank God for rain
That's right.. it rained today, and I am SO grateful! At least my flat is not hot and muggy today, and it's such a relief after the last few hot nights. It's much easier to knit when I am not hot and sweaty. When it's hot, even my super fan does not help. Sure, it's powerful and I can feel the breeze, but the breeze is HOT!

I have made more progress on the shapely tank. I have now completed the side shaping and am knitting the bt between the side shaping and the bust shaping. i should get to the bust shaping in another ten rows or so. I have decided to stop working on the shapely tank for now and start on Grandad's christmas present.

After struggling for a while trying to decide on the yarn, I settled on a (very large) ball of black pure wool crepe. I am knitting it in a farrow rib pattern.It's coming out ok. It's such an easy pattern it's almost mindless. Here it is
Cast on a multiple of three
Every row : Knit 2 Purl 1

I am going to knit till I run out of yarn or get bored - whichever comes first. I am now wondering whther I should add a fringe to it. What do you think? I m not sure what he woud prefer.

I went shopping at lunch time today and added another item to the Christmas present for the gift exchange organised on KR. I hope to post it off tomorrow.

I also stopped by at Esprit and bought a skirt. I was pleased to see it was cheaper than I thought it was. Thanks to Tiffany and her Esprit card, I got a 25% discount on the purchase which made me even happier! I also got to go baby clotehs shopping with Tiffany. don't you just love baby clothes. They are always so cute!

Back to knitting another couple of inches of the scarf before bedtime...

Thursday, December 02, 2004
Shapely Tank Progress!
Ok, I have made some progress on the shapely tank. I am nearly done with the side increases for the front (yes, I am knitting it in two pieces - next time, I am knitting it in the round!). I am so excited! I can't wait to finish it before Christmas. I hope to have the front done by the weekend, and I am hoping the back (since it does not have bust shaping, and hence has fewer stitches to knit - no, last time I checked I do not have boobs on my back) will be quicker to knit. Maybe I will hve it done by the 17th.

Oh yes, did I not mention that I am going to Canberra on the 17th? No, no occasion, just going to visit Anne-maree and her family.

I saw a gorgeous dress at David Lawrence at Chatswood on Tuesday. I am still thinking about whether I want to go try it on. It's strap less with a ribbon tie at the waist, and has a lovely drapey a-line skirt. It will be so perfect for Joel's wedding (that's my bf's brother, for those of you who don't know), but at $300, I am still hesitating. Well, I guess trying it on would be a good first step.

I also saw a nice skirt at Esprit. It's black, a-line and drapey as well. It has a 'knot' on the front - like twisted fabric. I could buy that and wear it with a corset top or something. Chris loves the corset tops - perhaps more so than I do.

Did I mention that I am giving the flower basket shawl to Nanna? I think it will suit her. I'll just have to make another one for me - AFTER I compete my shapely tank. Grandad is getting a scarf. I will have to shop in my stash for the wool. I am thinking of a simple diagonaly knit scarf - in garter stitch for extra warmth - with stripes made by knitting two yarns together. Well, it's that or a cabled scarf. Sharlyn's getting bed socks. I will have to get around to knitting them. I will probably use dk (8 ply) wool so they are thick and warm. That's all the knitting I am doing this christmas. I have so many projets on my 'to do list' that I don't think it would be wise for me to take on any more than that. Anyway, Chritmas is smack bang in the middle of summer here, so knitted gifts aren't exactly suitable for Aussies. Considering the 40 degree days we have been experiencing, I think Christmas will be shocking this year.. I'm melting..

Wednesday, December 01, 2004
Guilt-free post exam knitting frenzy
That's right! I have not stopped knitting since the exams ended.
Last night I started the
shapely tank
using Hayfields Cotton Rich (dk) yarn. I have six balls of it (one of which is hiding, but I am sure it will surface soon enough) and I think that is more than sufficient. In fact, if I have enough yarn, It will be a shapely tee (with sleeves).
I am thinking about adding something to it for interest, like maybe threading ribbon though eyelets on the neckline. I am not sure how that would look.
If this one works out, I will make another and add a lace border or cables.
My confetti socks are nearly completed. I have turned the heel and I just have to get back to knitting the foot. I'll post photos when they are completed.