It's so good to be able to sleep in and laze around all day long. That's what we have been doing for the past week. I have not don very much knitting, but Ihave done more spinning. I attempted to spin my first batch of single ply yarn. I left some of it as single ply yarn and I plied some of it. Here's a picture of it.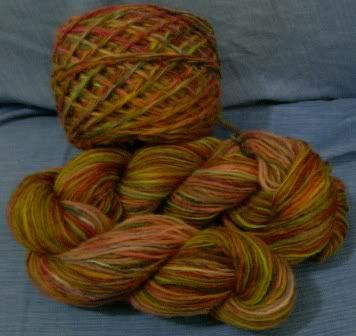 I dyed the pencil roving before spinning it. The pencil roving was dyed as a 'cheese' or cake and I just randomly poured colours onto it. It's looked a little strange before I spun it but after spinning, the colours look quite attractive.
Back to the Christmas celebrations. I scored well in terms of presents this year. I received an mp3 player (it also plays FM radio, which means I can watch tv in the gym - YAY!), and some icy pop makers (little plastic containers with holders for making icy pops), and a telephone (the old one in my house does not work, and that
really
defeats the purpose of having a telephone in the house). All these were from Chris. Thank you Chris! I also received some money for the 'wheel fund' and a cooking dvd. The most unusual gift I received this year was Knitwit.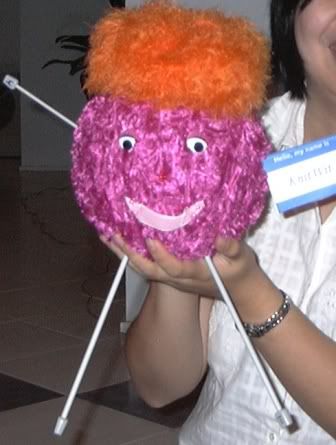 Knitwit now lives in a basket above my fridge together with my other odd balls of acrylic yarn. I think Knitwit is cute in an ugly but adorable kind of way. I also received a scroll with a make believe story about me called ' An Amish Way of Life'. I thought it was hilarious, especially since there have been so many jokes about me turning Amish since I bought my wheel.
Christmas Eve dinner was great. The potato bake was a hit, and the turkey rolls didn't turn out too badly. Chris' mum provided menudo and noodles. It was all yummy. On Christmas day we went to visit Chris' extended family and on Christmas night we had dinner with the Cooper-Garrett clan. It was an enjoyable Christmas celebration all around.
The only disappointment amidst all the celebrations this year was my car breaking down. The ignition barrel on my car died and we had to get it towed to the service centre to get fixed.
I dragged out my striped blanket yesterday to work on. It's been languishing in my WIP pile for a while now. It's really slow and boring as it is knitted entirely in garter stitch.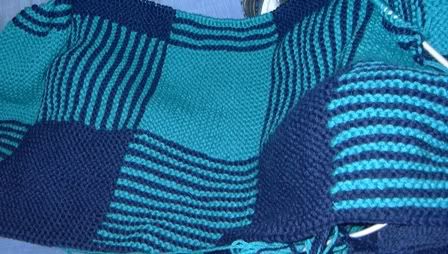 After I have knitted as many strips as I can in this striped pattern, I will knit a black border around it, just to make it larger. It won't be very big - probably about 4 feet by 4 feet.
Happy New Year everyone!