I have been buying fruit and vegetable boxes from Flemington Direct. The quality has been great and compared with what I pay locally, the prices aren't too bad either. One of the things I like about it is that I have limited control over what variety of fruit and veg I get and it challenges me to find new and interesting waysto cook what I receive. However, that is also part of the problem. For example, we received an abundance of pears and I only eat them unripe (soft pears? eeeeuw!) and they don't stay unripe for very long at all. Chris only eats them when I cut them and serve them with cheese. Alex has never been much of a fan of pears. So.. what do I do with all these pears I have received?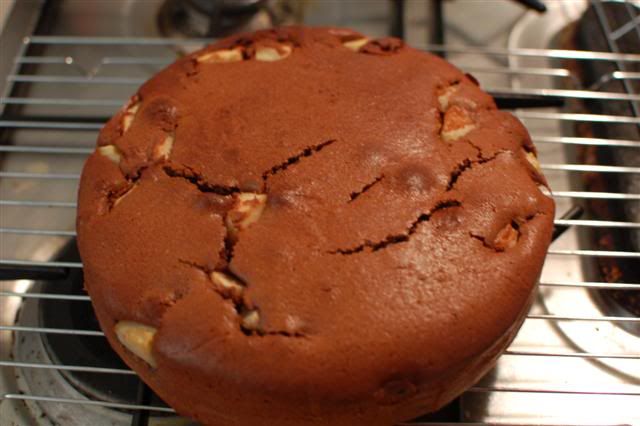 My own recipe.
Ingredients
250g butter
1 cup sugar
3 tablespoons cocoa
2 cups SR flour
3 eggs
3 tablespoons plain yoghurt
3 tablespoons milk
2-3 pears diced
Method


Preheat oven to about 165 degrees C

Cream butter in a medium bowl

Add sugar and beat till light and fluffy

Add eggs one at a time a beat rapidly

Add milk and yoghurt and beat till combined

Fold in flour and cocoa

Line a baking tin

Pour about 2/3 of the batter into the rpepared tin

Add pears - do not stir

Add remaining batter. It does not matter if not all the pears are covered

Bake for about 50 minutes or till a clean dry skewer comes out clean. Turn oven off.

Rest in oven for ten minutes

Tip out the cake, remove the paper lining and leave to cool on a wire rack

Serve plain or with a dollop of heavy cream. Delicious!

Okay, so that's the pears.. and what about the bamboo?
I got some undyed bamboo blend yarn yesterday and decided to try dyeing it to see how it will turn out. The heathering wasn't as bad as I expected and the yarn took colour well.
A closer look...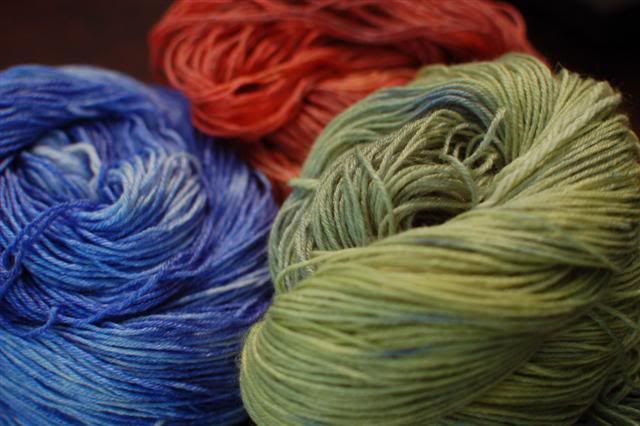 Perhaps this is something I should stock in the store. next thing to do - knit it up into socks and seehow they feel!
Labels: bamboo dyeing, pear cake
Today I transfered $180 to the Premier Relief Fund for the Queenslanders affected by the flood. This money came from 50% of pattern sales and 10% of yarn sales made on Australia Day + a few dollars from me to round it up into a nice round number. So thank you to everyone who supported this effort. I am sure every dollar counts when it comes to helping these people back onto tehir feet.
About a week and a half ago, I started making my sourdough starter using the 7-day starter recipe from
The Sourdough Baker
. It was easy enough and before too long, my starter was busy bubbling and doing all the right things. I was slightly concerned that it did not smell like fruits or ripe bananas specifically. Instead, it smelt more like acidic and alcoholic bread - imagine the smell of spilt vinegar on an alcoholic baker and you know what my starter smelt like. I was assured by other home bakers that all is well and my starter was healthy. All good...
Fast forward to last night. I started my bread using a white loaf recipe, again from the sourdough baker. This morning, my dough had risen and doubled in volume and was ready for the final stage of proofing. A couple of hours later and we had our first sourdough loaf.
Looking good? I'll say!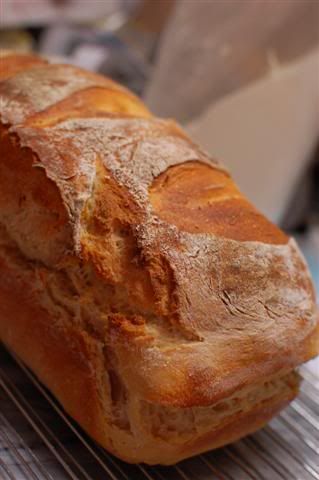 But the proof of the pudding, or in this case, the baking, is in the eating, right?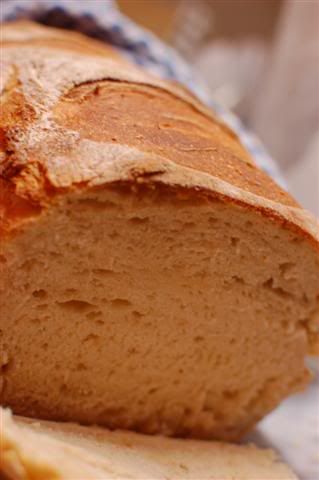 A little more dense and a little more sour than I like my bread, but not too bad at all. Next time, I will allow it to rise a little more before popping it in the oven. I will also try to make sure my starter is not quite as ripe. Perhaps that will work. Right now I have enough bread to feed teh family for a week so the next lot of sourdough will be made next weekend.
Labels: sourdough