I was inspired to make hot cross buns yesterday, with some help from Alex. He's home as it's school holidays, and some days we just need something to do. They turned out quite well. The texture was beautiful and the only changes I will make next time is more spice, more fruit and more sugar.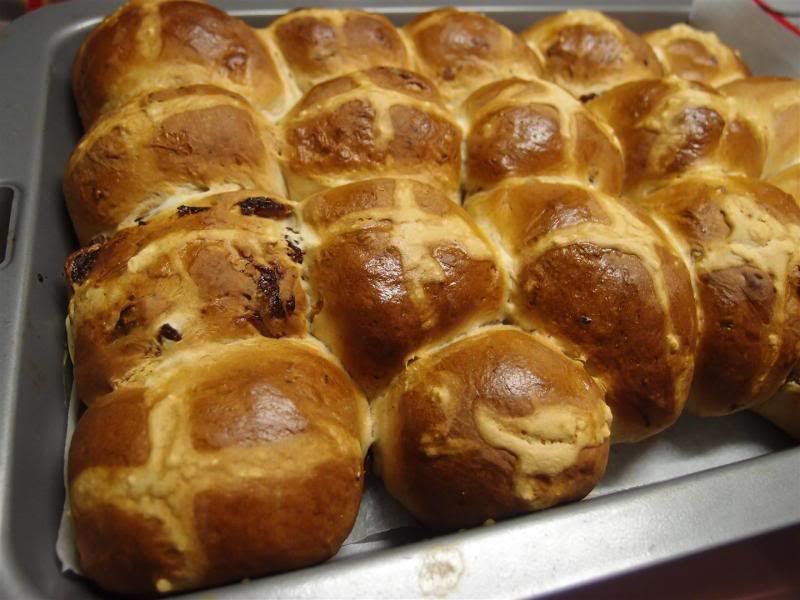 4 cups (600g) bread flour
1/4 cup sugar ( I will use 1/2 a cup next time)
350ml milk (slightly warmed)
1 cup sultanas (next I'll use more)
1 tsp mixed spice

(I'll try doubling this next time)
1 tsp cinnamon (I'll try doubling this next time)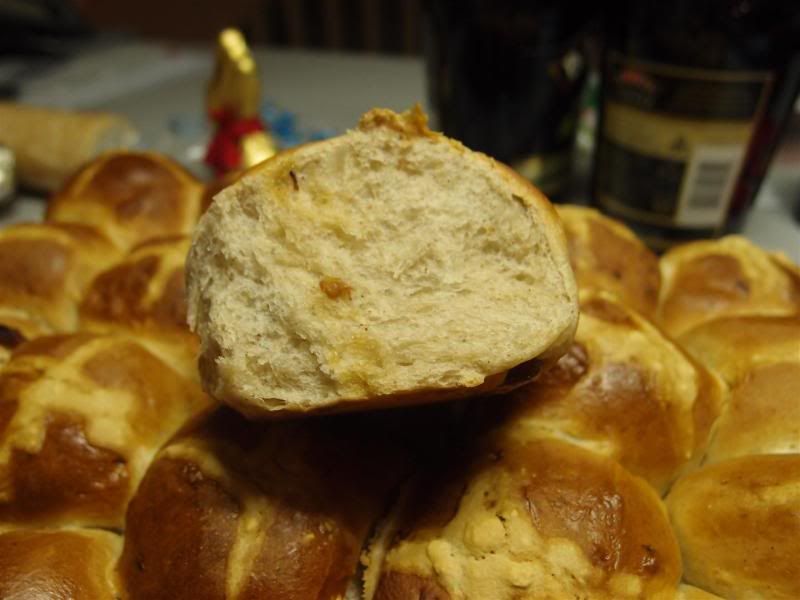 Mix the flour and spices in a large bowl. Rub butter into the flour (like you're making scones) Mix yeast, sugar and milk separately and leave to stand for about 10 minutes. It starts to get slightly frothy. Stir in the egg and mix with the flour mixture. Add fruit. Mix well and then knead for about 10-15 minutes. The dough should become fairly elastic. I do this in

the

Kenwood mixer but you can knead by hand if you wish. the results should be the same, but your arms will be more tired. Cover the dough with a clean tea towel and leave it to rise for about 45-60 minutes.
The dough should double in size in that time. Then punch the dough down and knead it again. Break it apart into balls. Roll each ball gently and place on a baking tray. Leave a bit room between the buns so they have room to grow. This recipe makes about 12-15 buns. Cover the buns with the tea towel and leave them to rise. Pre-heat a fan-forced oven to 180 degrees. Before baking, lightly brush with a mixture of one beaten egg and 3 tablespoons of water. Mix 1/4 cup of self raising flour with water to form a thick paste. Fill a piping bag with this paste and pipe crosses on the buns. I didn't have a piping bag so I used a ziploc bag and cut a small hole in one corner. It works just as well. Bake for 10 minutes on 180 degrees, then turn the temperature down to 170 degrees and bake for a further 12 minutes. If you have bigger buns (only 10-12 buns) then bake for 15 minutes, but if you have smaller ones, then 12 minutes should be sufficient.
Serve warmed with butter. Delicious!