Friday, March 31, 2006
KSH shrug completed!
And it took less than a week. I'd model it, if I could fit into it, but since I can't, this will have to do.
From the front...
From the back...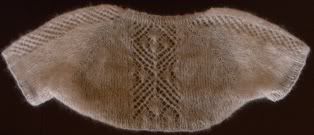 I used one skein of KSH with a little leftover. It may be enough for a small crocheted flower. On 4.5mm needles, this project sure went quickly! It's light and folds up into a tiny bundle, small enough, I think for mum to fit into her handbag.
The bind off is a little tight, but I'm not ripping it back for now. Let mum try it on and see whether she complains. Can you imagine ripping back KSH?!
Sunday, March 26, 2006
Has it been 2 weeks already?!
It doesn't feel like it's been that long since I last blogged, but you know what, it has! I have now moved into our new home. There's lots (and LOTS) of tidying up to do, but almost all my stuff is here now. I just need to make one last trip back to the old place to pick up a couple of things and then it will be bye bye old flat.
I think this will give you a clue as to how much tidying actually needs to be done: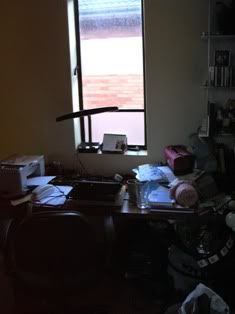 That's a picture of my study in its current state - not for much longer I hope. What you can't see in that dark grainy picture is that there is more mess below the table! I also have my wheel and spinning supplies tucked beneath the table. That's where they will live, I think. My study is actually a built-in table betwen the stairs and the bathroom (no, really, it's better than it sounds), so I really should have it tidy at all times, since anyone coming into the flat will see it immediately. For now I have an excuse.. and I'm wondering when that will run out.
As well as trying to downsize my stash, I have also gone out and bought some space bags. I am hoping that they will be my friend, and squish my stash to a more reasonable looking space (note I said reasonable LOOKING. There is nothing reasonable about the size of my stash, and I'll be the first to admit to that). Right now it has pretty much taken over all the available space in Chris' study. (Chris gets a study room and I get the little nook so that we can lock him away behind closed doors when he plays noisy boy games on his computer!)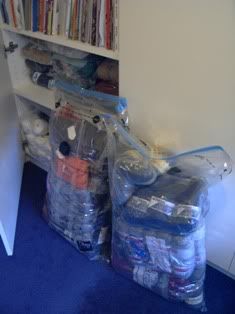 That's what the bags look like pre-vac. I'll give you a post vac picture when I can start up the vacuum cleaner. It's still a little early on a Sunday morning to do that. Don't be fooled, though, that's not even half my stash put away yet. If these space bags work like I hope they will, I'm going tobe out there buying another four or six or eight!
Oh, and those books and magazines above the yarn - all mine! There's probably a 30-70 split between cooking books and knitting books on that shelf. I have another shelf in the adjoining cupboard that is holding all my non-knitting/cooking/academic books. Books for school will live on my desk.
Oh our poor bank account!
We have been buying furniture and appliances so that we can stop sitting on the floor and borrowing mum-in-law-to-be's vacuum cleaner. Two weeks ago, we ordered our sofa, which is still yet to make anappearance. Last week we ordered our dining set -w hich arrived yesterday while I was out at Rubi and Lana's knitting with the girls. Chris very kindly waited at home for its arrival, and had put half of it together by the time I got home to see it.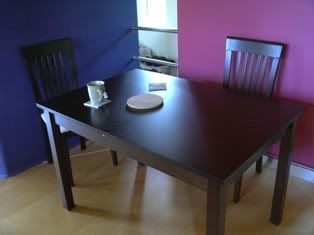 That's it, in it's present state. We still have two more chairs to build. The table is extendable to fit six, but having six people in that tiny dining room will be quite a tight squeeze. It's possible, but not the best situation. I guess our friends will have to come in twos, or we will have to host cocktail parties. No sitting, everyone, please stand!
Yesterday, we went out and ordered a new vacuum cleaner, a washing machine - a 7kg one! woohoo! - and a microwave oven (which isn't really an oven in my opinion, so I don't know why it's called that). The man at the shop thinks it will arrive by Tuesday this week - yay! I am looking forward to having a washing machien again. Last week Chris had to take clothes back to his flat tow ash as I still don't have a washing machine. I'd much rather wash my own clothes. I'm sure Chris will be relieved to hear that!
We've also been shopping for small things, like a step ladder (since much of the storage space in this place reaches up to the ceiling), some bins for my study, his study, the bedroom, the bathroom, etc. (I never realised how many bins I needed!), just miscellaneous little things that we need.
No tv...
About a week ago, my tv went up in smoke - literally. When Chris plugged it in, it started smoking, and I can assure you that the smell of burnt capacitors is somewhat unique and lingering! We've not had a working tv here for a week now. It's been good. It's peaceful, and I don't miss it one little bit. However, Chris has taken that to be a sign that God wants us to have a nicer tv - yeah right, I think it's a sign that God doesn't want us to have a tv at all! We've since ordered a tv, and are eagerly awaiting its arrival - Chris more so than I, I think.
The down side to not having a tv is that it also means I can only play music on my laptop, which does not offer the world's best listening experience. No, far from it. You see, at my old place, we didn't see the sense in buying a 'uni tasker' for playing music since the dvd player will play cds and pipe the sound out through the tv. Well, that and the terrible lack of space. Now that I have no tv, I have no music. [sigh] Maybe I do want a new tv more than I think.
No knitting?!
I have been so busy ove rthe past few weeks that I had not picked up my needles till yesterday. Wow! That's 2 weeks without knitting. I didn't think I'd be able to survive that long, but I did. This is what I have started: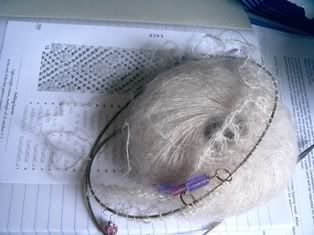 It's a little shrug for mum. I am knitting it with Kidsilk Haze in the lightest colour I could get. I think I was foolish. I bought two balls of the stuff, but I am starting to think taht one will be more than enough. It's based loosely on the One Skein Wonder. I am adding lace panels to it and lengthening the sleeves. It's so light and squishes into a ball of almost nothing, so I'm hoping that it will turn out to be small enough for mum to carry in her handbag. It almost never gets cold enough in Malaysia to need a wool cardigan - even at night - but soemtimes it gets a little chilly in airconditioned places. I think this will be just perfect for keepingout the chill. I am kntiting like a little fiend, hooping to have it done by next week so that my dad can take it home to mum when he comes.
Those cute little stitch markers are from the stitch marker exchange hosted by Lainie. In fact, those markers are FROM Lainie. Thanks Lainie!
Monday, March 13, 2006
I'm moving!
Right, so I have been talking about moving the last few posts, but really, it's finally hit home. I feel like I'm moving and my laundry hang-ups is not just a distant threat. It's real! It's weird, I know. It took a while for the whole getting married thing to hit me, and it's taken a while for this whole move to hit me. Last weekend, chris and I went out to shop for a sofa. It was only after we paid for it that I realised, "Oh my! We bought a sofa. That must mean we're moving" Duh...

So anyway, said sofa will be delivered some time in the next 5-6 weeks. It gets made (hand-made, apparently) in Melbourne, and then trucked up to Sydney. Woohoo! I can;t wait!

We're still looking for a dining set, and a washing machine, and a vacuum cleaner, and an entertainment unit or at least some sort of surface on which a tv can sit, and.. oh and so many other things! At least we don't have tobuy any crockery or cutlery. I have a full set of that. More than a full set, actually. I think I have enough to serve a party of 12 or 16 or some ridiculously large number of people. My set of pots and pans would put many a household to shame. Why? Because my parents decided to stock up a full flat when I was a student and when I moved back to Malaysia, we kept many of the more expensive things like the set of pots and the crockery and cutlery. We're also keeping my bed as I have a queen-sized bed, and it's only about 3 years old. The clothes dryer is stayingas it's in good nick, and we need one anyway. We'll be using a shared laundry, but it's one of those where you have to provide your own machine.

Chris came over tonight and we did some mega packing. We wrapped and packed away most of teh plates and bowls and cutlery. We also moved lots of towels, sheets and clothes into bags to put in his car so that we can move them into the new place when I get the keys this Friday.

You know what? It hurt to move. It's really strange. I have only been here for two years and I feel so attached to this place. I am confortable here. I don't want to move. But I have to. This flat is simply too small for the two of us.

Anyway, I should be happy, right? And I am, or at least a part of me is. I am happy to be moving to a new place which will be OUR home. I am happy to finally be able to live with Chrisas his wife (not that I've ever really lived with him as anything else, apart from the first two months when I first moved to Sydney and needed a place to stay). So there ARE things I am happy about. It's just that right now, the feeling of dread and not wanting to move is overpowering everything else.

Oh, before I forget, do any of you have any ideas as to what we can do for curtains? The new place has no curtains nor blinds (apart from a partly mouldy set in the bedroom). We would like to put up some curtains for privacy and also to keep the heat in during winter. We're considering some of the Ikea solutions, but I was wondering whether any of you have any "handmade" ideas.
Wednesday, March 08, 2006
Nesting birds
Bird's nest scarf
Yes, that's right, it's a scarf, nto a shawl. I didn't feel likeknitting a whole shawl, and I didn't have the yarn for it anyway. Okay, I probably do, but that involves going through my yarn cupboard. I'm just too lazy. I had 3 skeins of
Andean Silk
handy, and I decided to use that instead. I think the colour is Holly berry, but I don't have the label handy so I can't check. the colour is awful in the picture. It's not such a brick red.. it's more like a plum red. It's a nice red, not an 'out there in your face' red, you know what I mean?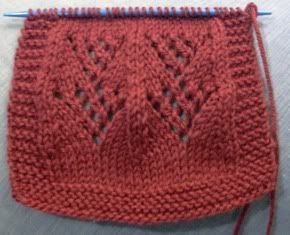 I modified the Birds Nest shawl pattern from Folk Shawls. I really liked the shawl, and I am considering knitting it in some black wool I have lying around. However, I think that's a project for another day.
Baby hat for the Lenten Sockrifice
I decided not to knit socks - they take too long and I don't know anyone who'd appreciate them - apart from Chris, perhaps. Hmm, maybe I should knit him a pair so that he does nto get cold feet before the wedding. then again, if he needs them to keep fromgetting cold feet.. well, that's not really a good sign, eh?
I made a hat instead:
Not for Chris, silly, for the Lenten Sockrifice. That
was
what we are talking about before I got distracted, wasn't it?
Summer top from Sandra
I geuss it's taken me a while to post a picture.. sorry. I just never got around to it. Here's a picture of the front (or back, i guess, since they are identical)
I'll post another clearer picture when I have cleared some space in my living room. I am ashamed to say there's hardly any visible horizontal surface here at the moment.
We're moving!
That's right. the flat I told you about, well, we go in to sign the lease on the weekend. You know what else? It's 5 minutes' walk away from the yarn store where we meet once a fortnight. I don't think my wallet is going to cope!
I am finding it hard to get really excited about this move. I guess the flat is really nice inside as it has been renovated and it's really modern. However I can't get over the laundry situation. [sigh]
I have gotten so attached to where I am living now. It's comfortable.It's convenient. I don't have to walkoutside the building to get to the laundry!
I am sure I will get over it once I have moved in. Chris loves the place. I think he's quite excited about it. Well, at least one of us is.
Monday, March 06, 2006
Stitch marker swap
I have made the stitch markers for this exchange. the two sets of 5 are going to two different people. I am sure you know who you are, pals, as you have such different colour choices.
I have made them using wooden beads. For the green ones, I placed a tiny button at the bottom, whilst a gold bead was used for the pink/purple ones.
Sunday, March 05, 2006
More stuff on Etsy
I have been a busy girl today. If you go look at my store on
Etsy
, you'll see that I have added more stuff to the shop, which includes some handpainted yarn and some hand painted merino top. I love the merino top.. it's been sitting there waiting for me to list it. I have been putting it off and putting it off, hoping that I will miraculously find the time to spin it, but alas, I have not found the time. So now, some 3 or so weeks after it was dyed, it is now up for sale on Etsy.
One step closer
I made the veil today. So we're another step closer to the wedding. I held it to the back of my head and modeled it for Chris. He thought it was 'nice'. Considering that he's male and all that, I think 'nice' is a compliment, don't you? He could have done worse - like grunted or something.
We worked out the menu today, we think. We are allowed to select 3 appetisers, 3 mains and 3 desserts to create a 'mini menu' from which the guests will order ala carte. The menu will include a soft shell crab salad, fresh oysters, grilled beef, lamb rack, flourless almond cake and sticky date souffle, among other things. Mmm... yum!
Stitch marker exchange
I'd tell you who is hosting it, if I could remember. Anyway, I have started making the stitch markers which I hope the recipients will like. If I get them all done tonight, I can post them this week - woohoo!
I have made some progress on the cotton tee which I am knitting from a Sandra pattern. I have moved the front onto a piece of string to hold it while I knit the back. After that I will have to knit the sleeves and join all four pieces to knit the yoke in the round. I guess it's taking so long because 1x1 rib is slow, yes, real slow. That's my excuse anyway.
All this done, and I have not done any cleaning this weekend. That's right, not one bit! [sigh]
Am I just procrastinating?
Saturday, March 04, 2006
I'd post more often if I had more to say...
I just realised that it's been a week since my last post. Hmm.. I'll start losing all you readers soon if I keep this up, I think - not that I have a readership of millions or anything. Heck, it's probably not even in the hundreds!
Uni has begun
I was expecting to have to go in twice a week, but as it turns out, one of the subjects does not have lectures. I'm not complaining - much. I am feeling a little cheated. I don't understand why I am paying the school full fees for this subject when I have to teach myself. All we have to do is submit a theory paper - which is a study of the literature written about whatever marketing strategy we choose to write about - and a case study. There are 4 scheduled classes in the semester -none of which are teaching classes. Hmm.. it's certainly not a bludge, since it's going to be a sizeable paper and the case study isn't going to be easy either, especially since we have no idea what the lecturer is expecting.
I just wish it was my Thursday class that has no schedule classtimes, since spinning classes are on Thursdays and there is no way I can make it to spinning classes this semester. BOOOO! HISS!!!
Socks
I have been knitting socks. Well just the one. I have completed it now, but no pictures yet. I used a self patterning yarn from Lana Grossa. It's one of the ones with cotton in it. I'm not sure I like it as much as I like the wool ones. It does not have as much 'give' and the resulting socks are stiffer.
I knitted the socks out of a 100g ball, and I have 42g left. I am thinking that maybe I should use that to knit another pair and just use another yarn for the heels and toes, just to be sure I have enough, you know.
House hunting and getting ready to be his 'old ball and chain'
We're looking - not to buy, just to rent. It's been fairly depressing. most of the flats and townhouses we have visited have been pretty awful - old, dirty, icky.. UGH!
We did view one that looked ok, though. It was small, though, and it didn't have an internal laundry,a nd the parking spaces were next door. Aside from all that, itw as a pretty unit. It was described as 'penthouse style living' and I can see why they would call it that. It's been stylishly renovated. I'm still not sure that's where I want to live, though, even temporarily.
I'm sorry tehre are no pcitures this week. It's been a little nuts here - with my dad being here earlier this week, and uni starting and all that.
Lenten Sockrifice
I forgot to mention that I signed up for the Lenten Sockrifice
here
. The deal is that during the 40 days of Lent, I must not buy any yarn (well, one planned purchase is allowed) and I must make something for charity. I intend to make more little bears for the hospital, or maybe little hats. I haven't been doing any charity knitting lately. I feel kinda bad, you know, that I haven't done any 'giving back' lately.
I am also going to be knitting a shrug for mum. It's based loosely on the
OSW
. I am going to knit it in Kid Silk Haze in the lightest colour I could find, which is a very pale silvery grey. I am planning to add a lace panel to the back and sleeves. the sleeves will also be lengthened to about 3/4 length, reaching just below her elbows. I sent her a sample of teh yarna nd asked her to wear it in her bra to make sure she doesn't itch or anything. Just waiting for that confirmation, and then I can start. Woohoo!
Apart from that I guess I don't really have anything else to report.. no spinning done, and hardly any knitting. Oh, I did do some dyeing. Pictures soon.