I have been addicted to making these little things and now have quite a few sets. I have more than I can use and more than I can swap so I listed some in
my Etsy store
.You can see them in the
stitchmarker section of the store
.
Labels: etsy, stitchmarkers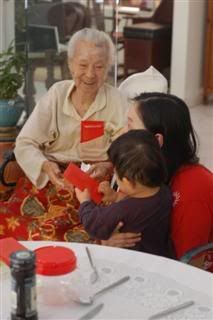 That's my Ah Mah, my maternal grandmother in the background. She only got to see Alex, her only great-grandchild twice.
Less than two weeks after we returned to Sydney, I heard from my parents that she was not doing so well. She passed away on 19th February, a day before her birthday when she would have turned 97.
I went back to KL again, this time for her funeral.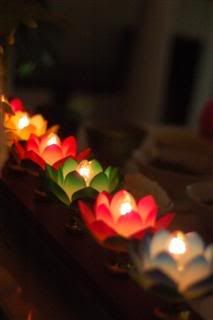 Whilst it was sad that she was gone, it is a relief to know that she is now in peace. The two nights of wake and the funeral were well attended. The wakes were held at my parents' house, where my grandmother lived and died. Every day and night, we had friends and relatives visiting. There was lots of food and conversation. That's how she would have liked it. She always liked a house full of people and lots of good food to go around!
Rest in peace, Ah Mah.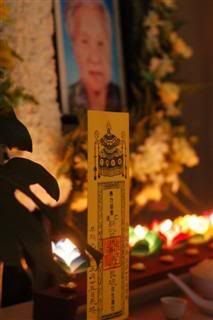 It's been a long while since my last post but I assure you, I am still here.
I have had a busy January and February.
In January, we went back to Malaysia to celebrate Chinese New Year with my family. Theoretically it's Alex's third CNY, but really, it's only his first "real" one. Last year and the year before, we spent CNY here in Sydney and since Chris and I were both working, there wasn't much of a celebration. All we did was have Chinese food on new year's eve and gave Alex a hong bao on new year's day.
This year, Alex received more than one hong bao. In fact, he very quickly realised that they are like presents and he can open them! It was tough prying them from his little fingers so that he did not extract the contents and wave the money around. How embarassing that would have been!
We stayed at my parents' house the whole time. Alex very quickly sussed out the place and worked out where everything was kept. He even knew that the goodies (cookies, sweets, crackers, etc) were kept in the store room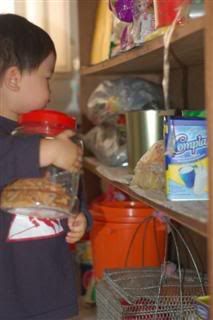 When he wanted something he could not reach, he'd drag one of the maids into the store room, point and say, "Please?". He knew better than to try to ask one of the family members to get it for him!! Sneaky little fellow!
He spent a lot of time sleeping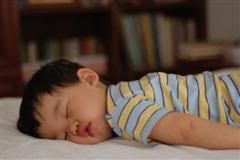 and eating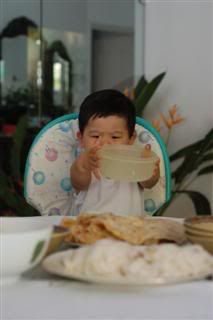 with a little excercise to work it all off..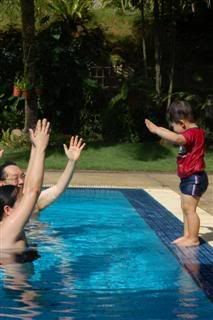 In KL, he got his first taste of durian. First he inspected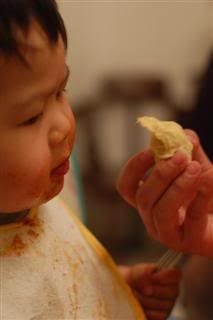 then he tasted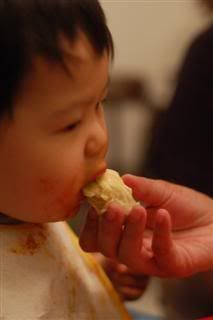 ah.. happiness!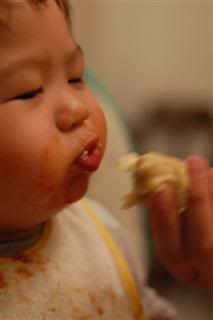 He also got to see his second lion dance ever. The first was when he was a mere few months old here in Sydney at a Chiense restaurant. He loved the drums but the lion scared him. This time was different. He was intrigued by the lions but the firecrackers scared (and deafened) him.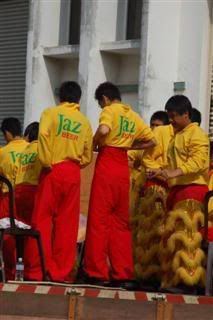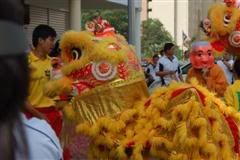 The warm weather also meant that he spent a lot of time semi-naked in the presence of a fan or air-conditioner.
I call this the "I am just like my Daddy" pose.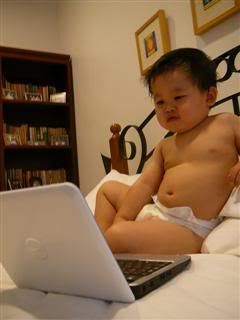 This is the "Let's boogie" pose