Monday, December 26, 2005
Hope you had a blessed Christmas
Happy Christmas, everyone!
It's Boxing Day, and we're about to leave for our long holiday. 3 weeks in Malaysia and Singapore, running away from the heat of Sydney!
I'll have limited access to the iternet for the next three weeks so I guess there will be very few posts. I'll justhave to have one super long post when I get back!
We had a great Christmas. It was quieter than in previous years. Chris' family did not have their annual huge gathering - I wonder why.. His brother and sister-in-law moved to the UK earlier this year, so we have two less people to cater for this year. It was strange though, as I normally just make a potato bake and help Chris' mumwith the Christmas meal. This year I made the potato bake, a salad and trifle, and it still felt like less work. I wonder why. Did it have anything to do with catering for fewer people? One would not think that two mouths (or stomachs) would make that great a difference.
I asked for money this Christmas. It goes towards paying for knitting and spinning supplies I think. I think we did well - both Chris and I. We finished our shopping really early this year. The last purchase was a Lotto pack for his grandmother.
Chris bought me a pair of diamond earrings which I picked out on my last trip home a few weeeks ago. I love them! They have hardly left my ears since I unwrapped them on Christmas eve*. Thank you Chris! I bought him his graphics card (nerd boy!) and a box of miscellaneous goodies including a couple of books, a bottle of wine, a pair of cuff-links and some toiletries (for our trip).
His brother and sister-in-law has once again broke the $20 rule and have been more than generous with their gifts. Chris got a case of wine (wow!) - all good ones too! On top of that we received Christmas money, and rumour has it that there are more gift in the post! Wow!
*
We open presents on Christmas eve - Filipino tradition, I think. My famiy does not have any Christmas traditions since I am probably the nly one who celebrates this festival, and attending Christmas morning service is probably the extent of my celebrations when I am on my own.
Ene's Scarf
Is plodding along slowly. I think my scarf pal will definitely get her Ene. I am up to row 55 or something now.
The rows are getting shorter and more repetitive. No piccies, sorry...
I did make some mistakes and didn't feel like frogging. I am hoping that they won't be too noticeable. i checked my stitch count and so far, so good.. I hope yo don't mind, scarf pal. Just think of it as a variation to the pattern, ok?
Blizzard
Is coming on the plane with me again. I need a crochet project to keep me sane! I hope to finish this scarf during this trip. I guess if I finish it on the way there, I'll just have to get more yarn for the trip back! No kniting needles on the plane, yoou see...
Wishing all of you a blessed and joyful Christmas!
| | |
| --- | --- |
| Isa 7:14 | Therefore the Lord himself shall give you a sign; Behold, a virgin shall conceive, and bear a son, and shall call his name Immanuel. |
Wednesday, December 21, 2005
The pictures as promised
Ene's Scarf
Scarf pal recipient, I know you don't know who you are, but if you are reading this, and you think it may be you, just play along with me, ok? I am making progress on your scarf. It's slow progress but I am getting there. I even have a backup plan in case I don't get this finished. As evidence of my progress, I present you with this: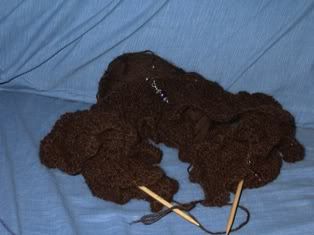 Ok, so that just looks like a lump of yarn. Let's try again: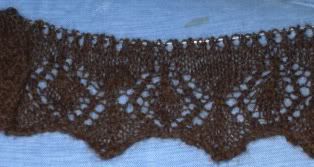 The rows get shorter as I move up the scarf. So it's starting to be less daunting, and you know what/ I think you may well get your 'Ene' after all!
Secret pal gifts
Here are the pictures (finally)
My SP6, Donni, thank you soo much! I am trying to work out whether to use it for my crochet hooks or DPNs.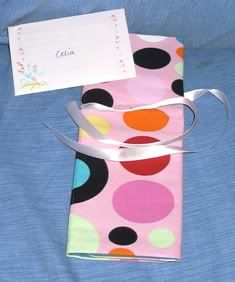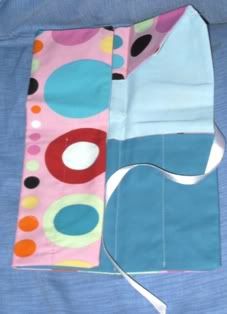 And from my KRSP3, I got this: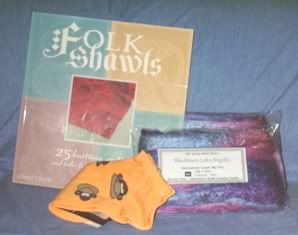 I'd love to know who you are. Than you for all the lovely things you have given me. I can't wait to spin up some of that silk. I am thinking of blending some of it with some hand dyed merino to see how it will come out. Thank you!
I hope your pal is spoiling you as much as you are spoiling me!
Sunday, December 18, 2005
Christmas season has begun
Carols at Balmoral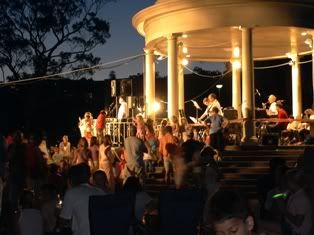 We attended Carols at Balmoral beach last ight, and it was quite enjoyable. We were there more for the food and company than the singing. We had packed a delicious picnic of excellent wines, cheeses, spreads, crackers, prawns and sandwich ingredients. We also had a spread of fresh summer fruits, most of which didn't get eaten as there was very little room left in our bellies by the end of the night. The King Island Blue Brie and Maggie Beer pate were so rich and decadent I just could not keep away!
Introducing Dad's puppies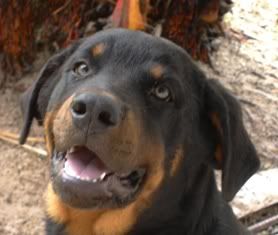 Here's Tom. He's the show-off pup. As soon as he saw the camera, he got all excited, almost as if he was saying "Here, look at me!". I met him for the first time when I was in KL for the weekend last week. He's so cute it's almost impossible to resist his puppy charms.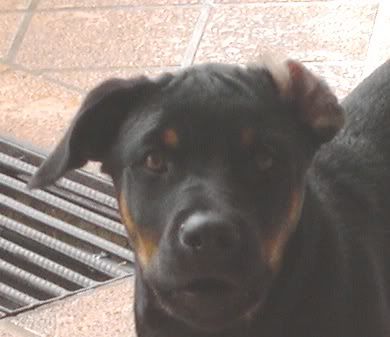 Kit, on the other hand is a grumpy little b*tch. She's my kind of girl. Apparently she bullies Tom and she's the dominant sibling. You go, girl! She didn't like the camera at all. Can you see her frown?
The 2-night Scarf
I started this scarf on Friday night and finished it on Saturday night. I had to, you see, as we had to drop it off to be sent to a far away place, hopefully in time for Christmas. I am not sure what the chances are of it reaching by Christmas day.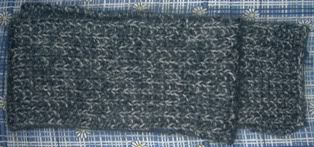 I used three strands of yarn - one strand of 8ply (DK) light grey pure wool yarn, one strand of 5ply (sport weight) dark grey yarn, and one strand of blue-ish grey mohair (which is meant to knit up as worsted weight). On 6.5mm needles I knit the three together to form a thick firm fabric. The aim I had in mind was to create a warm scarf for cold winter ahead. The pattern I used was:
Cast on 21 stitches
Row 1: Knit across
Row 2: *Knit 1, purl 1, repeat from * to last stitch, knit 1
Repeat last 2 rows till I ran out of mohair, ending with Row 2. Cast off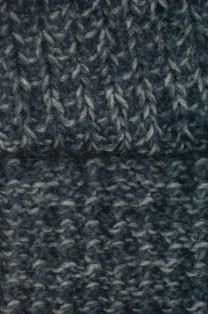 Even this close up isn't very descriptive, but it does create a nice, slightly stretchy fabric. Overall, I am very pleased with the results. It's an attractive manly looking scarf - just what I had hoped for. I was a little concerned that I'd run out of yarn too early, leaving me with a short scarf. I was relieved to find that the scarf measured about 160cm in length when I cast off. [phew]
Scarves on the go
Blizzard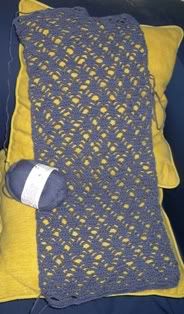 I cast on for Blizzard because I could not knit on the plane going to and returning from Singapore. I made good progress, I think. I am not sure that I will have enough yarn for a long scarf, but I think I shuld be find with a sligtly short scarf, as long as it is enough to wear tied around my neck. It will be completed soon, and I have not decided whether it will find a place in my wardrobe, or given away.
Ene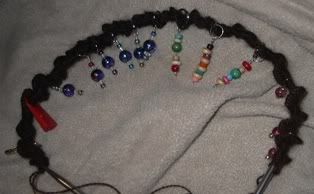 Remember how I mentioned that I am knitting Ene's scarf from Scarf Style? Well, this is what the cast on row looked like - note the number of markers I used! I have made progress (no piccies yet). I am up to the 12th row now I think. I haven't had time to knit it for a few days now. I will start working on it again this week.
Devon vest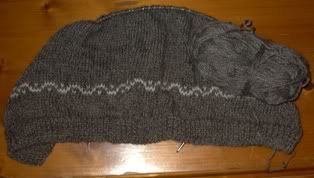 This is the project I am leaving at Chris' so that I have something to do when I am visiting. This is the progress so far.. not much, huh.
Secret pal goodness
I will take pictures soon. I came back to work to find that I had received
1. My gift from my KRSP3 (more details and piccie in my next post) - thank you KRSP!
2. My final gift from my SP6, who is
Donny
(piccie in my next post)
3. First Yarn magazine - Donny had bought me a subsciription as part of my SP6 gifts - Thank you Donny!
4. Winter IK
Pictures in the next post - really!
Wednesday, December 14, 2005
Free connection at the airport.. not fast but can't complain
Okay, so it's not the world's fastest internet connection, but it's fast... I am at Changi Airport in Singapore with time to spare before my plane leaves.
Those of you who don't know, I have been working hard all week. Well, week and a half, really. I am glad to be nearly home. Just one more night. I can almost smell Sydney now.
Knitting stuff
I made a little progress. I am up to row 12, I think. It's going well. It's slow, but I haven't been working on it much. I have been busy every night with work and (work-related) dinners. I wish I had more time. I would have liked to have gone back to Golden Dragon (the yarn store) again but I guess my bank account is happy I didn't get to go. Maybe I'll go when I am in Singapore again at the end of this year.
I'll post some more - with pictures - when I am back in Sydney.
Thursday, December 08, 2005
Heat and humidity, what knitting??
Land of the Merlion
It's the beginning of my 4th morning in Singapore. I am still tired. For some strange reason, I am having trouble sleeping here. the first night was dreadful. I just could not get to sleep, and by 6am I was awake. I probably had only 3 or 4 hours' sleep. Monday night was no better. I woke up to the voices of noisy neighbours coming back to the hotel at 2:30am and 4am, and had difficulty getting back to sleep after each time. I slept like a baby on Tuesday night when I eventually fell asleep. last night was ok, but again I had nois neighbours. Just one more night, folks. One more night and I'll be sleeping in my on bed in KL. Phew! What a relief!
This is not one of the hotels where I normally stay in Singapore. I was slack and left the hotel reservations a little late (till 1 1/2 weeks before the trip, which really isn't
that
late, I thnk) and there was nothing at the other hotels on my company's 'approved hotel list'. [sigh] I had to settle. There are certainly more tourists in this hotel than the other ones where I normally stay. Maybe that's why I have noisy neighbours - they don't have to work the next day!
Yeah, I'm sure you [didn't] want to know about my lack of sleep.
Shopping at record speed
Aaaaanyway, in the sort time I have been here, my stash has grown by 10 skeins of yarn. I arrived in Singapore at about 1740 on Sunday. By 1900 hours I was at Chinatown, waiting for
Emy
so that we can visit a yarn store there. It was interesting. Not everything was cheap or nice, but I did walk away with 3 balls of self striping yarn (like Noro Kureyon but much softer), 4 balls of varegated pink yarn and 3 massive skeins of pink cotton. When I say massive, I do
mean
massive. The 3 skeins give me enough yardage to make a summer top with sleeves in my size! Piccies later folks. I have not whipped out my camera since getting here!
I meant to take a photo together wit Emy, but nope, I forgot. Oh well. Maybe tonight, if I see her.
Ene's Scarf
Gosh, it's slow-going. I am up to the 8th row or so. There's nothing to see yet. I'll take a picture soon. Right now, even stretched out, it just looks like a mesh of yarn with large holes. The baby alpaca yarn is a dream to work with. I am already making plans for the 200 or so metres that I will have left at the end of this project. It will make a nice little neck scarf for me I think.
I am not sure I will get 1/2 of it done by Christmas as I had hoped. I am still persevering for now but I am already thinking of other things that I can make for my scarf pal instead - just in case, you know. Did I mention that I have given myself till Christmas to complete half of it so that I know that I can finish by mid January? Well, I have and that's the dealine I am working towards. Send me good knitting thoughts, ok. "No frogging, no frogging, no frogging, no..."
Blizzard
I could not knit on the plane, so I took a crochet hook with me. I started Blizzard (from Scarf Style) using some blue Brown Sheep Naturespun sent to me by
Cynthia
. It's quick. I have used up about half a ball so far. My crocheting skill aren't great but that's not frightfully noticeable in this project. I am really enjoying it, but I'm not toching it while on dry land. I am saving it for the time I am in the air, when I can't have needles with me!
Fooooood
I have had the chance to hunt down some local food over the past few days. On my fist night here, Emy took me to a local eating joint that's famous for their fish soup. Mmmmm... yum! We (well, SHE) ordered 4 dishes - four! - and there were only the two of us. Did we demolish most f it? Of course. there was hardly anythng left by the end of the meal. i don't know how Emy stays so slim! She did as much eating as I did (or at least I'd like to think that, as the thought of having eaten most of four dishes on my own is quite scary, and I am SURE it is NOT true!). Emy must have slim genes or something.. :)
I am having dinner with my Sigaporean team tonight, and we're going to a
Peranakan
restaurant. I am SO looking forward to it. I have eough 'western' food in Sydney and wehn I come to this part of the world I am always looking for local food. I am really pleased that they have chosen a local restaurant.
Tomorrow, we're having a team celebratory lunch at allegedly the largest buffet in Singapore. It's located at one of the hotels in town (which did not have a room to offer me - can you tel I am still sore?). I'll tell you if the spread is really as amazing as it's been made out to be - after tomorrow.
Thursday, December 01, 2005
I'm off to Singapore in 4 days...
On Sunday I will be leaving for Singapore. It took a while to work out whether I was staying there till January or coming back to Sydney on the 14th of December only to leave again on the 27th. It now looks like I will be back in Sydney for Christmas. I'm nto sure whether that is a good or bad thing. So many 7 hour flights in a month is bound to play havoc with my sleep cycle, but oh well.. c'est la vie
Scarf exchange news
I have worked out that I will use a baby alpaca laceweight yarn in a dark chocolate colour for my pal. Now, the problem is what pattern I should use.
I have the following options
1. Ene's scarf - Scarf Style
2. Possum lace scarf pattern from Cherry Tree Hill
3. Blizzard - Scarf Style
4. Branching Out in double width - Knitty
5. Mini Kiri Shawl
6. Seaweed and shells scarf -look at it
here
7. Tiger Eye scarf
8. Flower basket shawl which is more like a scarf
9. some other pattern that I create
1, 6 and 9 are my favourite options right now. Am I too ambitious to think that I can finish one of these patterns by February? I don't want to disappoint my pal who is in the northern hemisphere and probably freezing right now, or will be soon.
I'd like to decide soon as I'd like to take it away with me to knit while I am away next week (working) as I expect to have some down time at night in the hotel.
Ene is a current favourite, mainly because it's a new pattern to me and I love a challenge. However the 375 stitch cast on is scary! What to do, what to do..
Etsy news
If you have been checking out my
Etsy shop
, you will see that I have been busy. I am still in the process of putting stuff up. It annoys me that Etsy does not allow me to comine shipping for my customers, unlike Ebay. However, I do like the longer sale period of six months that Etsy allows you to display your wares.
I put up for sale a skein of mill spun Optim tonight. It's also known as Silky wool because it has beautiful sheen and drape. I am so tempted to use it myself and I am hoping that someone will buy it before I decide to make something for me out of it. It came out so nicely that I think I will go get more of it to dye. I love that it's a larger skein too - 150g, which should be enough for a large scarf. Imagine that, only 2 ends to weave in!
I have another hat pattern (this one will be in three sizes) to put up, but I have not had time to do the lay out for the pattern yet. It's a spiral rib hat pattern and I think it's really cute. I just need to find the time to do it.
Hmm, so you're probably thinking, I should stop blogging and start working on those patterns. Maybe you're right...