Sunday, November 27, 2005
Scallops on the bias @ ETSY!
That's right!
It's on Etsy now, so go take a look -
HERE
All you need is 75g or so of DK weight yarn and some 4mm dpns or circulars. Because of the continuous scallops and eyelets, you will not be able to convert it to a flat pattern and seam it, I think. It won't make for an attractive end product as the seam probably won't work. It measures aout 19 inches and stretches easily to accomodate my head which measures a little over 22 inches. I guess that makes it a good chemo hat pattern as bald heads are slightly smaller. To make it larger you can try using slightly thicker yarn on 4mm needles. Let me know how you go!
I have also put up some hand-dyed yarn and stitch markers. I will be adding more hand-dyed yarn to the store soon, so keep looking.
No prizes for guessing
what this is: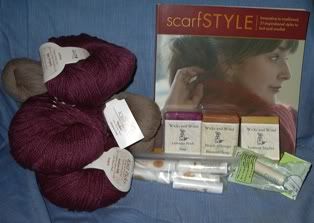 Yup, it's the gift from Lesley! The peanut/maple candy was left out of the picture as Chris and I are busy tucking into it, and it is embarassing how little of it is left!
Thank you Lesley!
Scallops on the bias
No it's not a new dish I have discovered, but it's this!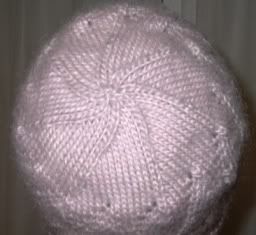 What is it, you ask? No, it's not a doily..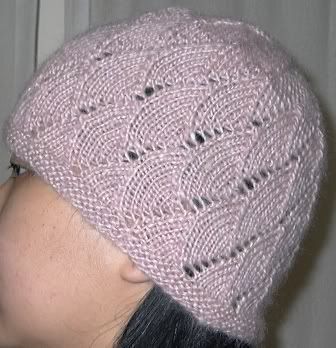 It is a hat! I designed it, wrote the pattern, and have tested it.
I think it's pretty, don't you? I'm just working on the lay out now before putting the pattern up for sale on Etsy.
I leave you with one more picture before I go back to work on the pattern.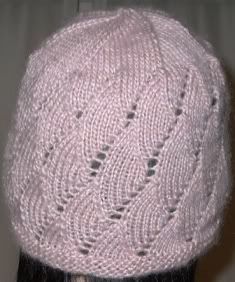 Oh, and if you're interested in buying the pattern, look out for a post in the near future. I'll let y'all know when it's ready.
Saturday, November 26, 2005
Lesley, you rock!
Wondering who Lesley is? Look
here
! Lesley is my KR gift exchange elf. I wish I had held on to her package a bit longer now. She's sent me so much I feel like my package is really lame. I'd take a photo to show you if I could, but I can't find the camera! Ok, here's what I got
1. Scarf Style - wooooohoo!
2. 6 (yes, count that - 1,2,3,4,5,
6
!) sticks of lip balm - made by Lesley's own hands!
3. 3 bars of perfumed soap - also handmade by Lesley (did I mention she has a shop? -
here!
)
4. 3 skeins or maroon Andean silk from Knit Picks
5. 2 skeins of Shadow from Knit Picks in Oregon Coast colourway
6. some candy which I am trying to resist until I have take a photo
7. a Chibi - Lesley how did you know I needed one f those? (right now I keep my darning needles in a plastic bag, and they are always escaping)
8. some pimento allspice cookies which the quarantine folks confiscated (I swear, they confiscate te weirdest things! They are probably munching on them right now!)
Knitting news
Not much on the knitting front. I have been starting projects and not finishing them, as you can see on my side bar. I'll show you pictures when I find my camera [sigh]
Spinning news
I am spinning some alpaca for an exchange with
Stephanie
. It's baby alpaca and I am just flicking it before spinning it. It's coming out nicely. It's fine and soft. Mmm.. simply beautiful. It's definitely the nicest alpaca I have ever spun. Again, pictures when I find that darned camera!
Sunday, November 20, 2005
I spun more goat!
Kid Mohair!
I carded it up
and spun it up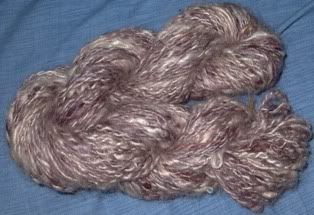 and it passed Chris' itch test. It's really soft, though not as loosely spun as I had hoped. Ibrushed it and steamed it to set the twist and it's all lovely. That's a 100g skein of about 75m, so it's fairly bulky.
It is also less pink than I had hoped. I am not sure that it's right for my scarf exchange pal. I'll have to sleep on it.
Finished bag
I decided to knit got my KRSP. She is into felting at the moment. I made her a bag which she can felt herself.
I hope she likes it. The package will be ready to send out soon.
New book!
I went to Rubi and Lana today and ended up with new book. It's the JO Sharp Book 5. I bought it for mainly one pattern.
I love it! Perfect for wearing to work! I am thinking grey and cream, what do you think?
I also liked these:
So much to do, so little time!
Thursday, November 17, 2005
It is finished... Wooohooo!
Done, done, done!


That's right, I am talking about the silk camisole, or in this case, the ramie camisole. I wore it tonight and it's comfortable.
That's it from the front, and now for a shot from the back
So all up it took me a week from start to finish. That must be the shortest time I have ever taken to knit a garment. Right, okay, so it didn't have sleeves, but still, it was a lot of knitting. Round and round we went... it was boring, but there was light at the end of the tunnel.
I (mostly) enjoyed knitting it. This is what I didn't like about it :
1. That the decreases in the front is the same for all the sizes. I made the 40 inch size and it was one of the wider ones. This means more stitches, right? Right. So that meant that the decreases were going for a longer time and the triangles were taller than I thought they would be. They were taller than the picture showed in the book. It is still not bad, but I will do it differently next time, I think.
2. The picot edge cast off didn't work for me. I ended up doing the picot edge with a crochet hook. I first added a slips titch edging at the neckline, and then on the way back around, I added a picot edge. I have 8 'lumps' on each side of the neck line.
3. I didn't like the curling at the back so I added a slip stitch edging with a crochet hook. I also added the slip stitch edging under the arms.
From this project I have learnt a couple of things:
1. Read the whole pattern before starting. Had I not jumped in head first, I would have noticed the front decreases and would have modified them.
2. Crochet hooks are handy tools to have.
All in all, it worked out well, I think.
I spun goat!
At spinning class tonight we got to spin some kid mohair. Well, I also got to spin some old billy goat which was stringy and like, well, like string!
The kid mohair was pretty though. I saw the bright orange locks and though, "eeeew..". I didn't say it, I think, but my face probably gave me away. Once it was carded, it was a gorgeous puff of orange fluff. Really pretty! Okay, so it's not 'eeeew' anymore. By the end of the night, well... I present you with one very over-spun skein of kid mohair.
I tried brushing it but it was too over-spun to be brushed, I think.
Scarf Exchange news
I ended up coming away with about 100g of mohair which I will card and spin softly, very very softly, for my scarf exchange pal. I hope it will be soft enough for her. I am aiming for no itch. I think I will see whether it passes Chris' 'no-itch' test before deciding. If this doesn't work, I will buy some merino/silk blend and spin that.
That
is definitely 'no-itch'.
What do you think?
Oh, and did I mention that I am not deaf?
Chris has been complaining that I am deaf. (And no, before you ask, I'll tell you that I am NOT ignoring him!) I have also been having a sharp pain in my ear - not good, I know. So off I went, to the doctor, and he dent me off tothe radiologist for a CT scan, and a visit to the ENT specialist. Guess what? I got the all clear. The results of my hearing test even says that I have near perfect hearing. So there! I am NOT deaf.
Maybe I just have a selective hearing gene. You know, the one usually that afflicts males. ;)
KRSP gift
And, I leave you with this:
It's a small bag that my KRSP can throw in the washer and full herself. It's a long way fom being done, so I had best get back to knitting.
Monday, November 14, 2005
I have my pal!
Thank you Cynthia!

I am so pleased! I have a few ideas already. :)

So happy.. happy happy joy joy! Can't wait to start knitting! Well, spinning first, then knitting.
Sunday, November 13, 2005
Gifts, used in a hurry!
Thank you AKSP!
The box came through the post in one piece, thought the postoffice had to patch it up a little. Turbulence in the air, perhaps? It is an amazing package! Thank you so much for everything!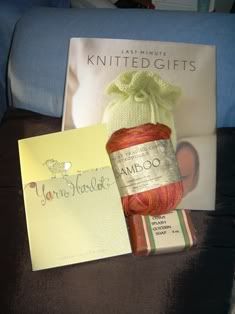 Isn't my AKSP amazing? I can't wait to find out who you are.
Oh and it wasn't just the one ball of Bamboo that I received. I actually received 3 100g balls. Wow! That's more than enough for a top for me, I think. Isn't she wonderful?! Alright, I'll stop gushing now...
In a hurry
I could not keep my hands off the Last Minute Knitted Gifts book. I have already started the silk camisole in some Ramie yarn I had bought. That yarn was just waiting for the right project. Now I have found it!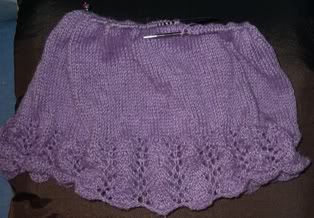 There you go. I am 8 inches into it, and am rather pleased with myself. I had to use 4mm needles instead of the recommended 4.5mm. So far so good.
At the end of this year, Chris and I will be visiting KL (Malaysia). I hope to have this ready to wear by then. If It works well, I will probably make another. It's so pretty and so simple.
Small things
I have also been making little stitch markers, which I think are rather pretty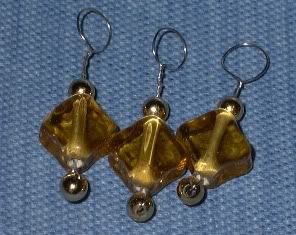 I have others in pink, purple, etc. etc. etc.
I also made some for
Taryn
- little orange bears. It's a pity I forgot to take a photo of them before gave them away. Oh well. I will just have to make more - like as if I need an excuse to make them!
New subscription
My SP6 is also wonderful. She has given me a long lasting gift - a subscription to a new magazine in the market -
Yarn
. I was mm-ing and aah-ing for a while, unsure whether I should subscribe. How can I justify yet another subscription? Now I don't have to! It's been bought for me! Thank you SP6, and I am really looking forward to finding out who you are too.
Scarf Exchange
The
scarf exchange
registration is now closed. Well, it has been closed for a little while now. Some of the matches have been emailed out. If you have not received an email with your pal, don't worry. It's coming soon.
Just to answer a couple of questions that have been asked in emails and on the scarf exchange blog
- Is it a secret, or am I giving to the person who is giving to me?
The person you are giving to is NOT the same person who is giving to you.
If you wish to communicate with the person you are giving to, you can use an anonymous email address.
- Where can I get a free email account?
You can try hotmail or gmail, or any of the other free webmail providers. If you want a free gmail email account, contact
us
.
- I haven't received my pal. Have I been missed?
If your name is on the list on the
scarf exchange blog
, then you are on the list. not everyone has received their pal yet. Hang in there, we'll get to everyone soon.
Thursday, November 10, 2005
I love Bubby Bears and hate spinning with beads!
Bubby bears
The pattern is in
Knitty
, in case you were wondering. They are really quick to make - I nearly finished one in one night of knitting. Poor bear had to wait a day for me to knit the remaining leg. Now that they are both whole, I present you with Mama and Papa Bear, as Chris called them.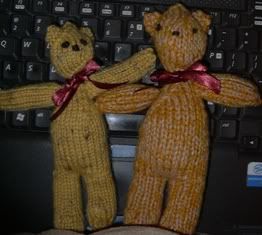 They will be added to Brenda's bag of things for the kids' hospital. They are so easy to make I think I will make another couple over the weekend.
Bead spinning
Spinning with beads or sequins - I HATE IT! I am not even sure I like the effect!
Tonigt at spinning class, just as an experiment, I painstakingly strung some beads and sequins on a cotton thread. I then spun up some black merino top and pled the two together. It was horrible. The sequins refused to slide along the thread and the result was a frightfully overplied yar with sequins and beads at rather irregular intervals. I knitted it all up into a swatch - and it was still nasty. Never again, I think.
I leave you with a picture of the night's work - eek!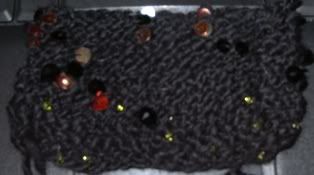 Monday, November 07, 2005
Catch up post
Minh, Minh, I have done the shopping!
This is some of the stuff you'll be getting. I am still putting things together and will post it off this week. Thank you for shopping for me!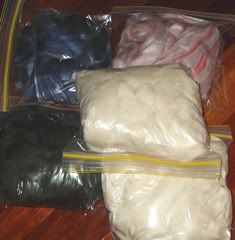 Clockwise from the top left - varigated blue merino/silk top, varigated pink/white/lavender merino silk top, 18micron merino top, 22micron merino top and dark green merino top.
There is also a spindle, but I didn't take a photo of it. There is also the other stuff that you already know about - the handspun and the sock yarn. Oh, and of course a couple of small surprises.
I wish I had more knitting content to report..
but I don't. I have been digging up old projects to complete. Guess what, Laurel Hill is being worked on again. Here's what it should look like when I am done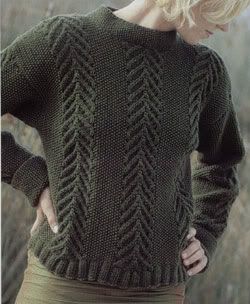 Right now, it looks nothing like that. I am about 10 inches into the front, or maybe it's the back. I think it's the front, but I'll have to go check. I put this project away about a year ago, and picked it up the other day thinking that I would remember the cable pattern. Yeah right! I stuffed it up within the first 3 rows and had to tink, and tink I did.. all the way across the row. All fixed now. *phew*
What else have I been doing? This is what I have made this past weekend:
It's a dodgy looking bear. The next will be better - really!
Spinning news..
This is what I have been doing:
It's some alpaca skirtings I bought rather cheaply on EBay. It's a little short, but carded up it didn't seem too bad. I have seperated out all the really short bits (like stubble) and the stiffer bits. I think I will card the rest with some other brown alpaca skirtings, spin the lot up and ply it. will make a lovely scarf and hat set I think.
Scarf Exchange
Thank you to everyone who has signed up and an even greater thanks to those who volunteered to be angels. Everyone reading this, if you think you have signed up, please make sure that you check the
scarf exchange blog
. Check the "Contributors" list on the right - if your name is not there, you have not accepted the invitation to join the blog. You need to do that. If you can't find the invitation, please requst for a new invitation by emailing us at "isehostesses at gmail dot com". Then you need to check the participants list on the post called "membership update". If your name is listed in the wrong group, let us know by way of email to the same address. Lastly, if you have not completed your questionaire, please complete it and send it in as soon as possible - to the same email address.
I hope everyone is ready to start knitting, because the fun will start soon. Cythia and I will be contacting you with the names your individual scarf pals after 15th November. Everyone play nice, okay?
Mini rant
While I am on the subject of playing nice, I must say I don't understand why people join these exchanges and don't play nice. Don't they realise how unfar it is to their recipient who has sent stuff on to their own recipients? I mean, surely everyone has a conscience? Ok, maybe not I guess..
No, I have not been the victim of a secret pal exchange spoiler, but I know people who have. I feel so bad for them. It's just not fair! Even if they're busy, and forget, surely they remember when they get their packages? How hard is it to get online and order something from an online store for their pals? And yet these people didn't. I really don't get it.

Anyway, rant over.. I must say I am so glad that I have had really great pals. Even when they were late, I always knew about it because they tell me. Late is okay, as long as here is commmunication, and my secret pals have been great communicating with me. Thank you pals, you know who you are! I have received some really nice things, and I have been really slack and not blogged about some of them. I really appreciate it all. Thank you secret pals! I hope I make my recipients as happy as you have made me.



Uni stuff



is mostly done! Just one more presentation - this Wednesday. Yay! Enrolments for next year open on 14th November. I can't believe that it's that time of the year again!



Excercise



is a dirty word, and I got dirty today. I am so proud of myself! I spent 10 minutes on a bike, 25 minutes on the treadmill, and about 10 minutes on some weights. I know, it's not much, but it's a start. I haven't been t the gym for oh, so long, and the longer I put it off, the harder it got. Now that I am done with uni, I have no excuses left. I have to go try to work out a little. Just a little.. until my poor little muscles wake up and get used to being used. Wish me luck okay?
Wednesday, November 02, 2005
Mostly over now...
Assignments nearly done
It's nearly all done now. Yay! One more presentation to go. That's the up side. Oh and the other good thing is that I am done with one whole subject and handed in the group assignment for the other (that's the one with the presentation next week).
The down side is that I am in a
foul
mood. We get to do peer group reviews for our group members. One particular person had not been contributing to the project and I felt compelled to give him a lower grade for participation. This will probably affect his grade. I have never done this before. I actually feel oddly relieved that I have done it. I also feel kinda bad that I don't feel bad for doing it. He didn't show up for most of the meetings and in the ones that he did attend, he was unprepared. He didn't hold up his end of the bargain and a lot of work was not done on time, or correctly. In fact we had not seen the complete set of slides 2 hours before the presentation. We ended up having to correct what he had prepared, and we didn't have time to prepare for the presentation. I guess I could go on and on and on and whine some more, but I won't. You know what? I am glad I sent my peer review report in. I am glad I dug up the email communication to back up my argument to the lecturer. I am glad I got it off my chest. Most of all, I am glad it is all over. With some luck, I would have passed and never have to do this again. With more luck, HE would have passed and I will never have to deal with him in class again (it's his last semester). It is finished.
Knitting news
Not much done on the knitting front. I have been plodding along slowly with the mohair scarf. I hope to get it long enough to consider it done soon. I do need to get it sent off if I am going to get it to the USA before Christmas/Hannukah.