Kid Mohair!
I carded it up
and spun it up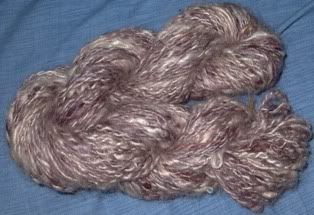 and it passed Chris' itch test. It's really soft, though not as loosely spun as I had hoped. Ibrushed it and steamed it to set the twist and it's all lovely. That's a 100g skein of about 75m, so it's fairly bulky.
It is also less pink than I had hoped. I am not sure that it's right for my scarf exchange pal. I'll have to sleep on it.
Finished bag
I decided to knit got my KRSP. She is into felting at the moment. I made her a bag which she can felt herself.
I hope she likes it. The package will be ready to send out soon.
New book!
I went to Rubi and Lana today and ended up with new book. It's the JO Sharp Book 5. I bought it for mainly one pattern.
I love it! Perfect for wearing to work! I am thinking grey and cream, what do you think?
I also liked these:
So much to do, so little time!