Sunday, November 28, 2004
Flower Basket shawl COMPLETED
I completed the shawl last night and blocked it this morning before church - which made us ten minutes late for church. Anyway, I'm back from church now, and here's a picture of my shawl being blocked.
Isn't she gorgeous?
I am very proud of her. I am going to start another one soon. I am considering addng beads to the points of the shawl. I am also thinking of using a handpainted yarn next time.
Friday, November 26, 2004
I will not be baited...
... by
trolls
on KR! How many times have I said that to myself, and fallen back into the same trap? (Ok, so maybe I am not that bright.. sometimes) Maybe now that I have written, er.. typed, it out, I will not fall into the same trap again. Those of you who follow the off-topic sections in KR (like
this
one)probably know what I mean, and the rest of you, just be glad you're not reading that section!
On a more pleasant note, my flower basket shawl is coming along nicely. I hope to have it completed by the weekend so that can block it. Now that I have gone down to 4mm needles, it's looking a lot better. I have not finished it yet, and already I am planning my next one. I am thinking of knitting it in a slightly thicker yarn and adding beads. I think that will be absolutey gorgeous! But I have to complete this one first. I have taken progress pictures of the flower basket shawl but I am too lazy to retrieve them from the camera. Maybe tomorrow...
Mitre10 at Lane Cove is closing down and the sale ends on Sunday. I went in, quite by accident, today and ended up buying:
1. a potato masher with a nice rubber-y grip on the handle
2. an egg slicer
3. a Wiltshire knife
4. a small strainer
All that for just over $8. What a bargain!
Wednesday, November 24, 2004
Oh the heartache...
I could not handle it. I kept missing stitches and the shawl pattern was simply NOT wanting to show itself. So I ripped it. That's right, ALL OF IT! Oh the heartache. And I was up to the 7th repeat of the lower lace pattern too! I had to restart it immediately, just so that I will actually do it!
So my shaw went from this:

to this:

I am now up to my 34th row.

I moved down a needle size (to 4mm circulars) and it looks SO much better, don't you agree?

I look forward to finishing it soon. I SO want to wear it!

And here are the pictures of my Fibonacci stripe felted bag. No prizes for guessing which picture shows the pre-felted bag and which one is the post felted one.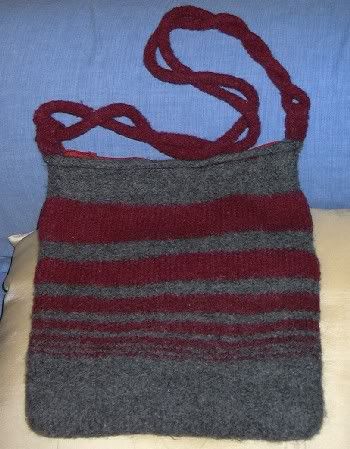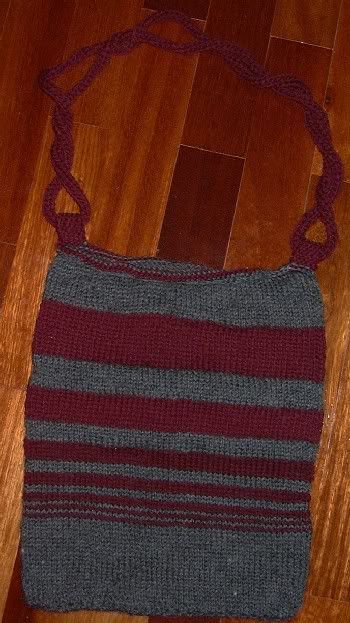 Ok. So the shape is not great. But that's ok, cos you can barely tell that it's a bit wonky once I fill it with junk!
This week has been a good week. For the first time in nearly a year, I went to the gym on Monday.. AND I went again today. I actually feel really good. It has been so long since I last did any decent excercise hat I have forgotten how good excercise makes me feel. Maybe there's some truth in what people say - you know, that excercise chases away the blues. Sssshhhh.. not too loudly now. You wouldn't want the excercise police knocking on your door, would you?
Now that my exams are ver and done with, I can knit with abandon. Hmm.. so what am I doing here? Time to go back to knitting- my flower basket shawl is calling out my name.
I nearly forgot to brag - results are out for one of the subjects I took this term. I got a distinction. YAY!
Sunday, November 21, 2004
Fibonacci Stripes bag COMPLETED!
Ok, I don't have pictures yet, but I will soon, I hope.

I popped the bag with some towels and pillow cases in the washing machine this morning. It came out well felted. The two different yarns did not come out as badly as I thought it may. The grey felted much better but it didn't seem to matter.
I gave it a good 'shave' with the lint shaver tonight and now it looks a lot better.

I learnt tonight that I should not knit the Flower Basket Shawl while watching Aussie Idol. I had to tink a few times, but it's fixed now. We got tired of watchign Aussie Idol after the first thirty minutes or so and Chris popped a Star Trek dvd into the player. We switched back to Idol just before Casey was announced the winner.

The Flower basket Shawl is coming along more quickly now that I have switched over to circular needles. I think they are Aero metal ones. They are a lot pointier than the plastic needles I was using before. I had a look at the pattern again tonight, and I think it will come out ok, once I block it (fingers crossed). I am up to the 4th repeat of the lower lace pattern. Another few more repeats and I will be done1 It is now easier as I am learning the pattern.

I also completed one of the pair of socks I ammaking with Confetti colour 2404 and grey Patonyle. One more to go...
Oops, I forgot..
When I posted on this blog last night, I forgot to answer a question regarding the tote bag. Annie asked how large it is. I measurd this morning. It is 10 inches wide and 13 inches tall (excluding straps).
I also forgot to mention that
hollyo
sent me an Adagio tea certificate worth $5. checked it out and I don't think I will be using it. SO ifyou are reading this, and you are an FibreRAOK member, let me know that you want it and I'll pass on the details.
My second pair of Confetti 2404 socks are well on theway now. I am up to knitting the heel flap. It's turning out nicely, even if I do say so myself. I'll probably have another few rows done while sitting here waiting for sounds that my landlady is awake so I can start the washing machine to felt my bag. I live in a granny unit, you see, and sound travels really well when it's
this
quiet.
Saturday, November 20, 2004
Exams are over, no classes for another 3 months!
I spent the last week studying for the exams and I am so glad that it's all over now. Results should be out in the next week or so, so its not too much waiting, I hope.
I have spent the past few days in guilt-free knitting. It's not as if I didn't knit at all during the last week - I started and completed a pair of DGB Confetti socks. I used just a little more than a ball to make a pair of socks. I didn't bother matching the stripes. Matching socks, you say?! How boring! I am using the rest of teh second ball to make anther pair of sock, together with some grey Patonyle for the ribbing, heels and toes. I managed to get a picture of one of the socks. i have not been bothered to photograph the other sock yet.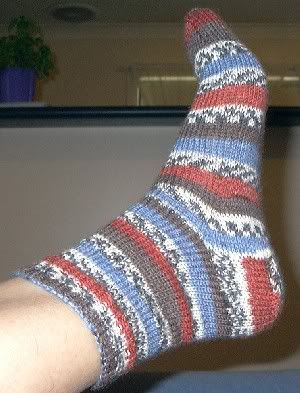 I started a bag yesterday, and completed it tonight. Into the washing machine it will go tomorrow morning, before I have to head off to Chris' parents' for the day. I'll post pictures when I next blog. I am a little concerned about the felting, as I used two different yarns for the bag.
Chris and I tried to go to the Lindfield Craft market today. It was not on! I did check.. I swear, I did. It's the third Saturday this morth and that's when they are meant to be on, right? WRONG! The place was deserted!
I am going to complete my Flower Basket Shawl in the yarn and with the needles I am using now. It will block out ok, I think. if not, I can alwys reknit it.
It currently looks like this.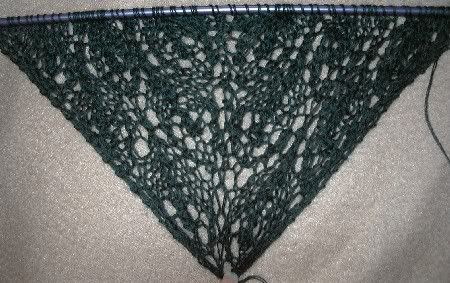 It's not pretty - YET!
Wednesday, November 10, 2004
I have been baaaaaaad
Ok, so I know my exams are a week away and I should be spending every free moment I have studying. Should be and reality are two different things in my world!
i have comleted the tote bag and it went into the washing machine this morning.
Pictures here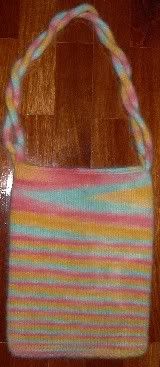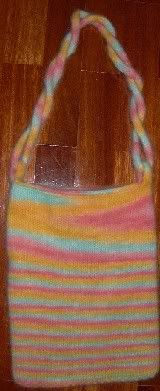 It's a bit bright, don't you think? I will leave it up to Christina to decide whether she wants to line it or add a zip to it. It is ready for use as is. Christina asked for a tote bag. At first I thought I may not have time to knit one for her. But the pressure of exams does weird things to me! Anyway, that's if Christina decides she wants it...
I found that since it was knit in st st, it needed a row of crochet to 'stabilise' the edge so that it wouldn't flop too much. This is pretty much the last of my rainbow wool - thank goodness. After making two bags out of it, I'm not sure I want to make another item out of it. I still have a little bit left but I think that can be used to make something really small and really quick.
Ok no more knitting till after my exams. Take the needles away from me!!!!
Monday, November 08, 2004
One (not so ) sick chick
That's right! I feel a lot better tonight. I am still sniffling and coughing but most of the congestion is gone.
I worked from home today - I didn't think sharing was caring, and I am sure my colleagues would have been relieved that my germs and I stayed away. It's just as well that I had decided to work at home because, guess what! I locked my car keys in my car (don't ask!). Chris had to bring over my spare keys so I could retrieve my car keys. I feel like such a silly billy!
Ok, what I was blogging about last night, before Blogger ate my post, was my day with Anne Maree. Did I mention that Anne Maree is visitig? yes, that's right, she's here from Canberra for 4 days. We met at the Rocks. While waiting for her to arrive - yes, she was late (I told you you'll never live his down, Anny!) - I must have visited the
Bead Bar
three or four times and walked past the fudge store half a dozen times. I finally caved in and went nuts at he fudge store. Let's see.. what did I get, Aussie Mud (rich chocolate), Kahlua, macadamia chocolate, hazelnut and a couple others which I can't remember. We still have a few bars left, but oh dear, oh boy, was that good fudge or was that good fudge.
Of course it did not help that Anne was famished when she arrved, so we set off in search of food. We finally settled on a pub where she could get a Chicken Caesar salad and a beer. And what was across the road? A FRENCH PATTISERIE!
I was at the mercy of the dessert gods. Anny tried to convince me that if it was still open by the tme she finished her (late) lunch, that was God's way of saying that we are to eaat pastries and cakes. It WAS still open when she finished eating, and so we wandered over. Next door to it was the bear shop. They had the most adorable collection of bears and stuffed animals. I nearly ended up with a few, but sanity prevailed and I walked out empty handed. We also walked out of the pattiserie empty handed. My belly wasn't happy, but I am sure my bathroom scales were glad!

I stoppped by the shops owned by the Society of Arts and Crafts of NSW a few times. I fondled all ther fiber goodies and gawked a the prices. $98 for a simple garter stitch diagonal scarf was certainly more than I would pay. Yes, it was wool and silk, but it certainly didn't feel like a hundred dollar scarf. Now if I could sell my scarves for that price... yeah, I think I'd be knitting scarves al day long! Do you think they'd take my stuff on commision? ;)

Oh! And I nearly forgot.. on the knitting front, I have started another bag. This will be a small tote bag - felted (of course?) It's made from some yarn I dyed in rainbow colours a few months ago. It's striping nicely. i am considering triimng it with some feathers yarn that I have. The other Idea I have is to sew buttons along the edge as a decoration. We'll see.. It's not meant for me. It's actually a present, but I won't say who it's for because I know she reads this blog. I will post a picture AFTER she has received it :) this is proving to be a quick knit as I am already 40% done.

Ok, I must get down to doing some studying.. I may not post for a while because of exams, or you may hear from me every day because ANYTHING is more fun than studying!

Sunday, November 07, 2004
sick chick
That's right.. sick..
I think it is just a bad flu bug. Dr Vu prescribed antibiotics. I am mostly well, but not entirely so. I am still sniffling a lot, coughing a little, and my ears hurt A LOT. On the other hand, my hearing seems to have improved and my throat is now a lot better. With exams just around the corner and a presentation on Wednesday night for one of my classes, I hope the sore throat does not come back. Meanwhile, I think I will be drinking lots of 'cooling tea'.
On the knitting front, I feel very accomplished. I have finished the front of Laurel Hill. I cast on the back this morning and completed the ribbing and started the cable pattern. I was planning on making the
French Market Bag (FMB)
but I didn't get around to casting on this weekend. I think this project will have to wait for two weeks.
Ok.. I tried to save this post and blogger ate it :(
No moe blogging toight.
Tuesday, November 02, 2004
Melbourne cup day
Not that it affected me in any way.. I was at work stuck on a silly conference call while everyone else was out at a cup lunch. I didplace a bet though, but I doubt I won anything.

Chris and I went to an Alpha dinner at church tonight. It was fun, at least I think so. We met people I had not met previously we may go back for the Alpha course, or maybe not. We'll see. It looks interesting but it is probably more for Chris' benefit than mine if we do decide to attend the course.

I started and completed the headband from IK's subscriber section. I actually needed to do 5 repeats of the lace rather than the recommended 4. maybe I just have a big head! I wore it to work today, and it worked quite well. I want to make the barrette next. I have some more of the same yarn leftover and I think I have enough for the barrette. It's the same yarn as the one that I used for the mittens - Patons Patonyle 4ply (wool/nylon blend).

I have not been working on much else. I have an assignment due tomorrow. That's mostly done - thank goodness. I can't wait to get it out the door..

In fact I can't wait for the exams to be over so I can have my 3 month break from classes. You can tell, huh, that I am really enjoying classes.. They are SO boring. One would have thought that having slept through much of my undergrad degree I would not be silly enough to go back for more. What can I say, I'm a sucker for punishment!