I spent the last week studying for the exams and I am so glad that it's all over now. Results should be out in the next week or so, so its not too much waiting, I hope.
I have spent the past few days in guilt-free knitting. It's not as if I didn't knit at all during the last week - I started and completed a pair of DGB Confetti socks. I used just a little more than a ball to make a pair of socks. I didn't bother matching the stripes. Matching socks, you say?! How boring! I am using the rest of teh second ball to make anther pair of sock, together with some grey Patonyle for the ribbing, heels and toes. I managed to get a picture of one of the socks. i have not been bothered to photograph the other sock yet.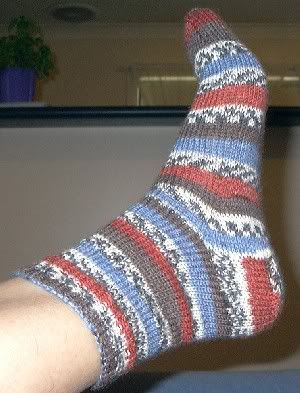 I started a bag yesterday, and completed it tonight. Into the washing machine it will go tomorrow morning, before I have to head off to Chris' parents' for the day. I'll post pictures when I next blog. I am a little concerned about the felting, as I used two different yarns for the bag.
Chris and I tried to go to the Lindfield Craft market today. It was not on! I did check.. I swear, I did. It's the third Saturday this morth and that's when they are meant to be on, right? WRONG! The place was deserted!
I am going to complete my Flower Basket Shawl in the yarn and with the needles I am using now. It will block out ok, I think. if not, I can alwys reknit it.
It currently looks like this.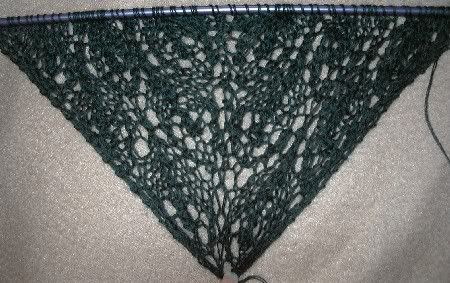 It's not pretty - YET!