Ok.. typing this out for the second time. Stoooopid blogger barfed and I lost my last post!
First things first - a picture of Sally Melville's basic bag which I made in a black ribbon yarn. I completed it last year but did not line it till recently.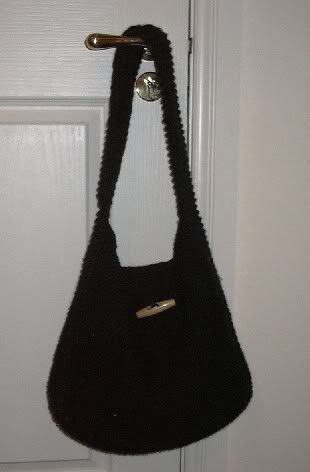 I have used it everyday for the past week. I love it! However, I discovered today that the ibbon yar easily gets caught on shopping trolleys! I'll just have to be careful from nwo on. Wouldn't want it unraveling, would we.
And here is a pciture of the Nouveau shawl. I haven't blocked it yet, but you can see what it looks like, kind of.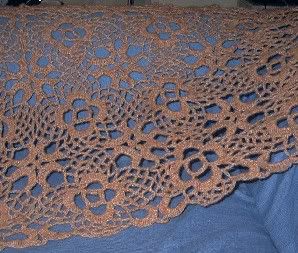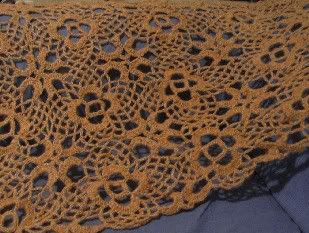 I took two pictures, one with flash and one without. No prizes for guessing which is which. the colour of the shawl is kinda between the colour of the two pictures. I don't think it is as pretty as the picture in the book, but that's probably because I was too stingy to buy mohair. Next time I make this, it will be in mohair! It's also probably warmer in mohair.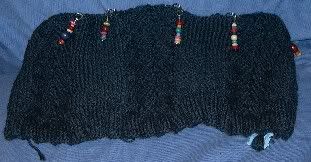 Here is a picture of my Laurel Hill sweater in progress. It is going really slowly, but I guess that is only to be expected of a cabled jumper. Can you see the sticth markers I am using? Those are the ones that Chris and I made together a month ro to ago. Aren't the pretty?
The weekend was hectic. Dad is in town. He didn't manage to bring me my sewing machine. maybe next time.. He did, however, bring me goodies from mum, including some herbs and a scarf and a couple of shawls. They are really pretty. I'll take a picture when the light is a bit better.
I managed to complete my assignment for Buyer Behaviour. Thank God. I thought I wasn't going to make it in time, but I did. Handed it in last night. I tried to use the anti-plagiarism thing, but it didn't work. I should be safe anyway, as I
know
I didn't cheat. Heck, i didn't have time to cheat! I started the assignment on Friday and had it completed by Sunday.
Look like ti is going to be another busy week at work. I am looking forward to the weekend. But then, I ALWAYS look forward tothe weekend. but this weekend is a little special. Sharlyn is coming over for lunch and Ginny is coming for dinner. Yay. I am planning to roast half a lamb leg. We'll also have roasted asparagus with anchovies, roasted carrots and onions, garlic mash potatoes, and grilled tomaoes and mushrooms. Doesn't that sound yummy! Even thinking about it is making me drool. Oh! And for dessert, we'll have bananas baked in orange juice with ice cream. Yum!