Did I mention that I will be attending a wedding on Saturday? The B's are getting married and I will be a bridesmaid at the Catholic wedding. The present is really pretty. Here it is..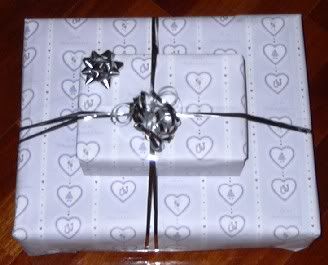 AND, if you click on the picture, you get to see it unwrapped, well, the bottom part anyway. The smaller part on top is just a set of DVDs - Star Wars, as requested by the bride and groom.
On Tuesday night I picked up the saree I will be wearing on Saturday. I am borrowing it fom the groom's mother (thanks, Mrs Joshi!). It's a peachy, apricot-y colour with gold and brown embroidery. Normally I would not wear that colour, but I don't think it will be too bad, especially since I am matching it with a brown blouse. I bought my jewellery when I was in Malaysia earlier this year. I even bought extras in case anyone else wanted to borrow some.
I have also finished the baby sweater I was knitting. Well, it is completely knitted and seamed, but it still needs a couple of ribbons. I could not find my white ribbons, so that will have to wait. I decided to name her - Emily. Emily looks grubby in the picture. She isn't, honest! She's snowy white on top, knit with 3ply Patons Feathersoft yarn and a sweet pink on the bottom, knit with 4ply Cleckheaton Babysoft yarn.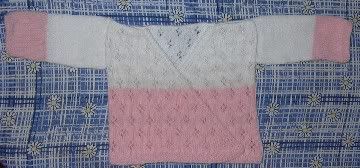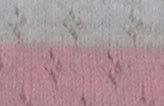 It only took me a few nights to knit. It is a really simple pattern. Interested? Leave a comment :)
I got a manicure and pedicure today. I got it done for the wedding. Bri was not fussy about what colour our nails were so I just picked a light colour. I chose a purplish pink, but it turned out more pink than it looked in the bottle. I did enjoy it, though. the last time I had a manicure done was over year ago. For $42 I got my cuticles done, nails clipped, filed, buffed and painted, feet bathed and scrubbed, and hands and feet massaged. I even got a back massage! Ok, so it wasn't a
proper
back massage, it was just a massage chair, but it still felt good.
So far I have had a few requests for a pattern for the cabled scarf I am knitting. Ok, I will write it out and post a link to it here.
So, those of you who are knitting the Ostrich Plume capelet, how's it going? If the pattern is not clear, I'd really like to know about it so I can explain it. It's the first pattern I have written and I'd like to know what I am not doing right.
I was talking to Anne-Maree today and I decided (she convinced me?) that I really want to make the Nouveau shawl from the Jo Sharp 'Village' book. Here's a picture
It's so pretty..
Ok enough blogging for now.. I am off to find some mohair yarn to make this shawl.