Ok, before we get to the squares, let me show you the wrap around top I made fo one of Jo Sharp's patterns. I substituted the recommended yarn with Bendigo's mohair/wool mix. I bought 600g (they come in 200g balls) and had most of one ball leftover. So for about $40, I guess I can't complain too much. At least it's warm!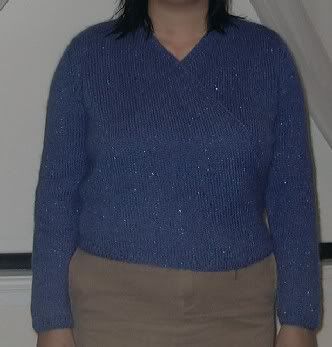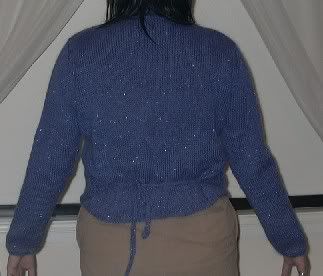 Yes, the sparkley bits you see ARE sparkley bits. the yarn as a strand of shiny blue thread plied together with the mohair/wool. Its so soft and so pretty (the yarn I mean, not the finished wrap-around). The neckline is too high for my liking. I thought I would like it because it has a high neckline. i now find that it is not flattering for me at all. I could have pulled the waist in a lot more with thhe ties at the back, but it looks really awkward when I do that. Anyway, I wore it out on it's maiden trip out of this house last week. It was warm enugh, but definitely not pretty enough for what I had initially knitted it to be - a pretty top to wear over a calf length skirt on cold nights.
Over the past few days I have been busy knitting more squares. It's so addictive. I can finish a square in a night and It's nice to be able to knit something so quick. Here they are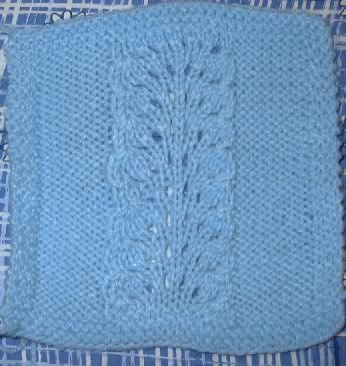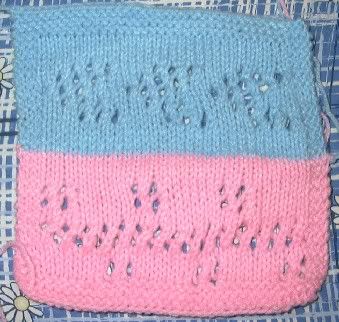 Left: Ostrich plume stitch on rev stockinette st, Right: random holes on a stockinette st background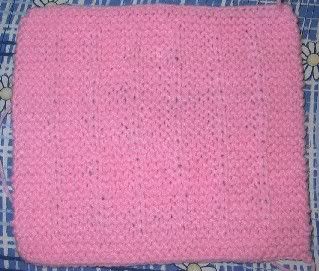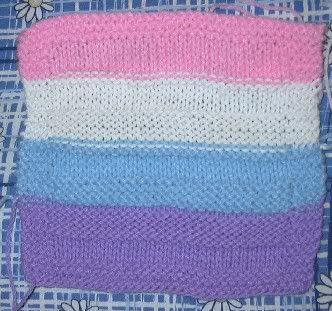 Left: Slip stitch lines on a garter st background, Right: Four couloured stripes in stockinette and rev stockinette st
My favourite is the blue ostrich plume stitch one, which I only just complete about an hour ago.
Right now I am working on a shell(tank??) top formyself out of the leftover yarn from the wraparound top. It's beautiful and soft, and I hope it will fit. Having to frog it will be hell because of the mohair content.
Thursday is nearly over, and I have not finished writing out the pattern for the capelet yet. my apologies to those of you who were asking for it. I WILL get it done I promise. It's mostly written out, but not in a way that is easly understood, so I will have to re-write itbefore publishing it here. Hold your horses, folks!