I must be on a roll for socks right now. I have completed the socks I was testing for
Margaret
. There's my Royal Pair.
I love them so much I am wearing them now. Nice comfy socks with just enough stretch to be firm but not too tight.
Can you see how the two socks don't match exactly? It's not just the pattern (which is my mistake) but the yarn. I knit it from two 50g skeins of handdyed yarn that I bought in someone else's destash some time back. It's not her fault they don't match - she did not dye them herself. I am just a little disappointed that tone skein had quite obvious grey spots in it and teh other didn't. I amactually glad now that I did nto use the yarn for a scarf like I had intended to at first. the mismatch would have been very obvious when I changed skeins. At least in socks.. well, they are just socks.
I also completed the second sock using my own Toughstuff yarn in colourway "ed". I call teh second sock "Ed Slipped". It is a simple design using a variation of the linen stitch for the leg and the instep. The fabric is firm with a little stretch, but not so stiff that it stands on its own. Another very comfy sock. I like how the slipped stitch pattern breaks up teh varigation a little but still allows some of it to show through.
I am calling for testers now. If you are a Raveler and want to test for me, sign up
here.
You make time. Wait, isn't that what everyone does?
Life's been frightfully busy here. If it is not one thing, it is another. For a start, Alex has a social life. That's right. My 3 1/2 year old has friends and as a result of that has parties to go to. Sometimes I wish I could take him and leave him there so that i can have a few hours to do the grocery shopping or clean the house, but, as I have also been reminded, this stage will not last long. Soon I will be wishing that I am allowed to stay and see what goes on at the parties! Right-o. Enjoy it while it lasts, eh?
Alex loves parties. it's the only time when he gets "party food"- sweets, chips and other "sometimes" foods. I still remember when he was still naive and had no idea that gummi babies are to be eaten. He was offered some, he chose two colours and was marching them along in the sandpit like little toy men. These days, he knows they are edible and that they can be quite delicious. There's no keeping him away from them now. the downside to not having party food at home is that wehn we go to parties, he likes to hover near the food table. I often wonder whether other parents think we don't feed him. Then I look at his little pot belly and his round cheeks and realise that nobody could, in their right minds, call him a starved child. Just look at this face!
That picture was taken a couple of weeks ago. He was modelling one of his new "knit by mummy" jumpers. A better look at the jumper:
Yes, I know, it is a little on the large side. You know what, this child grows like a weed!! It looks big now, but give it a year, or even half a year and it will fit just right. Since it's coming to the end of winter, I am hoping that it will last through next winter as well.
I have been asked for the pattern, but I never did plan to write it up. Perhaps I will, but it won't be for a while yet as I need to get through some of the other patterns I have sitting around first.
I used Bendigo Woolen Mills' Luxury 8ply in Stone and Oceanic to knit this. It took about 1.5 balls of Oceanic and about 1/4 of a ball of Stone for the stripes. Love love love the colour combination and I think I'll knit him something else in these colours. The design is simple. It is knit from the top down in one piece. The neckline is a simple placket neckline and the shaping is just your basic top down raglan with a few simple cables thrown in. I added ribs down the side to help with growth room. Who knows how rotund the kid will be in a year's time!
So, not only have I been busy with the knitting needles - more about that later - but I have also had to sew Alex some clothes. Purely out of necessity. Chris's grandmother, Lola, passed away a couple of weekends ago. Lola was 102 years old, so she's had pretty good innings, I think. Sadly, I never managed to have much of a relationship with her as she did not speak English well, and I did not speak Tagalog well. I still don't speak Tagalog well at all. I understand some words and phrases and can guess what is being said but most of the time I need an interpreter to communicate with Lola. Lola, may you rest in peace.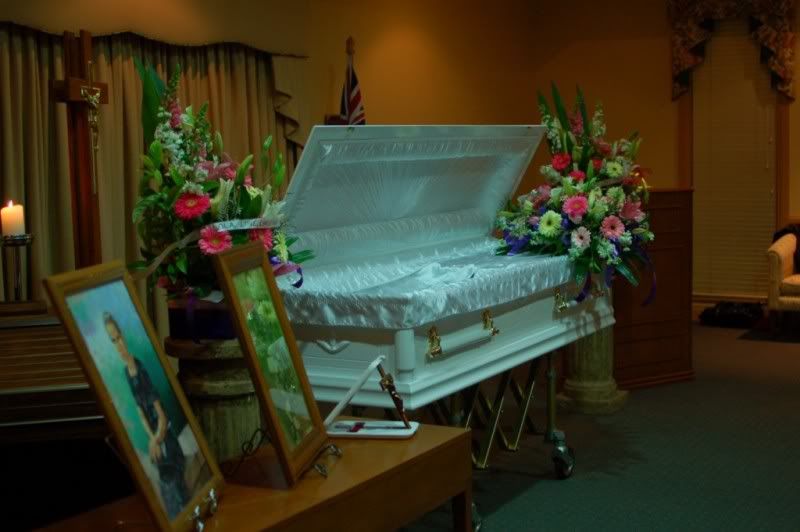 For the viewing and the funeral, Alex needed black clothes. Now, do you think it is possible to find basic black pants and shirts anywhere? No, of course not. Everything black in the shops is plastered with some sort of licenced picture of Ben 10 or Disney characters or Mr Men or something. Even the button up shirts had stuff across the back and/or front. Don't people make plain clothes anymore? Don't people buy plain clothes anymore? So I sat at the sewing machine on the night before the viewing and made Alex a pair of black corduroy pants and a black corduroy jacket. Poor planning on my part meant that I did not have any black/white fabric with which to make the jacket lining. Oops. The jacket was lined in blue fabric (with colourful trucks, no less) and I hoped it would not be too noticeable.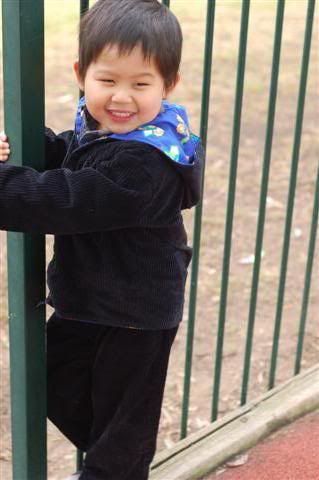 Alex had a great time at the wake playing with his cousins. We don't see them very often, but every time we do, I am reminded of how much fun it is to have cousins. We really should make a point of keeping in contact with them more often. Seeing each other's updates on Facebook really isn't quite the same. Alex was qute attached to a coupel of his cousins and he spent hours playing with them outside. Look how red his cheeks were, and it wasn't even a hot day!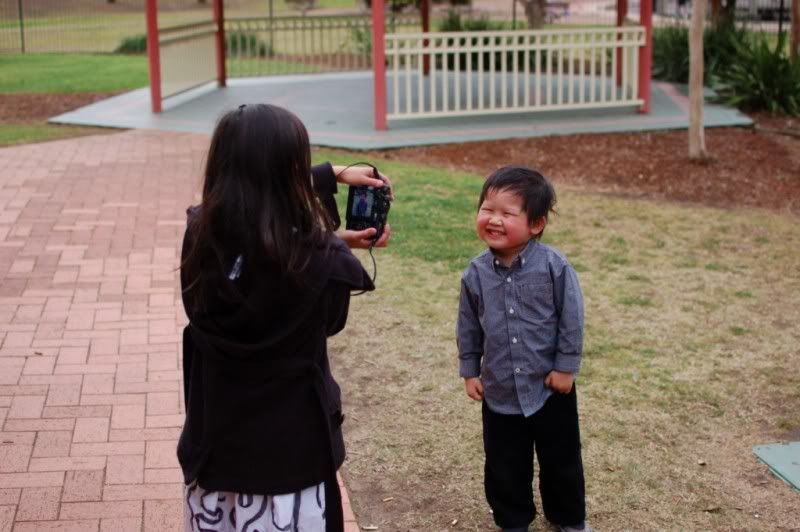 Okay, on the knitting front, what else have I been up to?
I realised that I never did announce on my blog the launch of two patterns.
First there's the Lazy Sunday bedsocks.
It features a spiraling rib on the leg and short rows on the heels and toes. There is absolutely no seaming or grafting needed on this design. It is knit using 8ply (DK) wool and is great for lounging around at home. Designed to be a comfortable fit, and loose enough to not "strangle" your feet and ankles whilst firm enough to stay on all night or all day, as the case may be. It is a
downloadable purchase on Ravelry
. I think it is an ideal introduction to socks - no grafting to worry about and no teeny tiny stitches on teeny tiny needles to manage.
The other pattern that I neglected to announce here on the blog is the
Hoo hat.
It comes in two variations, with the other having a band of owls around the hat.
This design was originally inspired by the
baby owl vest
by Jodi Haraldson. I thought theuse of cabels to knit the owls was really clever, and made it up to knit a hat, but the pattern sat on my computer for months and months waiting for me to get round to tidying it up and having it tested. Finally, a couple of months ago, I got my act together and now the pattern is published. My pattern is knit on 10ply (worsted) weight yarn and is sized ffrom newborn to adult. It is a pretty cushy hat.
Here's one of my nephew modeling the hat: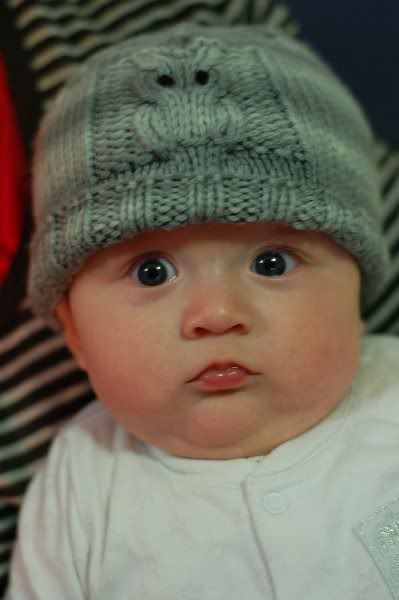 Isn't he a cutie! He's wearing it with the ribbing folded up. There's lots of stretch and plenty of room for growth. that's in teh smallest size, and I think it will probably fit him till next year. He was only about 4 months old at the time and has since grown heaps. The last time I saw him with the hat was at Lola's funeral, and it still fitted well, with room. Have I ever mentioned I love "room for growth"? No use spending all that time and effort knitting somethign only to have it fit for all of 2 or 3 months, right? Besides, I think little boys look kinda cute in oversized clothes, or maybe that's just my excuse.
Also, I did not announce the re-launch of the
Scallops on the Bias hat
. I took it off the store for a couple of months while I modified it to fit in with my pattern template and while I was at it, I added more sizes and instructions for an alternate crown.
The new crown looks like this
I have seen it knit in both solid and variegated colourways and both work well with the pattern. It is now sized from newborn to adult.
Okay, that's it for teh sales spiel. no more patterns to talk about, but it's not the end of teh knitting news. Yup, I have been a busy little bee!
I finally completed my regia socks. Which Regia socks? These ones
I started them back in 2008 and then lost the mojo to finish them, so they have been sitting around in their half finsihed state for about two years. Finally got round to finishing them, and they're a great fit. I can't remember what the pattern is called. it's a Fibertrends one and it's got somethign to do with railway lines or tracks or something of that sort.
Having finally tackled that sock, I felt more confident to sign up for the testing of
Margaret's
Royal Pair socks.
I am midway through the second sock now. Now that i have found my "happy knitting place" with this pattern, it is working up quickly and error-free.
I boo-booed on this sock and the leg has 2 repeats of the chart instead of three and I made the second set of twisted cable stitches too long. On the second sock, I knitted two repeats again but fixed up the error of having the cables too long. So I have two socks that won't match, but that's okay. We can all be
Dobby
sometimes, right? I am really enjoying knitting this. It's a brilliant design.