Saturday, April 30, 2005
Reproducing like ..uhm.. bunnies?
There are now two bunnies. Here's a picture of them getting acquainted...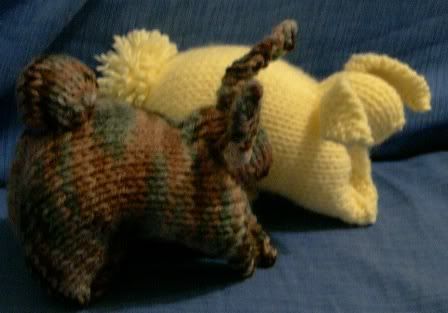 and sitting happily side by side...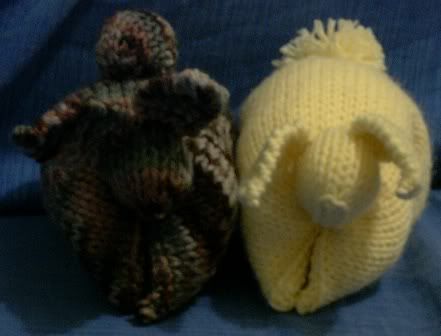 I changed the pattern slighty by changing the tal On the original bunny, the tail is made by attaching some stuffing to the rear end of th bunny. The first bunny I made had a pompom for a tail. I changed the tail again for the second one. I knitted a 'circle' or a good approximation of one by doing the following:
Cast on 6st
1. Knit
2. k1, inc1, k4, inc1, k1
3. Knit
4. k1, inc1, k6, inc1, k1
5. Knit
6. k1, inc1, k8, inc1, k1
7. Knit
8. k2tog, k8, k2tog
9. Knit
10. k2tog, k6, k2tog
11. knit
12. k2tog, k4, k2tog
13. Knit
Bind off
After that I threaded the end of the yarn around the circle and tightened it slightly. I stuffed the tail before tightening it further. I then attached it to the bunny.
I met my classmates at the university today to discuss our group project. It seems to be going rather well. We run a 'company' in a simulated world. We have 'products' and 'brands' to manage and currently our products are doing well. I hope this upward trend will continue.
After the meeting I met Chris at a discount bookstore near the university. Look at what I bought: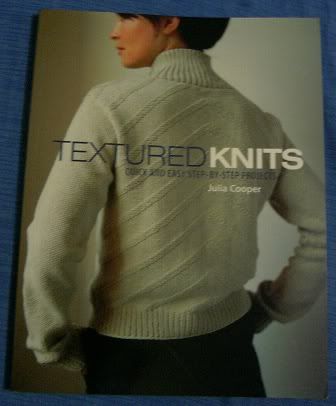 It only cost me $17, and I have found a couple of patterns I want to make, including a cabled jumper. I also managed to get a copy of 1000 sweaters to knit for Anne-Marre that she had asked me to buy for her.
Oh, and did I mention that I have found my fern lace diamonds scarf that I was test knitting? It was plying peek-a-boo with me from behind my couch. Don't ask how it got there - I don't know.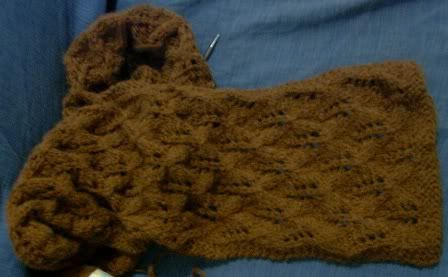 I think I am nearly done. I will knit to the end of this ball of wool and see whether it is long enough. If so, I will probably not bother starting on another ball of wool.
Insomnia..
Yes, you read the time correctly. It
is
10 past 5 in the morning and I am wide awake.
Look what I made this week: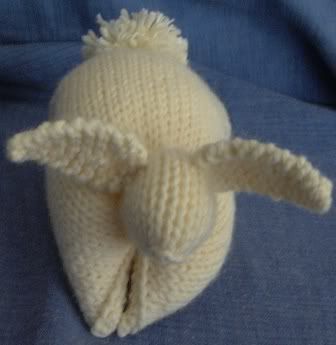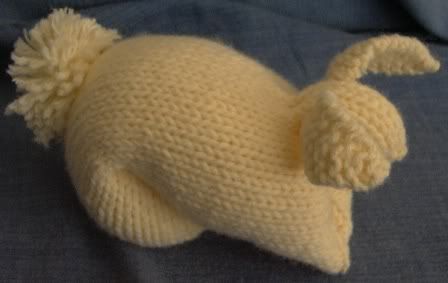 The pattern is
here
He's cute, isn't he, in a misshapen kind of way? Well, I think so.
I am making a couple more for Brenda at church. She's the Baptist chaplain at one of the local hospitals and a few weeks ago she asked the congregation to donate some toys that she could use for the kids who came in with sick parents or with the kids who came in because they were ill themseles. This is a quick and eas pattern, as you can see. It's knitted out of a square and only takes a few hours to make.I am thinking of tacking on a ribbon around its neck for a bit of colour and changing the tail from a pompom to a knitted bob-tail thing. You knw how children like to put things in their mouths. Maybe a pompom isn't the smartest of ideas.
I am about 50% done with my second one which is knitted in a brown/grey variegated acrylic yarn. I figured that if I made the tail a knitted one, then the whole bunny can be washable, and acrylic washes well. I'll post a picture when I am done.
Thursday, April 28, 2005
Back on EBay
Selling, not buying!
I am still not allowing myself to buy till June.

Thank you to everyone who offered to ship some Knitpicks yarn to me. I worked out today that if I do buy aything from them, I'll end up spending between US$50 and US$80! Ouch! Just as well that I have to wait I think.

I love the alpaca cloud in the lighter blue, pink and grey. Absolutely gorgeous. And that Shimmer stuff, yum!

Anyway, back to selling on EBay. Well, I have decided to get rid of some of the boucle yarns that I bought, with good intentions of making chemo caps. It just didn't work out as Inever got around to making those hats! The yarn seems nice and soft enough, but I got distracted. Also selling off someof my own hand-dyed stuff. I need to make room for more yarn in June!

Winter is setting in. I am thinking of gettng more yarn to dye, if this lot sells well. You can see what I am selling by clicking on the link on the top of my right side-bar.
Tuesday, April 26, 2005
Knitpicks does NOT post to Australia??!!
Yup, That's right... Kitpicks does not post outside of the USA and Canada. How sad..
My list of possible purchases in June now looks like this:
1. A cone of the cashmere or silk or blend from Ozeyarn
2. Some Peruvian Collection Baby Silk
3. Some Peruvian Collection Baby Cashmere
4. Some Peruvian Pure Alpaca
5. Bendigo Mills Alpaca
6. Knitpicks' Andean Silk
7. Kitpicks' Radiance Wave
8. Knitpicks' Andean Treasure
9. Knitpicks' Alpaca Cloud
10. Knitpicks' Shimmer

Oh well, that just means that I have fewer things to pick from. I guess that's nto a bad thing. I really did want some of that laceweight stuff from knitpicks, though. I have heard so much about it that I'm dying to try some. I hope they start selling outside of North America real soon!
Ok. Enough whining about Knitpicks! I am not allowing myself to buy any yarn till Jne anyway. maybe things will change by then.
Look what I made on the weekend: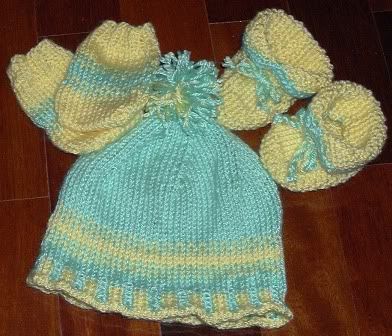 My colleague in the US was expecting a grandchild whle I was at work on Friday. I am expecting that the little tyke was born some time on the weekend. I thought I'd knit something for him... and ended upw ith a hat, a pair of mittens and booties - my own design. It's now got to go in the mail, and fingers crossed, it will arrive before the baby grows out of them!
I used Patons Zest, which is probably the softest most wonderful acrylic I have ever knit with. I am not sure I like the shiny finish, but it's so soft!
Now, would you believe that I can;t find the scarf I was knitting? I was half way through testing the pattern for Figheah, and I thought I'd put it away while waiting for some corrections. It's now missing! I hope it will show up soon, as I really do want to finish it. Silly me.. I probably left it somewhere "safe". Yeah, right!
I was contacted by deGroots (a restaurant review site) asking whether I wanted to link my comments about Pilu to their website. Of course I do, but I can't be bothered going back to my previous post to re-do the links. So here it is. Go take a look. deGroots is a great resource if you are looking for a restaurant in Australia. The sample menus give a fairly good indication of what to expect n the restaurant. From time to time, they also feature promotional deals. Fabulous!
Wednesday, April 20, 2005
Of food and more
It's been over a week sice the last time I posted. It's been a busy busy busy week.
My parents are here, visiting for the week, with 2 friends. They arrved on Friday night, and it's been go, go, go since then. Chris and I met them at the airport n Friday night and drove them to the hotel where they were stayng that night. We went to
Superbowl
in Chinatown for supper. Mmmm.. congee... (to the uninitiated, this is Chinese rice porridge, usually cooked with meat or seafood of some sort)
On Saturday, we met at the seafood markets for lunch and had a mini degustation meal, starting with oysters from the oyster distributer there, followed by mains at
Doyles
, and then went to Haberfield to uy chocolates and have dessert there. Oh man, that was a day of eating!
To top it off, we joined the Cooper-Garrett clan for dinner to celebrate Grandad's 75th birthday at
Pilu at Freshwater
. This is probably one of the loveliest restaurants I have visited in a long time. I must admit that I ordered poorly, but even so, I still did enjoy my meal. It was just way too much and way too rich for me. Take a look at this seafood soup
Chris loved his roast suckling pig. Oh yum! I had some, and it was lovely. I think half the table ordered the suckling pig! The company was lovely too!
On Sunday we headed up towards the Hunter Valley, about 2 hours North of Sydney. This is wine country, and boy, did we get wine! My parents and their friends stayed the nigt at Pokolbin, but Chris and I had to return to Sydney for work.
On Monday, we had dinner at
Cafe Sapori
. Chris and I had not eaten there before and were pleasantly surprised. It was an intimate little restaurant, with beautiful food. My eye fillet steak was perfectly done. Could not have asked for more.
My parents left for Canberra yesterday. My stomach gets a rest, at last! When they return on Friday, we will be dining together at
Emperor's Garden at Chinatown
. We figured that they'd probably be tired of 'white food' by then, and would be wanting some Asian food, so we decided to take them somewhere Chinese. We've eaten tehre once before, and it was ok, so I hope that our dinner on Friday will be just as pleasant. They will be coming back to my home for dessert after dinner. I am making creme caramel for the non-diabetics. For the diabetics, I will be making apple foldovers, I think. i can't think of anything else to make that does not have added sugar. Suggestions, folks?
I received
Ozeyarn's
sample card this week. What beautiful colours! I am considering the silk yarn that they sell. The colours are gorgeous. The Heirloom Cashmino also looks lovely though I am not sure what I would make out of it.
I am strating to plan for my birthday in June. I have a little over a month to work out what I want. I think I will have abut $60 to $80 to spend. The current contenders are
1. A cone of the cashmere or silk or blend from Ozeyarn
2. Some
Peruvian Collection Baby Silk
3. Some
Peruvian Collection Baby Cashmere
4. Some
Peruvian pure Alpaca
5. Bendigo Mills Alpaca
6. Knitpicks'
Andean Silk
7. Kitpicks'
Radiance Wave
8. Knitpicks'
Andean Treasure
9. Knitpicks'
Alpaca Cloud
10. Knitpicks'
Shimmer
so many choices... what do I buy?
On the knitting front.. mm.. I have been busy.
I started a new project. It started as a capelet, but now I thinnk it will be a cardigan. This is my first attempt at knitting with beads. It's coming out ok. I am not sure whether I have attached enough beads, ut I don't really want to weigh the piece down with beads. What do you think?
In the past week, I have also completed the brown/black jumper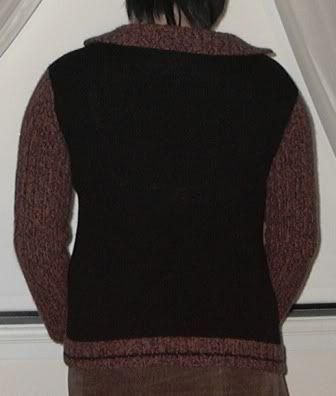 I am not terribly impressed. I don't like how the shoulders fit. I think it looks sloppy. I am thinking of adjusting the shoulders, bringing them in a little. I am not sure that is going to work, but probably worht a try if I have the time.
Saturday, April 09, 2005
Test knitting 1/2 completed
All done - the hat part, that is.
Here are some pictures
First, the hat, laid flat: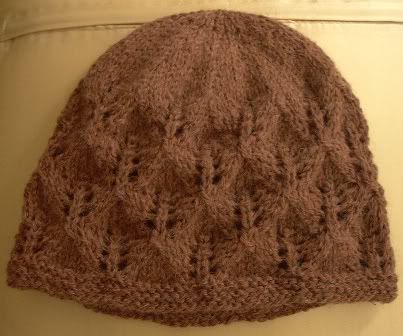 And now, what it looks like on my head: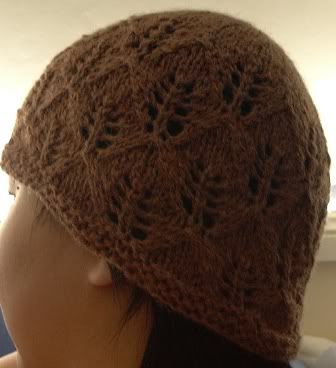 And finally, a picture of the joint.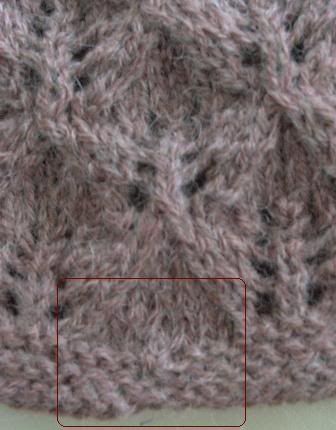 You can see where I joined the two sides of the garter stitch band. It's not perfect, but not too obvious. You can barely see it once the hat is worn.
The original pattern does nto actually have a joint, but I decided to knit the band flat and then join for the lace pattern. I thought that was easier than knitting garter stitch in the round.
I also made some small modifications to the pattern, including decreasing by one stitch and changing the first and last few stitches of each round.No biggies.. but I will certainly pass that on to Jenny.
Remember that yarn that I spun?(refer to previous post) Well, I dyed it.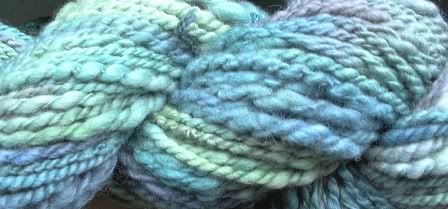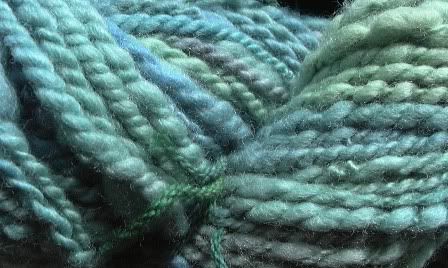 And then turned it into a hat.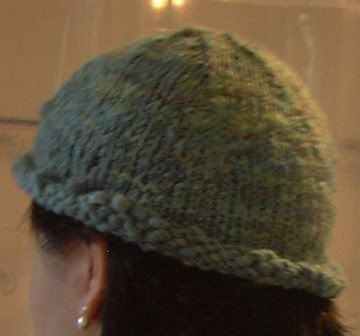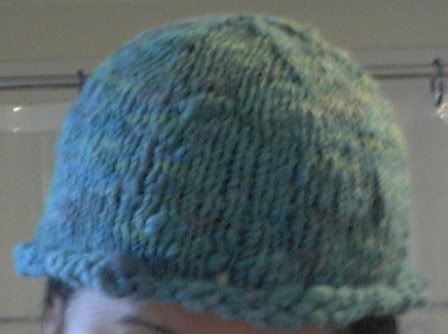 It was interesting knitting with a thck-thin type yarn. that as of course because my spinning skilll still leave much to be desired.. and the arn is not even. But hey, the hat didn't turn out too badly. It's quite cute, I think. The thick-thin yan creates an interesting rolled brim. It's a little bumpy and and quite different!
Wednesday, April 06, 2005
test knitting for Figheadh
Now in case you are wondering, that's pronounced "fee-yugh", or so says the website.
This
is what I am test knitting. I am using Patons Misti, which is a lovely soft blend of alpaca and acrylic. I think the yarn has been discontinued. The only reason I have some (about four balls) is because I got lucky in an EBay auction.
I have printed out the pattern and I am all ready to go. I have read it. It looks good. This being my first test knitting project for anyone other than myself, I am very excited. I have started up a Word docment to record my gripes about the pattern. i hope to have some nice things to say too, of course! The pattern really does look good. (Oh, have I said that already?) There are some minor changes I would like made, and I will tell Jennifer what they are - LATER.
What do I get for doing this? Well... a free pattern the pelasure of knitting something nice for myself and the experience. I think that (the experience) in itself, is priceless.
Stay tuned to find out how I go with this project.
Tuesday, April 05, 2005
Little blue hat has found a home!
Remember the little blue baby hat? It's found a home - with Tam in Melbourne. Here's a picture of her baby wearing it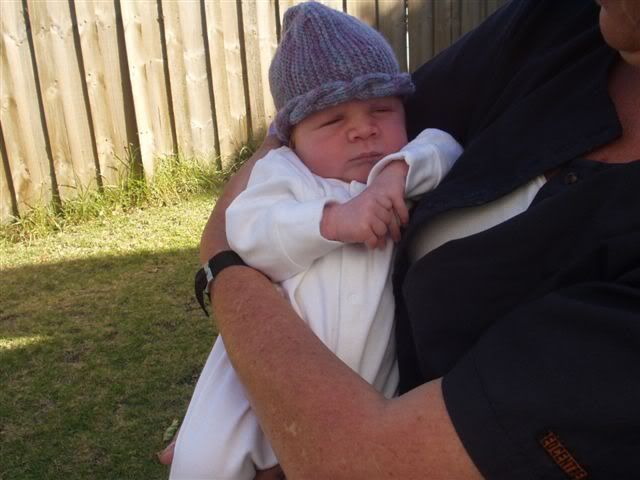 Isn't he gorgeous? Wello, the hat is pretty cute too, even if i do say so myself.
I was home yesterday as I wasn't feeling very well. I had one of those headaches that's only n one side of my head. Everything felt oh so bright and I was about to rip my head off when the paracetamol kicked in. I managed to get a fair amount of knitting done once the headache started to subside. I think, if I am lucky, I may even be able to finish the brown/black ribbed jumper in a couple of weeks.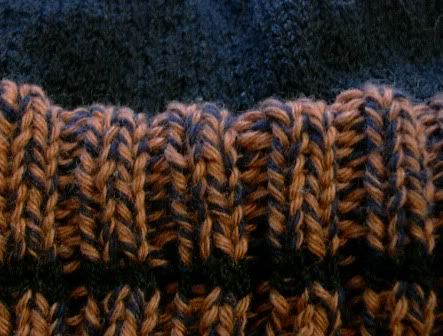 I noticed a few days ago that what I thought was a black yarn twisted through the brown is actually blue! But there is no way I am going to frog the jumper now! I don't think it is all that noticeable, do you? I think I can live with it.. and the colours don't look
that
bad.
Chris was also home esterday as he was also feeling under the weather. By about mid afternoon we were both feeling better. My headache was gone, thak you Panadol! He drove me to
Virginia Farm Woolworks
, and look what I bought!
That's wool on the left and cotton on the right. Jenny was kindenough to show me how to spin the cotton. It looks difficult. I think it will be keeping me busy for a while.
The wool I spin from wool top is starting to look better
This is what the thick thin stuff looks like: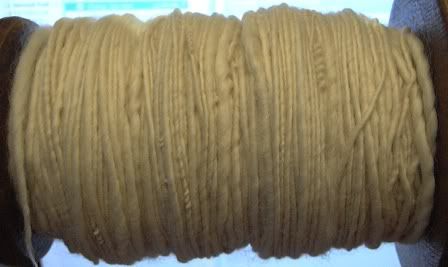 Here's a picture of the more even stuff that I spun this evening:
Here's a picture of the two plied together (on my niddy noddy):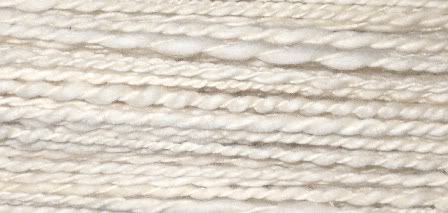 And finally, here's what it looks like in a skein:
Not bad, huh...