Yup, That's right... Kitpicks does not post outside of the USA and Canada. How sad..
My list of possible purchases in June now looks like this:
1. A cone of the cashmere or silk or blend from Ozeyarn
2. Some Peruvian Collection Baby Silk
3. Some Peruvian Collection Baby Cashmere
4. Some Peruvian Pure Alpaca
5. Bendigo Mills Alpaca
6. Knitpicks' Andean Silk
7. Kitpicks' Radiance Wave
8. Knitpicks' Andean Treasure
9. Knitpicks' Alpaca Cloud
10. Knitpicks' Shimmer

Oh well, that just means that I have fewer things to pick from. I guess that's nto a bad thing. I really did want some of that laceweight stuff from knitpicks, though. I have heard so much about it that I'm dying to try some. I hope they start selling outside of North America real soon!
Ok. Enough whining about Knitpicks! I am not allowing myself to buy any yarn till Jne anyway. maybe things will change by then.
Look what I made on the weekend: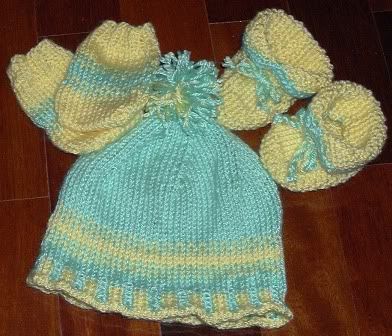 My colleague in the US was expecting a grandchild whle I was at work on Friday. I am expecting that the little tyke was born some time on the weekend. I thought I'd knit something for him... and ended upw ith a hat, a pair of mittens and booties - my own design. It's now got to go in the mail, and fingers crossed, it will arrive before the baby grows out of them!
I used Patons Zest, which is probably the softest most wonderful acrylic I have ever knit with. I am not sure I like the shiny finish, but it's so soft!
Now, would you believe that I can;t find the scarf I was knitting? I was half way through testing the pattern for Figheah, and I thought I'd put it away while waiting for some corrections. It's now missing! I hope it will show up soon, as I really do want to finish it. Silly me.. I probably left it somewhere "safe". Yeah, right!
I was contacted by deGroots (a restaurant review site) asking whether I wanted to link my comments about Pilu to their website. Of course I do, but I can't be bothered going back to my previous post to re-do the links. So here it is. Go take a look. deGroots is a great resource if you are looking for a restaurant in Australia. The sample menus give a fairly good indication of what to expect n the restaurant. From time to time, they also feature promotional deals. Fabulous!