And, no, I still son't know who you are as the package arrived today ithout the full customs declaration. All I saw was your address, and Seattle's a large place!
Here's what I received...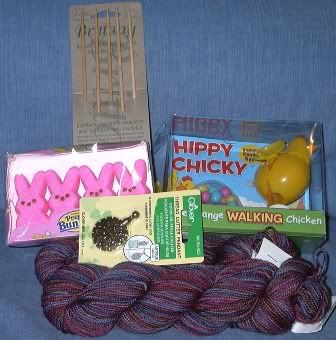 Wow! The Koigu KPPPM is beautiful! I know, te photo doesn't do it justice. The colour is much darer than it appears in the picture. Here's a close up. It still looks washed out, but you sort of get the idea.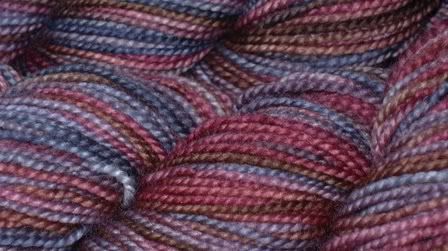 Thank you, KR Secret Pal!
You know, I looked at the pattern-a-day calendar and oh my! I feel so silly! I had just re-invented the wheel! There is a pattern for an almost identical hat in the calendar to the blue baby hat I had completed on the weekend. And I thought I was so clever too! Oh well, I guess that just goes to prove that coincidences happen.
I started another one of those hats, this time "celia-sized". Last night, mid-way through knitting the hat, my needle broke!

Anyway, I managed to complete it tonight. I used one skein of Patons Totem 8ply yarn in shade 2002.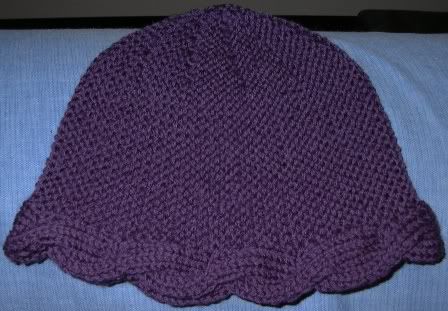 Oh, and Diana, remember that skein of red mohair you sent me for Christmas? Here's what it became.
I love it, eventhough it was not as lacey as I had hoped. It's wonderfully warm and just the right length to wear under my coat so it doe not get all bunched up. Thanks Diana!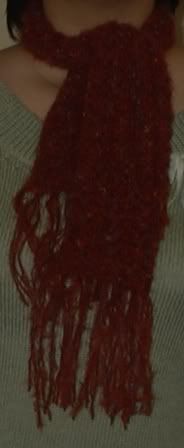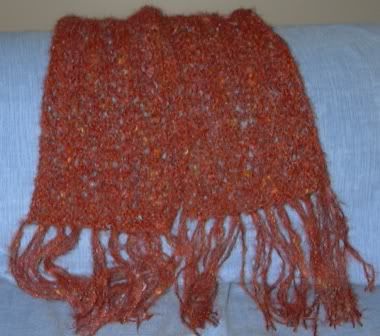 Oh, and I nearly forgot - I have added a recipe for creme caramel to the side bar. Try it, it's beautiful! It took me three or four tries to fine tune the recipe, and I finally got it right. It's most delicious.. mmm.. yummy yum yum!