The problem with doing so much shopping is the ironing I have to do now that I have unpacked! I have now run out of coat hangers and have to stop ironing till I can go out and buy more (well, that is my excuse anyway).
I arrived in Sydney on Saturday morning. As luck would have it, the conveyor belts were not working at the baggage collection area. Poor Chris waited for me for nearly 2 hours! I managed to get an hour or so of sleep before I had to make my way to his brotehr's wedding. I nearly overslept. Silly me! I had set the alarm clock on my mobile phone to go off, but I had forgotten to change the time on the phone back to Sydney time. Silly me! The alarm clock would have gone off 3 hours too late! Thank goodness Chris rang to check on me!
The wedding was held here: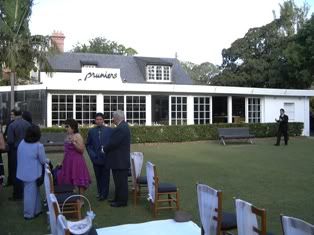 It was a lovely day for a wedding. The sun was out and it did not rain till towards the end of teh reception.
I am so glad I took Monday off. I needed it to recover from the lack of sleep. Chris and I ended up going down to the rocks for the day. We had lunch at lowenbrau Keller. Pork and beer, who could ask for anything more?! Oh! And a word of advice - if you ever eat there, don't ask for warm water! I was charged $5.40 for 2 tiny pots of warm water!! Ouch. Ok, I could ask for more - cheaper water!
We walked along the quay and admired the sights...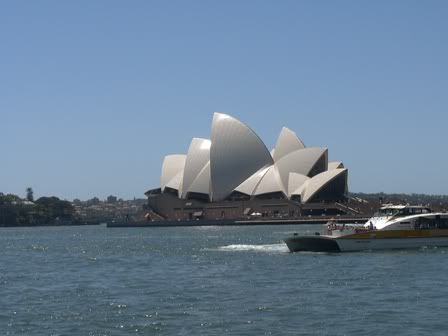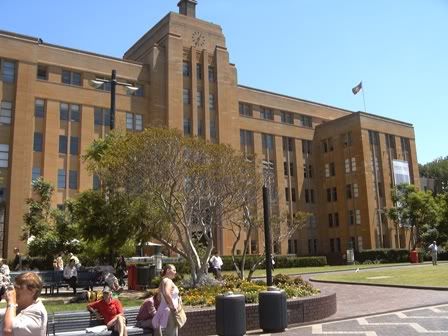 On the knitting front, I have not done much. I worked a little on the Laurel Hill jumper today but did not make much progress. I am so tempted to start another project. A shawl perhaps.
I was told that Lincraft is having a huge sale. Oh no! I dare not set foot in the shop as I know that I am weak and I have promised myself that I will not buy any more yarn till my birthday. No, promises are not meant to be broken. I will NOT buy any more yarn. However, if you are n the area, check it out. There may be something there for you!