First things first – here is a picture of the blue-ish greenish purplish pinkish (overall ocean-ish) yarn I mentioned in my last post.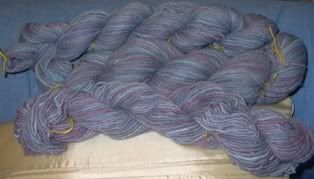 The top skein was the one I spun last and the lowest skein is the one I spun first. As you can see, the first skein is a little over twisted. Oh well, live and learn.
The colours did not come out too well.. here's another shot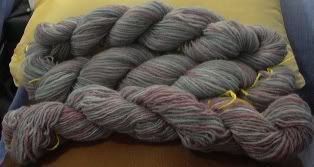 It does not look as ocean-ish in the pictures as it does in real life.
I thought as first that I will knit a stole using seafoam stitch, but now that I have felt the yarn again, I am not sure it is soft enough to be turned into a shawl. It's not course like sand or anything, but it's not super soft either.
Remember the mohair scarf I was knitting? Here it is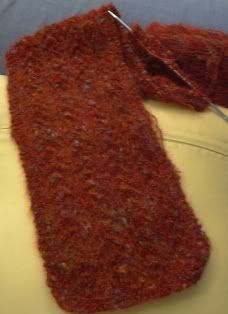 The lace has not turned out too well in the picture. The holes are clearer in real life than in the picture. I will try photographing it again after blocking it.
Today I went to Spotlight to get a replacement set of sock needles for the ones that were lost in the post. After reading
Donna's
post on KR, I thought I should check out the yarn. No, I don't need any more, but I thought I'd look anyway. Naughty, naughty. I don't know whether I should be happy or sad that they were not selling the Angora Supreme at $2 a ball. At $7.10 a ball I didn't feel inclined to buy enough for a jumper. At $2 I may have bought it , but certainly not at regular retail price. I did, however, find some
Patonyle
at $2.99 a ball. I bought 4 balls of colour 4305, the only colour they had in stock.. I am planning on using to knit some lace or cabled socks as the colour patterns are random and should not interfere too badly with a lace or cable pattern.
Hmm.. have I mentioned my non-yarn-buying resolution? Yup, that's right. I have decided that I will start on 1st February this year. I will not buy any yarn for 4 months and try to knit up as much as I can. At 1st of June, as it is my birthday, I may choose to reward myself with a small yarn purchase. After that I will not buy any more yarn till 31st December. By then I should have knitted up a fair bit of the yarn I have in my stash (a fair bit would mean about 15% perhaps) and will allow myself another small purchase at the Spotlight or yarn store sales. I hope that by going on this yarn 'diet' I will be able to make some room in my closet for things other than yarn! I guess that is my new ear's resolution this year.
At Birkenhead Point, after leaving Spotlight, I went to Gloweave to see whether I could get Chris some shirts for work. I managed to get three shirts for him. I hope they fit, but I guess if they don't, or if he does not like them, he has 30 days to change them. After that I was naughty and dropped in at David Lawrence. I should not have. But I did. And I walked out with 3 summer dresses and a shift dress for work. I bought all four for less than the original price of one at regular retail price. That should have made me feel better, right? Wrong! I would never have bought a David Lawrence dress at regular retail price – not at the $250 and above price tag attached to them! I wasn't going to shop in Sdney before returning to KL. Oh well, resolution broken. I will not be shopping any more. I want to save up my little pennies to shop in KL where everything is infinitely cheaper than they are here.
Another 8 more sleeps before I see my family.. I am very excited. I spoke to my mother today, and she's setting up an appointment with the hairdresser and beautician today for a haircut and a facial for me. I have not found a hairdresser in Sydney I like yet, so each year when I go home to KL, I get my hair cut by Raymond, who has been cutting my hair for the last ten years or more. When we go to see him, it's a family affair. My parents and grandmother get their hair cut by him too.
I can't wait to be home!