And this is what has become of it thus far: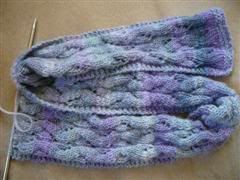 I must admit that it is growing on me. The colours are coming out nicely, though I am still disappointed that the green tones appear to have been devoured by the blues. At the moment I have completed 17 1/2 repeats and it measures a little over 37 inches unblocked. As it is quite a skinny scarf, I am hoping to get it to about 70 inches so that my scarfee can wind it around her neck twice if she wishes. That is 70 inches blocked, which will probably be about 60-65 inches unblocked. I'll probably get to 30 repeats and measure again.
B1
came over yesterday for a knitting lesson. She has been making a garter stitch scarf and it's coming along nicely. She started it with a couple of balls of yarn from her mother's stash. It was unlabeled and I'm not quite sure what it was. When she went to try find some yarn with which to add to her scarf at a certain Sydney city yarn store, she was told, "that's acrylic. We don't have that here". I'm not sure it's 100% acrylic - may have been a blend. I didn't test it either - what's the point? It did sound rather snobbish and dismissive of them, though. However, I did warn her that they can be rather snooty at that store. Credit where credit is due - they did help her to find some yarn to use on her scarf and she ended up buying a couple of balls of Cleckheaton Country Silk. It's a pretty yarn from 85%wool and 15% silk. It's soft and has a really nice hand. Guess who ended up with a ball of that? Yup, B1 gave me a ball as a thank you for teaching her to purl.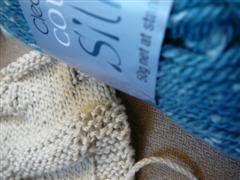 Gosh! That girl is a fast learner. It took her minutes to learn the purl stitch and after that she was practicing it without a problem. Look at that piece that she knitted in a couple of hours here ... pretty good, huh? Her stitches are mostly nice and even too.. I am almost envious! I am quite sure I could not knit like that when I first started.
Alex was a gem for the most of the time that B1 and B2 were here. He got tired at around dinner time (as usual.. he seems to ALWAYS know when I am done cooking!) and started to grizzle a little. He was easy enough to put to bed, though, as he was probably so exhausted from all that talk talk talk with B2.
This is his latest trick. He's still too young to be told it's rude to poke his tongue out at people. Well, that and he thinks it is amusing and it does amuse me. Yes, I am easily amused by my boy. :)