Sunday, February 26, 2006
Not quite a hat-trick
I have two FOs to share - both from this weekend.
This hat was knitted from a single skein of handspun merino/glitz mix. Glitz, for any uninitiated amongst us, is nylon, which is what gives the resulting yyarn a slight sparkle (which is not clear in the photo). The flower was knitted out of the end of the same skein which was actually plied with a strand of alpaca. I had some extra left on one bobbin you see, so I decided, what the heck, and plied it with an alpaca single froma nother bobbin. This hat will be given to a friend for her 27th birthday.
The second finished object is this:
I knit it out of a skein of handspun Optim Merino wool. It was chain plied (also known as Navajo plying) to keep the colours together and create the striping patterns that you see. This hat is for me :) I love the self-striping effect,a nd the pink is just so 'me' at the moment. If anything, this pink phase is getting stronger. It's showing no signs of waning any time soon. [sigh]
Cheese Adventures
We, as in Chris, my dad and I, were over at the Garretts for lunch today. It was a joint birthday celebration for two members of the family. We had for lunch some atlantic salmon cooked 'just right' on the bbq, some steaks, salads and miscellaneous relishes and sauces. MM.. yum. For dessert, Chris and I made fruit salad and we had an icecream birthday cake. MM.. more yummniness! But wait, there's more! (hmm, that sounds like a commercial)
A cheese platter was brought out, and teh cheeses included a
King Island Stormy Washed Rind
cheese. Oh, so beautiful, and so more-ish! We also had a brie and a Mersey valley aged cheddar, which were bothbeautiful as well, but the 'hero' on that platter was definitely the King Island Stormy. Oh wow!
Greek dancing
Is something which I believe you need to be brought up in, or not attempt. Chris and I attended a charity dinner for the
Multiple Sclerosis Society of Australia.
It was fun - tehre were Greek traditional dancers and even a belly dancer. The company was lovely, as usual. It's always great to be able to catch upw ith a group of friends. the food, unfortunately, was not as 'Greek' as we expected. After all, it is meant to be a Greek event, organised by Greeks. Oh well.
Anyway, back to the Greek dancing. I love how the people were nto shy and after the meal, they just all got up and danced. From teenagers to grandfathers, they were all up and dancing. I thougth it was really cool. They all knew the steps and they all kneww hat to do, and looked liek the were havign a good time. There were very few non-Greeks who dared to venture onto the dance floor. I have to applaud them for their bravery and willingness to try, but it has also convinced me that dancing is one of those cultural things which are best left to the people who know how. (but then, i am particularly afraid of making a fool of myself on the dancefloor, so...)
There were raffle draws and auctions to raise more funds for MS Australia. Among the things being auctioned was a goat - yes a life goat. Apparently the butcher will slaughter and prepare the goat for Greek easter. Uhm, what if (just IF) i want to buy the goat and take him home alive? I was kidding about whether it may have been a mohair goat - suitable for spinning, perhaps? the two vegetarians next to me were more interested in whether the goat could be delivered 'un-killed'. Chris, unfortunately, was not interested in having roast goat, goat stew, goat curry, goat soup and all other manners of goat dishes for the next three months. Oh well, I tried..
Thursday, February 23, 2006
Ene 2 is completed..
and soon she'll be off to the fair.
Presenting Ms Ene..
That is a picture of her blocking on my bed - she's almost as wide as my bed is long! I think she's quite pretty, though not as delicate as Ene1 was. She also doesn't feel as soft and smooth as Ene1, but then, Ene1 was knitted from Misti Alpaca laceweight and Ene2 from KnitPicks Shadow. There really is no comparison.
I used 4mm 80cm Addi turbo needles. The yarn slid along nicely. I did start off using some bamboo needles, but I had to fight it tooth and nail to shove those teeny weeny stitches along the needle. I finally gave in and bought a pair of Addi Turbos from
Rubi and Lana
(their website is not working yet) a couple of Saturdays ago. So, all in all, Ene2 took me 2 1/2 weeks to knit! Woohoo!
Wanna hear a secret? I made a lot of mistakes on Ene2. I had to fudge the stitches a lot - not that you can really tell, right? Tell me you can't spot the booboos, please!
Ene2 will be off to the Castlehill Show soon. I have to fill in the form and send that off next week. Will I manage to get another few things in? Hmm... a scarf perhaps? Or a handspun skein?
Another Knitalong...


Well, two actually. If you look at the sidebar, you'll see that I have joined the lace shawl KAL as well as one called "what's your skein?". The latter is a KAL for knitting things from just one skein. I have so many single skeins lying around, I thought that would be the perfect KAL for me - maybe I'll get enthused about knitting up all those odds and ends. Here's hoping..
Uni starts again soon
Someone asked me today, "How can you do so many things and still find time to eat and sleep?" I realised that I need to keep busy. I feel a lot happier, or should I say less unhappy (?), when I am busy. Yes, sure, knitting and spinning gives me time to focus my thoughts and sometimes it makes me think a lot more, but they are mostly happy thoughts. If I were to sit and just watch television or listen to the radio, my thoughts are a lot darker. I wonder why. Maybe knitting and spinning is like
chocolate
- you think? There is something about working with my hands that makes me feel all contented and mushy inside. Am I just weird, or is this some advanced form of Knitter's Syndrome or soemthing?
In any case, I'm not looking forward to uni this year. I think I've had quite enough and I'll be glad to be done at the end of thisyear. Well, I'll be mostly done, as I wills till have to write my thesis at the end of all this. I think this is as much studying as I am going to be doing for the rest of my life. That's it! I've had enough!
Other knitting news
I am making good progress on the summer top from Sandra (March 05 edition). I'm about halfway up the front. I still have the rest fo teh front, the back and a couple of short sleeves to knit. It's all done in rib with a little lace at the bottom, so it's really really boring. What was I thinking when I chose this? Oh, no, wait, Chris chose it.. hmm..
I also have a friend's birthday party to go to next week and I'm considering knitting a hat for the brithday girl. i know she wears hats, and scarves, and gloves. Yes, if you can't tell, she REALLY feels the cold! I have some handspun merino/glitz somewhere. I think it will make a nice hat for her. It's blue, I think, and
that's
VERY her.
Oh so many things to do.. I still haven't worked out what else I am making for the Castleill show. Should I just leave it as one entry? Or should I try to submit a few more? Suggestions, anyone?
Tuesday, February 21, 2006
It's here! It's here!
Thank you to Michaele - who, I think does not have a blog.
This arrived all the wayfrom Salt lake City, Utah today. Woohoo! I love it - love the pinks in it. I don't know whenI turned into such a girly girl, but this whole pink thing is taking over my life! I have been buying pink things and dyeing pink yarn.. hmm.. maybe I am just a late bloomer, considering most girls go through the pink phase of their lives at the age of 6 or so.
It's a really soft slightly fuzzy yarn that looks like a single. It's very cool. If you look at it closely, you'll see the slight variations in the colours of the fibre and if you don't look so closely you see the fantastic colour gradations - like in the photo!
Thanks, Michaele!
Sunday, February 19, 2006
Ene1 has been received!
I heard from my scarf pal,
Jen
, today - she has received Ene - woohooo!!!! She hasn't posted abotu it yet, and I was starting to get a little worried as it's been over ten days since I posted it. But all is well.. Ene has reached her destination, and by the sounds of it, has gone to a good home.
Now, Ene2 is making good progress.
I am a few repeats into Chart 3 and hope to be done soon. Perhaps I will even finish earlier than anticipated as I am definitely knitting mroe than the 4 or 5 obligatory rows each day.
Right now the targeted completion date has been moved to end of this month. So you ask,"What? are you crazy, girl?!" Maybe. I hope to send it in to teh Castlehill show - not sure which category yet, though.
It still has to be blocked and all that, and the closing date for entries is sometime in the first week of march - I have forgotten which day, but the booklet is somewhere around. I'll find it, I'm sure, in the next day or two. Well, it's not like I'll have Ene2 completed anytime real soon anyway.
I also found that I needed a 'yarn bra' to keep my ball of yarn in one piece. Too cheap to go out and buy the 'real thing' I decided to improvise using the styrofoam 'net' that came with my pears. Ingenious, eh?
I am hoping that by holding the yarn gently together, I will avoid the disaster from last week - when the yarn decided to spit at me. Naughty yarn.. BAD yarn!
Etsy news
I have put up more 'stuff'' on
Etsy
. Go take a look. I am rather pleased with how the most recent batch if dyeing has come out. The silks dyed exceptionallyw ell and teh colours are so vivid. I have another four lots waitign to be put up at the store. Email me if you are interested and I'll send you pictures.
Meme
Right, so
Tanya
has tagged me for a meme. I think this is the first time I have been tagged. It doesn't count if I don't know about it, right?
I have toname 5 things in my fridge,, hmm.. that's a toughie. There's so many things in my fridge and you just want 5??
I decided to stick with the staples
1. A jug of filtered water - I have one of those jugs with an in-built replaceable filter in it. i just keep it topped upw ith drinking water all the time
2. Cheese - Right now I have some Stilton, Blue Brie, Pecorino and some Kraft cheese spread. I love cheese, if it is not already obvious, especially strong bitey ones.
3. Fruits - I thnk I have some peaches, kiwifruit, apples and oranges. Eversince Chris and I started on this healthy diet thing, I have been trying to make sure I always have some sort of fruit in the fridge.
4. Sauces - Tomato sauce, wholegrain mustard, horseradish, sweet chilli sauce, hot chilli sauce, HP sauce, Worchestershire sauce, soy sauce, oyster sauce, etc. etc.
5. Eggs -love eggs. If I could choose only one source of protein, I'd go for eggs. so, I always have eggs in the fridge. I like them fried, scrambled, poached or just plain boiled.
Okay, so I cheated.. it wasjust too hard to pick five things. 5 sort-of categories isn;t so bad, is it?
Okay, so who am I tagging? Hmm..
Cyn
,
Taryn
,
Donni
,
B2
, and
Mona
, I want to know the contents of your fridge!
Thursday, February 16, 2006
Runny babbit
I spun bunny!
I asked jenny tonight what my 'adventure' for tonight would be - I ask her that quite often as I normally show up at class with no project in mind. Tonight's adventure was core spinning - which involved spinning some angora fluff around a core of polyester thread. It was fun, btu Idon't think I'll do it again. The angora made my nose and throat itch. I can still feel it. Ick.
The results, however, well, that's another story. So nice and soft - almost worth the itch! I think it will be nice for the cuffs of some baby mittens and booties. I'll have to think about that. It's gorgeous and soft and fluffy and.. oh, just beautiful.
Silk Caps
I have just finished dyeing some silk caps. They will be in the Etsy shop soon - when they are dry and photographed. I love silk caps as they can be spun or knitted on their own. They make a nice contrast to wool or other fibres as they have a nice sheen. I also like that the handpainted ones have an unpredictable colour pattern, depending on where you punch the hole and how you draft it. Keeps me entertained for ages! Hang in there... they'll be in the shop soon.
Wednesday, February 15, 2006
Thank you Debbie!
Look what I found at my my pigeonhole at work today! Debbie (who doesn't have a blog) has been my AKSP. Thank you, Debbie, you've been truly wonderful! So mny goodies, and all for me! Debbie even individuallywrapped each item in white tissuewith shiny bits on it. So pretty.
I didn't buy myself a knittingcalendar this year thinking I'll see whether it gets any cheaper after the new year. I promptly forgot to check the shops after the trip to Malaysia. Just as well too, since Debbie sent me one! I have already started going through it to see what yummy patterns there are. It says that they are all new patterns.. woohoo! That means there's some 300 or so patterns for me to explore.
I love the card, Debbie. It's so pretty. Thank you!
In case you can't make it out, Debbie has also sent me some dark chocolate (Chris, if you are lucky, there may be some left for you on the weekend), some green tea flavoured mints with lemongrass (how interesting, I love the scent of lemongrass), some organic fruit bears, a tin of Burt's Bees hand salve (wonderful! for my poor dry hands in winter), Reed's ginger candy (oh, more yumminess!) and a box of organic spiced tea. Oh thank you so very very much!
Growth!
Ene has grown
Thank you scarf pal, for letting me know the scarf is on the way. I am eagerly waiting for it. Just in time for the cooler nights too. Thank you. I'll post when I have received it.
I am going back to helping Ene grow some more.
Tuesday, February 14, 2006
Happy Valentine's Day!
So, what did you do to mark the occasion?
Chris and I didn't do anything much. We went to a local Chinese place for some pot stickers, salt and pepper squid and garlic prawns. Mmm... yum. We decided not to do anything fancy as prices at restaurants are normally inflated beyond belief on this day every year.
On the way home, we dropped by at aa grocery store and bought me some ice cream. I feel so cheated! I was tricked by the label - it said 'young coconut' on the lid, and it tasted like old coconut. When I cmplained to him, Chris laughed at me. Hrrmmpph!
Devon, and not the edible sort
I have been working on this at Chris' as I decided that I should leave something to work on there. After a few months, this is all I have to show:
All tangled up
Wanna know what happened to Ene? Oh, I'll tell you anyway. This:
is what happened!
I was knitting away and knitting away when suddenly the ball of yarn spat at me. No, it threw up. Ugh, yarn vomit!
So I started to try to wind it back.. and it would have none of it
We fought for a while and I won!
Monday, February 13, 2006
Ene2, for the first time
I promised you a picture of Ene so here she is. I am up to chart 2 right now, and since I am determined to finish this shawl within 6 weeks, I am aiming to work about 5 or 6 rows a day. At the moment it's tough as I have still got over 300 stitches per row. Owie!!
I have found that placing stitchmarkers help. I only use 3 stitch markers - 1 at the left border, one at the right border and one to mark the center stitch. If I use markers aywhere between, the markers move, and that's not much help to me. After making the first Ene, I found that once I can read my own knitting it all becomes easy. I hardly even need the charts after that.
Here's another picture of Ene. It's a little clearer. I think I made a little booboo at the lower corner, btu I am hoping once again that it will nto be too noticeable. At least the diamonds don't look mis-shapened or anything.
Etsy Update
Just wanted to say that my shop at
Etsy
has been updated. You can clink on the link on the top navigation bar (just look right and up.. there you see it? click on it :)) or you can click
here
. I have listed some handspun yarn, some handdyed, some earrings and new stitch markers. go on, take a look. You know you want to ;)
Alright.. it's getting late. Beddy byes for me.. but it's still early for you.. so go take a peek at my
Etsy shop
:)
Sunday, February 12, 2006
More a spin spin spinning..
This is the yarn that I have been spinning from the top given by DOnni during the SP6 exchange. It's so luscious I am just taking my time and enjoying. Ok, well, not really. This bobbin was pretty much spun up in a night, but I could not bear to start another bobbin as that would mean that I'm spinning up the last of the top, and I don't want to do that. It's just as lovely to pet as it is to spin...I should be careful though, as too much petting may make it matted and icky!
This is what I have been spinning instead. It was about 100g (or was it 150g??) of merino top that I had dyed some time ago. I have decided to spin it up as a skein of single ply yarn. I guess it isn't really clear that it is a thick/thin slubby yarn.
Is this better?
I want to sell it on
Etsy
, but I am thinking maybe I should knit it up into a scarf or hat first and see how exactly it knits up.
Apart from all this spinning I haven't been doing very much. Ene doesn't look very different - still not enough knit up to get a good picture. It still looks like a curly mess of brown yarn.
Oh, I forgot to mention the cotton top I am making. I bought a whole lot of cotton yarn in Singapore and I'm making a short sleeved top from one of the Sandra mags. It's one from last year - the summer one, I think.
Food recommendations
We went to a restaurant at Paramatta recently - with Chris family, actually, and were pleasantly surprised. Paramatta, well, I never really thought of it as being a place to go for restaurants. Sure there is 'safe natural and delicious'*, which we no longer frequent, and a Korean bbq buffet, which isn't too bad, but I never thought of going to Paramatta for a three course meal. Anyway, Chris'parents found this place and we decided to try it out a couple of weeks ago. It was pretty good. No, really, it was much better than we expected.
It is called
The Lighthouse
, and we're going back again tonight. They have a good fixed priced menu, which is (I think) $35 for 2 courses or $40 for 3 courses. Considering that it is about 2/3 the price of a meal at many city restaurants, we weren't expecting much. However, it was good. It wasn't Tetsuya's or Forty One, if you know what I mean, but it was a decent meal that didn't cost an arm and a leg. Service was attentive and the ambience was light and cheery. If you decide to go, just make sure you ask for a table away from the entertainer's stage, ok? Consider yourself warned ;)
More wedding news
Well, there really isn't any - nothing worth discussing anyway. there was a small drama on friday involving the restaurant, and while nothing has changed, I think we have decided to work with the spanner that's been chucked our way. It's a story I'll tell one day, maybe, and perhaps even look back and laugh about, but not right now..
*
This is a Chinese restaurant in Paramatta where we used to go for yumcha (or dimsum). One day as we were walking out we saw a poster, rather prominently displayed, that said "MSG - safe, natural and delicious". I don't think we've been back since.
Saturday, February 11, 2006
More shopping...
Okay, so you know I have made the test veil. I went out to get more veil-ish fabric since the last lot was from Spotlight, a local craft store and it was a little too stiff for my liking. It made me look like I was wearing a ballerina's tutu behind my head. Not a pretty sight, I assure you! So anyway, I thought I'd go in search of some proper bridal tulle to try again.
Julie
had mentioned a fabric shop at Chatswood, and I thought I'd try there. Well, when we got there, we found that they had moved. Not just that, but they have stopped selling fabrics for bridal and eveningwear! Darn.. so we walked up and down Victoria Avenue. Poor old Chris must have been so bored, but he went along with it.. and was even quite enthusiastic. Not one complaining word did he utter in the entire two hours or so that we spent wandering all around the whole of Chatswood. We finally found a small fabric store, and managed to get some bridal tulle - in the right colour too!
Etsy
Etsy is down at the moment - scheduled maintenance or some such excuse. Ahem... I want to list things, and I want to do it NOW! I'd stamp my little cyber feet if I could, just to make my point. [sigh] I have more handpainted yarn I want to list. Also have some new things - earrings.
Here's a sneak peek.
I have a few others.. just waiting to list them...
I wish Etsy would hurry up and let me log in.
Thursday, February 09, 2006
a-spin spin spinning we go
I had a crazy idea
that I could spin some tussah silk and turn it into a little drawstring bag for the wedding. Well, the silk was spun and the bag was made, but it had the wrong look. It just didn't fit with the rest of the outfit - or so Chris said, and I think I agree with him. I'll take a picture of the bag soon but here's what the spun silk looked like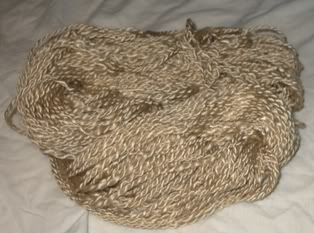 Thanks Donni!
Donni was my pal for SP6, and among the many things she sent me was a bag of alpaca,silk and merino blended top. I don't know about you, but I tend to leave things in my stash that I really like, you know, thinking, "I'll just wait till I can knit/spin/crochet better before I use that". Well, after thinking about it, I decided that I really should use up some of my ever growing stash, especially since Chris and I will have to consolidate our stuff and move in together soon. So tonight I started spinning the red top and this is what it looks like: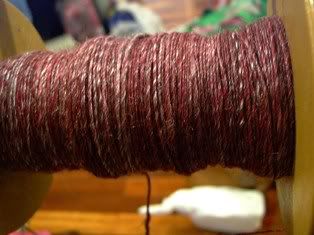 It's a lovely lot of fibre, so smooth and soft it practically spins itself.
As chance would have it, Sue, one of the ladies at my spinning class had just finished spinning some herself. She had hers plied with some cherry red merino top. It was nice, but I decided I didn't really want the tweedy look, so I split the lot of top into two equal weights and I am going to ply them together. The resulting yarn should be about DK (8 ply) or worsted (10ply) weight.
Ene-ing again
I'm up to the tenth row, but it's still not much to look at. Maybe photos after the weekend, ok?
Tuesday, February 07, 2006
You may call me C-R-A-Z-Y
Ene2
That's right.. I have started another Ene scarf. Yes, you may call me crazy. I am making this one out of KnitPicks Shadow. It's not as lush as the Misti Alpaca, but it's soft enough and the subtle colours knit up nicely. It's not worth taking pictures of it yet.. it's still not looking like anything much. I hope to have completed Charts 1 and 2 by the weekend. Maybe you'll catch a glimpse then.
The veil
I have made a test version of the veil. It looks ok. The fabric is a little stiff so I'll have to go get some proper bridal tulle for it. It's easy enough to make and once I have made the 'proper' one, I will consider embellishingit with tiny seed beads or some similar bits.
Thanks
Thank you to everyone who left congratulatory messages in my comments and mailbox. I could not reply to all of you since the email addresses always appear as "no-comment@blogger.com". yeah, not very helpful. I think I would be able to get away with a yarn registry or a fibre registry if Chris knitted, crocheted or spun, but he does none of that unfortunately. Well, that and the fact that I need yarn/fibre like I need hole in the head. I'll need to destash soon - before I move to wherever Chris and I will be living together. I am fairly sure wherever that new place will be, it will not have space for me to devote most of an entire cupboard to just yarn!
Sunday, February 05, 2006
Don't call me Osama!
What I forgot to mention in my earlier entry about the trip to Singapore/Malaysia was that I managed to get all my scissors, needles, blocking pins and some dpns confiscated at the Sydney airport. See, this is what happened. I had placed my bag of knitting notions in the front pocket of my carry-on luggage thinking I'd move them into Chris'check-in luggage when I got to his house. Guess who forgot.. uh huh.. So anyway, fast forward a few hours and at the airport, we were stopped by a security officer. "Maám" he said, "Do you realise that you have three pairs of scissors in your bag?". Well, duh, of course I did not realise it. if I had remembered, they would not be in there, now, would they? So he opened up my bag, and extracted the scissors. While he was at it, he saw fit to take away my blocking pins, darning needles, 2.5mm dpns, and some crochet hooks. I had another crochet hook in my handbag, which didn't seem to bother him, and I wasn't about to ask why he was confiscating one and not the other, lest he should suddenly decide that he should take away the other too!
Chris shook his head and muttered something under his breath. What? What was that? "Come on, Osama, let's get out of here". So there you go, that's the story of how I lost a whole lot of stuff at the airport, and was nicknamed Osama.
Right, so now that I am back in Sydney, and without any scissors apart from kitchen shears, I decided to go out and buy myself a pair of scissors so that I can stop using my nailclipper to cut yarn. Last week I went to Ikea at lunchtime, and bought a set of 3 pairs of scissors. Hey, 3 pairs for $3, BARGAIN! Can I find them? No, of course not! They are in the house somewhere, but well hidden!
Until I find the scissors, I am not able to start working on my veil. We went veil shoping on the weekend and did find a suitable one but the shop wanted $95 for it. Ouch! For crying out loud, it'sjust a bit of tulle on a comb! My determination to make my veil is now stronger than ever. I am sure I can make one for less than half that price!
Wedding update
It's nearly all done. I have finally decided on who is going to be doing my make up and hair on the day. I decided to go with someone I knew to be ok, so I have engaged the lady who put up my hair for
Briony's wedding
. She recommended a few other ladies for make up and one of them sounded nice so I engaged her too. The make up and hair trials will be on 1st April. Oooh how exciting! I should have the veil ready by then, though. Time to get working on that veil!
We went photographer shopping on Saturday and I think we have decided on one. He seemed pretty good. We both like his work. Chris probably likes it more than I do, but he's also pickier about photos. I think that as long as they are not bad, I'm probably not going to complain too much. Besides, as far as photographers go, I have seen some shockers, and this guy's work is nothing like that! I won't name names and embarass the various parties concerned, but let's just say that some of the 'glamour' photos that people have on their wedding album are so fake and so 'un-glam'. Ick! I hope that ours won't be that way. But you know what? I think that even if they were leaning that way, we probably won't see it as they'll probably be special because they're our wedding photos. After a while, the good memories will remain and even if our car got stuck in the mud on the day or something similar, we'll probably laugh it off and remember the day as being special. It will all be good.. :)
Wedding presents. Hmm.. That's a toughie. I feel so weird telling people what to buy for us. It's as if we're putting our hands out and expecting them to be filled with whatever goodies we request. It's just such a foreign concept to me. This is especially hard when we don't know how much people want to spend, and really, the wedding is not about getting gifts. if people would just show up and have a good time with us, we'll be more than happy. However, I guess I also have to understand that people do seem to want to give us something. Chris and I have been trying to work out what to ask for - Is that too small? Is that too expensive? Ugh! The guest list is so small we can't really have a gift registry. It would just look strange, I think, to have a long list of things they can choose from and in the end only about 5 or so items get chosen.
New pattern
I bought some tussah silk top on Thursday night and spun and plied it. It's now all knitted up into a bag. It needs to be lined. I haven't got the right fabric for it. However, I don't think it is suitable for using at the wedding, as I had first hoped. I'll just wash and try to block it tonight and see how we go. Pictures in the next post. I will probably submit the pattern to Yarn or somewhere.. or maybe sell it on Etsy. I am curious to see how popular it is (or isn't).