Saturday, January 30, 2010
Cooking with Alex
It's fun cooking with Alex. It's slow as he wants a go at everything, but it's fun. I love seeing the obvious joy on his face when he is allowed to help. Alex loves being "helpful". If you ever need him to do anything, the best way to convince him to do it is probably by telling him that he would be very helpful if he did it , and most of the time he WILL do it right away!
Last weekend, we made pasta. Alex helped me roll the pasta sheets out.
Then when the sheets were ready for cutting, he helped turn the handle to cut the pasta sheets while I fed it through.
After a lot of hard work from both of us..
Voila! Pasta!
Lots of it!
Alex enjoyed the fruits of his labour that night. We had the pasta with a tomato based sauce cooked with some leftover baked ham.
Then last Tuesday, during the Australia day holiday, we stayed home and cooked some more. We made dumplings on that day. I wasn't sure how Alex could help, but he wanted to, so I gave him a lump of dough to play with.
He made a worm. He lso wanted to wrap some filling when I started filling the dumplings, but I did nto want him messing around iwth raw meat, so Chris gave him two macadamia nuts to use as filling. We should have taken a photo of his "dumplings" but sadly we didnt.
We did, however, take a photo of my dumplings.
I was very proud of my dumplings. The pleating looked better as we went on. Practise makes perfect!
Well, not quite perfect, but they were very tasty!
Oh, and on that day, we gave Alex my old camera. He likes taking photos but we really didn't want him messing around with our cameras and dropping them, so we figured that siince the old one was sitting around anyway, he could use it.
Like Father like son.. need I say more? :)
Wednesday, January 27, 2010
I have been a-crafting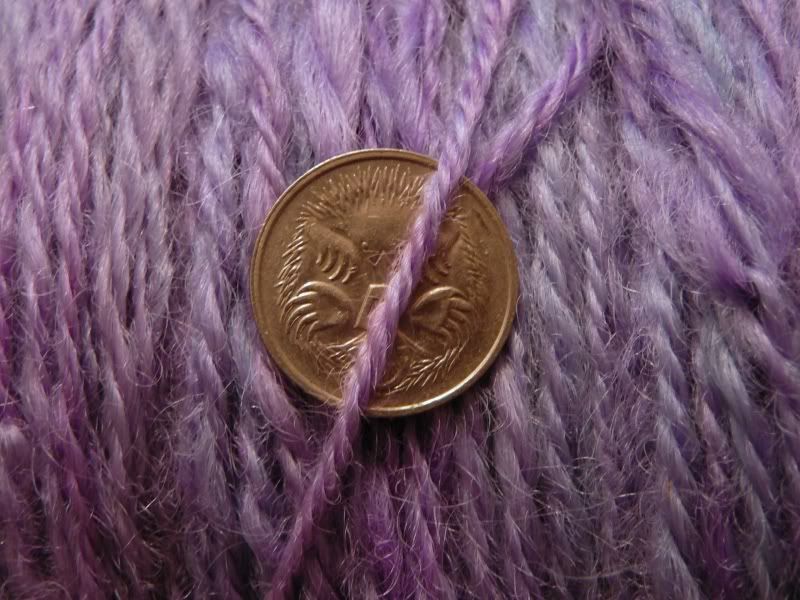 I finished spinning some optim and ELxMerino lamb some time ago but never took it off the bobbin. in fact it is still onthe bobbin. I am waiting to finish spinning this before I put on the skeiner and start winding emptying the bobbins.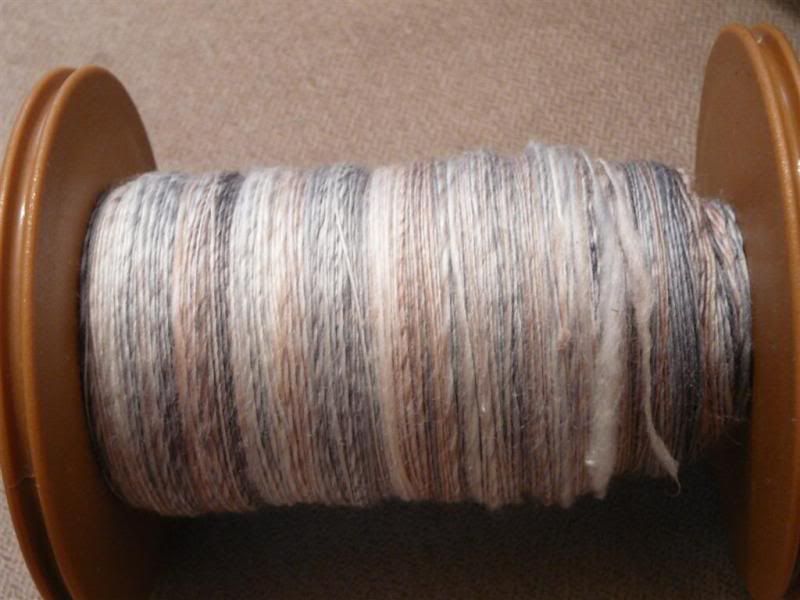 That's the optim which I dyed myself about 4 or 5 years ago. Yup, it was pre-Alex. It's finally made it from fibre stash to wheel.. now how long will it stay in my yarn stash before it gets knitted?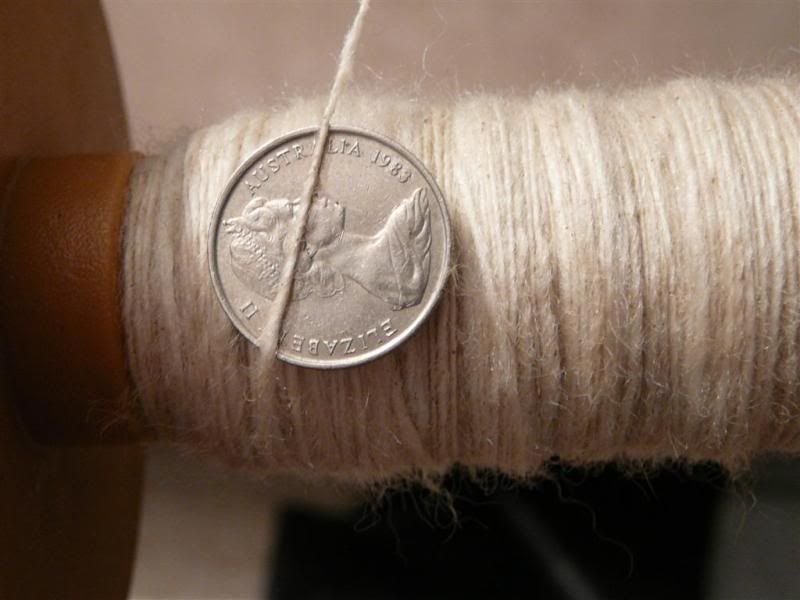 I was spinning the ELxMerino lamb's fleece to ply with the optim. Unfortunately, it snapped. yes, unfortunate is right because when it snapped, it wound itself into the bobbin and now I can't for the life of me, find the end. I have tried following the outside strands around the bobbin. I hgave tried brushing gently with an old toothbrush. i even tried the suggestion of rubbing a balloon and bringing it near the bobbin so that the static electricity can pull the "loose end" up. The end is not "loose" and I think that's the problem. So I think I will have to break a strand and continue spinning from there. What a pity!
There's also been some knitting...
Chris's sister is expecting a little boy at the end of March and aside from a little beanie, I haven't made anything else for him. So I started knitting a blanket. I thought it would be quick, but as it turned out, it was anything BUT quick. I started in September last year, and finished it yesterday. The yarn was thick and soft, but the 9mm needles I was using were unwieldy and awkward. It wa sthe blanket from hell for a while then. I stuffed up the decreases and ended up having to frog back some 40% of the blanket and re-knit. Oh my, I did not want to do that but did not have a choice as the shape was so strange due to the odd decreases. I can finally say I am done. I will NOT be knitting with such HUGE needles again.. no, not ever!!
In my next installment, I'll show you what it is like to cook with a toddler!
Enough said
So, just an update from my rpevious post. Apparently if you are in Sabah or Sarawak, or Penang or Kuala Lumpur, you can use the word Allah even if you're not a Muslim. however if you live in any of the other states, you cannot. To use a commonly used phrase, "WTF?"

Is my God in Kuala Lumpur not the same God when I am in the state of Perak?

How are they going to enforce this?

All in all, it is very clear that the motives behind this is not religious, but political.

So, I'd just like to say to those who think I, and other Christians, cannot use Allah to invoke God, "That's between Allah and me, and none of your business!"
Sunday, January 10, 2010
My right to use a word, your right to use the word, OUR right to use any word
That's what the row in Malaysia is apparently all about - the right of anyone to use the word Allah. There are Muslims (not all Muslims, but a significant enough number) who say that Christians should not be allowed to use the word Allah when referring to God. Apparently, Allah is a word only to be used by Muslims for "their God" and the use of the word Allah will confuse Muslims (in Malaysia only, of course, seeing as no other country seems to have this issue).

1. If Allah is the only God, then surely He is God of all people, not just Muslims. Surely, then, it is right for me and you and anyone else who believes in God to call Him Allah if we choose to. It seems that it is right for Middle eastern Muslims, Christians and Jews, and also for Malaysian Muslims, but it is apparently not right for Christians.

2. Why are other Muslims in other countries not confused by the use of the word Allah by non-Muslims, but Malaysian Muslims will be confused? Are Malaysians somehow more stupid than residents of other countries?

3. Those who oppose the use of Allah by non-Muslims are also claiming that if Christians use Allah, then it will be easier to convert Muslims to Christianity. I simply do not understand this, especially since Christians in Malaysia have been using Allah at least since the 1800s, and we are not seeing any evidence of masses of Muslims being converted to Christianity. In fact, it is illegal to preach teh Gospel to Muslims in Malaysia. It is illegal for Christian and other non-Islam literature to be sold to Muslims. It is illegal for a Muslim to step foot into a church or other non-Islam place of worship. In Malaysia, but not so in most other countries. It is illegal to convert a Muslim to amy other religion in Malaysia. So, given all of the above, how will teh use of the word Allah result in it being any easier to convert Muslims to Christianity? Inquiring minds want to know

Well, a Catholic newsletter's printing licence was pulled by the government because they use the word Allah in the newsletter. You know what? The newsletter is not distributed to non-Catholics. yes, non-Catholics. Not being a Catholic myself, I can't even subscribe to it although I am a Christian. So what chance has a Muslim got of subscribing to it? On the front of the newsletter, it says that it is for Christian use only (as required by law, I believe). The Catholic church took the matter to court where it was ruled that they should be allowed to use the word Allah. Dissatisfied parties have now taken to fire-bombing churches. Not just Catholic churches (not that restricting it to Catholics would make it any better) but random churches. As I type this, 7 churches have been torched. I bet that is 7 and counting.

I guess I should also add that the majority of the Christians affected by this are the indigenous Christians of Malaysia. They speak Bahasa Malaysia as their main language aside from their indigenous language and the Bible they have been using all these years is actually in Indonesian (very similar to Bahasa Malaysia) and it uses the word Allah to mean Lord. If this is truly a problem, a religious problem, surely this would have come up earlier .. perhaps some time in the 1800s when the Indonesian Bible was first used. However, it is only now that it has come up.

At the end of the day, is it really a religious issue? Other Muslims don't have an issue with it? Are they somehow lesser Muslims? I think not. Some who are opposing the use of Allah by Christians say, "That is them, but this is Malaysia" Right, so what is so different about Islam in Malaysia that others should not be allowed to use the word Malaysia? Perhaps it is simply politics.

I don't normally write about politics, the economy, religion or other such heavy matters much, but this bothers me. It bothers me a lot. The country I grew up in does not behave like this. Well, it did not. We used to pride ourselves as multi-racial, multi-religious. However, if one religion were to be allowed to dictate how another religion prays and worships, this is no longer a multi-religious society. It saddens me to see this. I may not live in Malaysia now, but inside I am still Malaysian. The recent happenings makes me ashamed that my fellow Malaysians would not consider the spiritual needs of their (mostly indigenous) brothers and sisters when swaying to the tume of politics.
Thursday, January 07, 2010
Christmas, new year, and a birthday
You think you're going to be seeing lots of photos, right? Wrong! I haven't had time to sort out all my phots from Christmas, new year and Alex's third birthday yet so those will come in the next post.
For now, I have some knitting news. I have a finished object.. FINALLY!
I have been plodding along on this project which was started in early December, but it did not progress much until I was sitting on my behind, recuperating over the Christmas holidays.
It was knitted on 4.5mm Addi turbos using Handmaiden Sea Silk in Ebony. The colour and sheen is gorgeous! I can't get over the fact that it is made from silk and SEAWEED. Seaweed! What next?!
Okay, so I stuffed up. I was meant to cast on 101 stitches but I cast on 111, and I did not realise that till I was knitting the scalloped edges and I could not work out why the stitch pattern was not working out. I recounted and discovered my boo boo. I fudged the edging. Itd oes nto quite line up with the cascading leaf patterns, but does not look too bad. In fact you probably won't notice it unless you were looking closely.
I have given it to my mother, and she has taken it with her to the Blue Mountains. I hope it keeps her nice and warm!
Oh, and soem Alex news..
We gave him a pair of training chopsticks for his third birthday. He loves using them. I think they make him feel grown up. It did not take long for him to work out how to use them.
He was even able to pick up peanuts with them! I am very impressed. Maybe I should get a pair for myself. I still don't use chopsticks the correct way and I am meant to be a grown up. Hmm.. meant to be.
As daycare is clossed for the year end break, I have Alex home with me till next week. We decided to make some gingerbread shapes. i cll them that because I don't actually have a gingerbreadman or gingerbread girl cutter. Instead we made snowmen, Christmas trees, stars and angels. The biscuits went quickly. I tooks ome over to Janet's to share with her family and we're down to the last few here. What better excuse to make another batch!