Saturday, December 29, 2007
First haircut
Friday, December 21, 2007
Knitting news at last....
I am very ashamed to say that it's taken till now for me to complete my Sockapalooza4 socks and they're finally on their way now. I do hope that after this very very very very extremely long wait that the socks fit and that she will like them.
They don't look bad.. in fact I quite like them and had grown quite attached to them. Maybe I will have to make myself a pair.. but then again, after knitting it once, I doubt I ever want to again. All those twisted stitches were enough to drive me nuts.
Well, I am knitting again.. On the needles I have a vest for one of the babies from my mums' group who is turning one the day after Alex does. He will be having a big party complete with one of those petting farm animal type things. I am sure Alex will love it - because there are other kids there more than anything else. [Note to self : Make sure Alex does not sit on, step on or bash any of the animals] Alex loves children. I suppose all children like other children, but it does fascinate me to see how well he responds to the sounds of other children's voices.
Alex's baby surprise jacket isn't going anywhere quickly. I am glad he won't need it for another few months as it is not likely to be ready for another few months!
More photos in the next post...
Labels: Alex, Sockapalooza 4
Sunday, December 16, 2007
A confident little standing man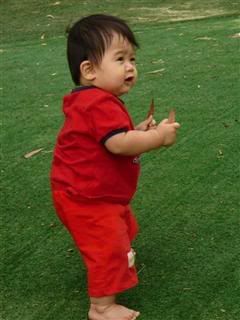 It won't be long before he starts to walk, I think. He's already attempting a couple of unassisted steps on his own. The girls at the daycare centre were saying that they think that by the time he returns in the new year, he will be walking everywhere.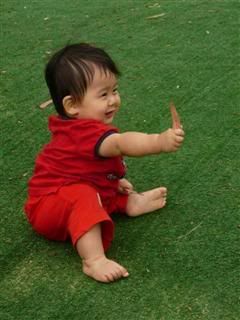 Both these photos were taken on Wednesday at the daycare centre when they had their annual Christmas concert and party. My little performer seemed to quite like being on stage. He clapped along (though not in time) and "sang" along. He even out-lasted some of the older children. He was happy to be there until he spotted me in the crowd and before I even had time to put away the camera, he was clambering onto my lap where he was happy to stay for the rest of the concert. He clapped along and shook imaginary bells when the other children sang "Jingle Bells".
One of the carers at the centre also made CDs of photos which they had taken throughout the year.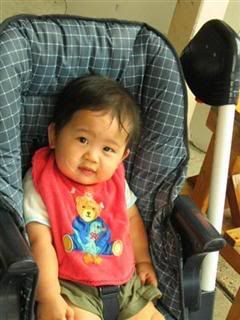 Doesn't he look like a toddler now!
Labels: Alex
Wednesday, December 05, 2007
Dying to knit, spin, dye, weave and sew...
But have no energy or time.. so I am very much looking forward to the Christmas holidays. I get a week off. I don't care that work is forcing me to take that time off as leave. It will be a much needed break. Alex will be home for two weeks as the daycare centre will be closing for two weeks over Christmas. I think the carers deserve a break. I don't know how they do it every day with so many children. Looking after one crawler is exhausting enough for me!
We've had some good news, some not so good news and then some good news.
Good news -
Lara
has given birth to Inigo last Thursday (yes, I know I am slack.. I should have posted sooner)
Not so good news - there were complications and they are are still in hospital today (full story
here
)
Good news - Inigo is getting better and may be able to go home with Lara and Mark on the weekend
I went in to visit them and what a special moment it was. Inigo was having his first breastfeed and while I was there, they took him off the oxygen and dressed him in clothes for the first time. It's been making me rather sad thinking of the poor little baby starting out life with such trouble. Every day this past week I have been praying that he will recover quickly and this experience will leave him unscathed. It's also made me very thankful that Alex was born healthy and I never had to know the sort of stress that Lara and Mark are going through.