Friday, April 28, 2006
I'm someone's ball and chain now!
The whole realisation that I am now married finally hit me this morning (yes, some 6 days after the actual wedding - told you I am slow!) when Chris rang me from the garage to say he had left his fruit at the entrance of the flat. I ran outside in my sarong and teeshirt (my version of pyjamas) to meet him at his car with the fruit. Now why did I do that? Pre-wedding I'd probably have told him, "Tough, go without!". [sigh] Is this a sign of things to come? Perhaps it isn't all bad. In this arrangement, I have acquired a driver. Chris now picks me up at uni as I take the train in. That means I can stop off at Basement Books before class! Woohoo!
Thanks!
Thank you for all the well wishes. The wedding went very well. I don't think I could have asked for more.
The location was gorgeous. We caught some sun just before it went over the horizon.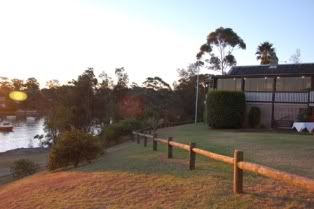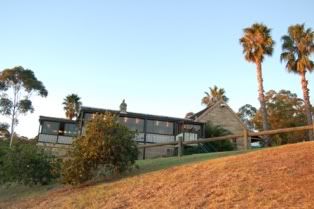 We had some photos taken down on the pier near the restaurant. It must have been a popular day for weddings as we saw at least three other wedding parties taking photos at the same time. There was one other wedding at the restaurant and they had the garden before we did.
The ceremony went without a hitch. Chris reckons I said, "In sickness and in help" instead of "..in health". I swear I didn't! I like that he has vowed to share with me in plenty and in want. I tried reminding him of that when there was one mini magnum left in the freezer - he said,"There's plenty, and I want!" - in case you're wondering, yes, he did share it with me.
My aunt surprised me with some flowers...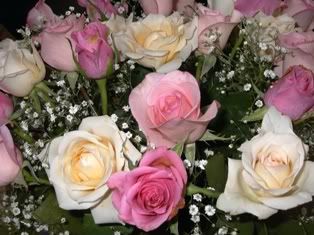 And that was the start of a few surprises for the night.
All the guests were very generous with their gifts. Even the pastor who conducted the wedding ceremony, and her husband brought us a gift. We are so touched by all the wonderful gifts we received - all practical useful stuff!
Midway through the meal, just before dessert was served, Jose, one of the men running the restaurant (we haven't worked out his role yet) informed us that someone had dropped off a cake for us. There was no tag on it, but there was a post-it note with Chris' and my names on it. We didn't know who had sent it. After that he told us that the flowers in the room (which we initially thought were from the restaurant) were from the same person. Hmm.. There was also no tag on the flowers! It wasn't till later when we realised the blue bag on the presents table was also from the same person, and the tag on that said "the uni crowd". That was truly unexpected and it nearly made me cry. Well, nearly, since I didn't want the mascara to run, although Nikki had said she used waterproof mascara, I wasn't sure I trusted it that much! ;)
Oh and dessert...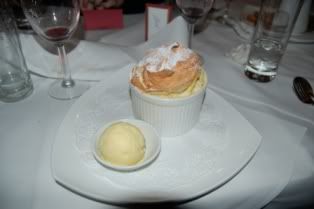 That's one of the three on the menu.. and a popular one too as the kitchen had to churn out 12 of these perfect souffles for our table!
Chris had enlisted the help of his siblings to make place cards for the wedding, and they were completed the day before the wedding. Talk about last minute! I guess it could have been worse. We could have been at the carpark gluing down bits of paper to make the placecards!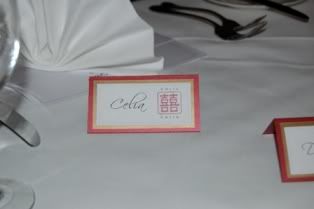 Chris saved his placecard, and it now lives here: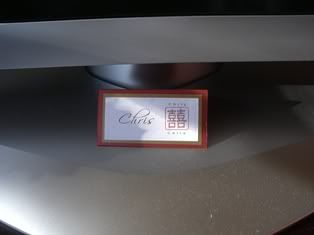 That's our new entertainment unit and tv. Chris loves it - VERY MUCH - I think he would have married it if it were legally possible ;)
We spent the night at the Shangri-la in Sydney. Oh what a view!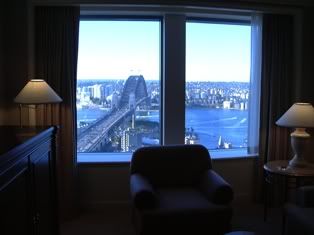 Let's try again: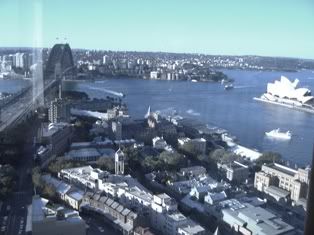 Thank God for late check-out. We were both so exhausted, we pretty much woke up for breakfast, went back to sleep, woke up for lunch and then checked out and that was the end of our day!
What knitting?
Needless to say, very little knitting has been done
I have tried to keep myself busy by making Warming Grace squares. Since Cynthia is now accepting squares of all colours, I thought I could use up some of the bright red yarn I have. It's not going to be used for much else, but I thought it would look good in a blanket with other brightly coloured squares.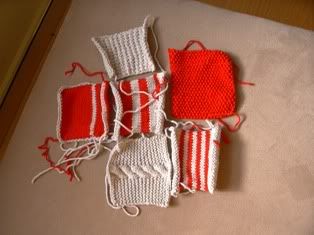 I completed two on the morning of the wedding. I have been told knitting calms nerves. I thought that was a good enough excuse to go meet the girls at Rubi and Lana's for an hour or so of knitting..
When I got to my parents' hotel, they were settling down to lunch with the rest of the aunts and uncles (actually, there was only one uncle) and by then they had called me three times - yes, count that, 1,2,3 times! One would think they were more stressed out that I was. Maybe they should knit!
Wednesday, April 19, 2006
3 more sleeps...
I can't believe I am actually counting sleeps now!
How exciting is that?!!!!!! My, my.. the day has come around really quickly. I hardly felt it.. it was like it sneaked up on me and all of a sudden, there it is.. 3 more sleeps to go.
We took a drive out tonight to deliver the last of the invitations - yes, I know, very slack of us! That's okay, though, because all the guests have been invited verbally and they ARE coming - to the best of our knowledge.
We are just tying up all the loose ends now. Tomorrow will be my last day at work. Today was Chris'.
The hair and make up trial was last night. We settled on colours and a hair design. My dad thinks I look like a china doll in the picture - and I don't think that was meant to be complimentary. Mum is fussing.. [sigh] I guess there are some things that only one's parents can say. That's what parents are for, right?
It will all work out on the day. We're keeping our fingers crossed. the hairdresser knows what needs to be changed and/or tweaked for just the 'perfect' look. I am hoping so! My nerves are getting a little frayed. The day is drawing closer and even with all the promises I made to myself that I will NOT (no, never!) turn this into a stress-fest, I am getting worried. It's not cold feet.. it's just nerves - you know, the "what if it rains? or if the restaurant burns down? or if..." kind of irrational worries.
Stash organisation
I have this: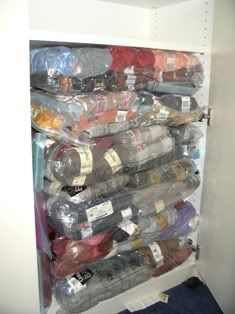 and more..
I guess that kinda says it all, huh?
I am having a hard time putting away all my yarn.. getting there.. but real sloooow.
My secret pal ROCKS!
Ok, so I was impatient.. I could not wait to open my presents..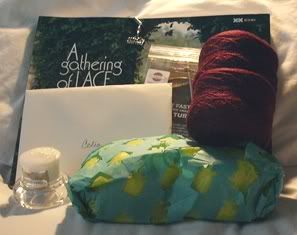 I left one lot wrapped up so you can see the pretty paper she (I am assuming she's a 'she'...) use to wrap the presents. The rest got ripped off in my excitement.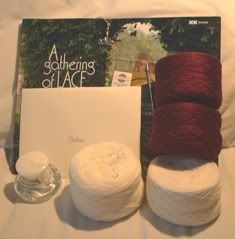 This is the complete picture. 2x58g balls of burgundy Zephyr and 2x58g balls of white Zephyr. Oh my.. I feel like all my Christmases have come at once! I have been wanting that book for the longest time.. I went through it last night, making little mental notesof what I want to make.. oh so many things! The stoles interest me, as do the socks, and the cardigan, though I think I will have to lengthen it if I do make it. She also included a wedding candle.. how sweet is that? Let's not forget the Addi circular needles, the book mark and the card. Oh I should show you teh card. It's really cute. It has a picture of a sheep with some wool glued onto it. Then there is a piece of yarn extending from the patch of wool to a pair of tiny needles knitting a small piece of something.. really cute! She also included a bookmark, did I mention that?? And it says "I love knitting".. this is like the bumper edition of secret pal gifts!
Knitting stuff
Been trying to knit the Garnstudio circle jacket.. and not getting very far...
My family gets in tomorrow night. I may be gone for a little while.. so if I don't post, you know where I am.. kind of...
Sunday, April 16, 2006
Easter Sunday, and not a piece of chocolate in sight!
I have been good today. In fact, this year I have been pretty good. I have hardly had any chocolate all weekend. last year, I had a bowl of Easter eggs for visitors, and of course nobody visited (or hardly anyone did) so I ate the lot. I learnt. This year I didn't buy any, and guess what, I had visitors!
I didn't have chocolate eggs, so I whipped out some extra fine Swiss chocolate, ginger nut biscuits and coffee instead. Oh well... it was
'just'
Chris' family.. and I think they are used to my not having sweets and cookies in the house. I did bake a cake today, and gave them two thirds of it to take away. Lovely people that they are, they helped Chris clean his flat. Yes, yes I know, last week I said we were cleaning his flat. Well, it's not done yet. Today they had the help of his brother who is home from the UK. I stayed home and did laundry. Some four or five loads later, I think I am all laundried out. There is more to go! [sigh] I am washing everything that came from Chris' flat.Much of it was sittign in a basket on the floor (or the floor around the basket) and he picked whatever he wanted to wear from that basket. That didn't include work clothes (Thank goodness for the dry-cleaners who used to do his laundry.. they alwasy came back neatly pressed and hung up, so tehre was zero chance of them meeting said basket), but it did include almost everything else that was
not
work clothes. Boys!
So, chocolate eggs I had none, but at least I had a place for them to land their bottoms. The sofa arrived yesterday. Woohooo!!!!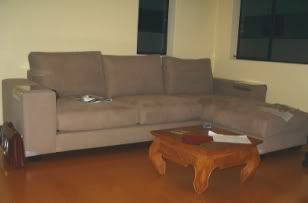 Please excuse the corner protectors. i keepmeaning to take them off, and keep forgetting. It sorta dominates the living room now, but that's okay.. it's big and comfy. I finally have somewhere to plant my bottom when I am knitting and/or reading. See that little 'coffee table'? It's really a side table.. we haven't got a coffee table yet, so it will have to do for now. Chris gets the 'chair' bit of the sofa, and I get the chaise bit, so we can both stretch out if we want to, and we don't end up in a mess of arms and legs, squished up on a little 2-seater sofa. Also love teh aluminium arm plates (see the shiny bits on the sofa's arms?). I gave them a test run today - left my glass of orange juice on it while I sorted laundry on the sofa. It works like a charm - perfect drinks holder!
Lenten Sockrifice
Okay, so it's now officially over. I hardly did any knitting for others. I guess there was that shrug for mum. There was also the squares for Grace (if you haven't checked out her story, click
HERE
)
The hat
that I made for
Briony
(or B2 as she is otherwise known) did not fit. How disappointing. Well, it kinda fitted me, but I didn't realsie that he head is so much smaller than mine. I decided to make her another hat..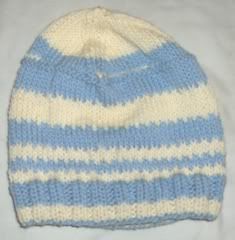 I thought the triangular shaping of the top is rather cute: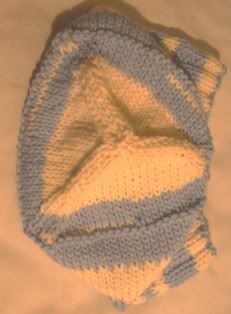 Unfortunately, I think it will also be too big! Ugh.. tahat oughta learn me.. gauge swatch indeed.. gee.. why would one need a gauge swatch? Guessing's just as good, no?
I decided to go back to plain old ribbing.. Hey at least it will adjust to fit!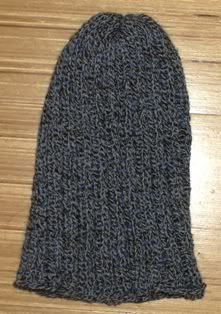 I don't know when I will see her next, but when I do, I know that I have a hat ready!
Other knitting content
What other knitting??
Resurrection Sunday
Matthew 28
The Resurrection
1
After the Sabbath, at dawn on the first day of the week, Mary Magdalene and the other Mary went to look at the tomb.
2There was a violent earthquake, for an angel of the Lord came down from heaven and, going to the tomb, rolled back the stone and sat on it. 3His appearance was like lightning, and his clothes were white as snow. 4The guards were so afraid of him that they shook and became like dead men.
5The angel said to the women, "Do not be afraid, for I know that you are looking for Jesus, who was crucified. 6He is not here; he has risen, just as he said. Come and see the place where he lay. 7Then go quickly and tell his disciples: 'He has risen from the dead and is going ahead of you into Galilee. There you will see him.' Now I have told you."
8So the women hurried away from the tomb, afraid yet filled with joy, and ran to tell his disciples. 9Suddenly Jesus met them. "Greetings," he said. They came to him, clasped his feet and worshiped him. 10Then Jesus said to them, "Do not be afraid. Go and tell my brothers to go to Galilee; there they will see me."
The Guards' Report
11
While the women were on their way, some of the guards went into the city and reported to the chief priests everything that had happened.
12
When the chief priests had met with the elders and devised a plan, they gave the soldiers a large sum of money,
13
telling them, "You are to say, 'His disciples came during the night and stole him away while we were asleep.'
14
If this report gets to the governor, we will satisfy him and keep you out of trouble."
15
So the soldiers took the money and did as they were instructed. And this story has been widely circulated among the Jews to this very day.
The Great Commission
16
Then the eleven disciples went to Galilee, to the mountain where Jesus had told them to go.
17
When they saw him, they worshiped him; but some doubted.
18
Then Jesus came to them and said, "All authority in heaven and on earth has been given to me.
19
Therefore go and make disciples of all nations, baptizing them in
the name of the Father and of the Son and of the Holy Spirit,
20
and teaching them to obey everything I have commanded you. And surely I am with you always, to the very end of the age."
Friday, April 14, 2006
Crucifixion Friday
The Crucifixion
21
A certain man from Cyrene, Simon, the father of Alexander and Rufus, was passing by on his way in from the country, and they forced him to carry the cross.
22
They brought Jesus to the place called Golgotha (which means The Place of the Skull).
23
Then they offered him wine mixed with myrrh, but he did not take it.
24
And they crucified him. Dividing up his clothes, they cast lots to see what each would get.
25It was the third hour when they crucified him. 26The written notice of the charge against him read: THE KING OF THE JEWS. 27They crucified two robbers with him, one on his right and one on his left. 29Those who passed by hurled insults at him, shaking their heads and saying, "So! You who are going to destroy the temple and build it in three days, 30come down from the cross and save yourself!"
31In the same way the chief priests and the teachers of the law mocked him among themselves. "He saved others," they said, "but he can't save himself! 32Let this Christ, this King of Israel, come down now from the cross, that we may see and believe." Those crucified with him also heaped insults on him.
The Death of Jesus
33
At the sixth hour darkness came over the whole land until the ninth hour.
34
And at the ninth hour Jesus cried out in a loud voice, "Eloi, Eloi, lama sabachthani?"—which means, "My God, my God, why have you forsaken me?"
35When some of those standing near heard this, they said, "Listen, he's calling Elijah."
36One man ran, filled a sponge with wine vinegar, put it on a stick, and offered it to Jesus to drink. "Now leave him alone. Let's see if Elijah comes to take him down," he said.
37With a loud cry, Jesus breathed his last.
38The curtain of the temple was torn in two from top to bottom. 39And when the centurion, who stood there in front of Jesus, heard his cry and saw how he died, he said, "Surely this man was the Son of God!"
40Some women were watching from a distance. Among them were Mary Magdalene, Mary the mother of James the younger and of Joses, and Salome. 41In Galilee these women had followed him and cared for his needs. Many other women who had come up with him to Jerusalem were also there.
The Burial of Jesus
42
It was Preparation Day (that is, the day before the Sabbath). So as evening approached,
43
Joseph of Arimathea, a prominent member of the Council, who was himself waiting for the kingdom of God, went boldly to Pilate and asked for Jesus' body.
44
Pilate was surprised to hear that he was already dead. Summoning the centurion, he asked him if Jesus had already died.
45
When he learned from the centurion that it was so, he gave the body to Joseph.
46
So Joseph bought some linen cloth, took down the body, wrapped it in the linen, and placed it in a tomb cut out of rock. Then he rolled a stone against the entrance of the tomb.
47
Mary Magdalene and Mary the mother of Joses saw where he was laid.

Mark 15:21-47
To those of you who believe and observe this day as the commemoration of Jesus' death on the cross, I wish all of you a very blessed weekend. To everyone else, happy holidays!
Wednesday, April 12, 2006
Squares for Grace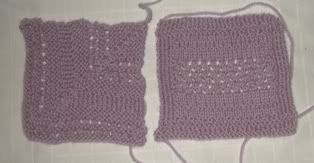 AND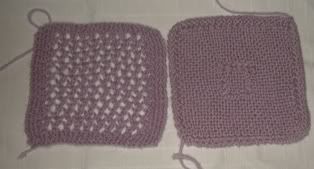 Yes, I know, the firstsquare looks wonky. It is wonky, but I am hoping that when Cynthia sews it up, the wonkiness will be stretched out. I got all 4 squares out of one ball of 50g pink wool yarn. Pretty good, huh. The last square (the garter stitch one) is slightly laregr than5 inches. I am also hoping that when Cynthia sews it up, the square will just magically re-size itself- yeah right!
Oh, and they really are pink - really! It's the camera's fault. I swear!
Tuesday, April 11, 2006
Warming up
The weather, as I mentioned in a previous post, has turned chilly all of a sudden. I am so glad I am knitting that jacket. Gosh, I hope it fits, cos after all that work, if it doesn't fit, guess who's going to be very angry and frustrated!
I have no progress pictures yet. I have completed a front and two sleeves, and am now about 15% into the second front. I am leaving the back for last as it's the easiest part, I think.
Warming Grace
Have you read about
this little girl
? Look at those eyes.. how could I not? I even have a ball of pink wool that's oh so soft! If you want to read more about Grace,
click here
. SO, it's decided.. I am going to set aside all my projects to have at least one square ready for sending out by the end of this week - it does take at least a week or two for stuff to get to Canada... yes, even by airmail, and no, I am not paying courier fees!
Lenten Sockrifice
Is not happening. I haven't bought any yarn, but I have also not been knitting for charity much. That's probably one of the reasons why I want to make those squares for Grace. I hope to be able to make at least 2 squaresby the weekend. Amibitious? I think so.
Wedding underskirt/petticoat/slip/whatchamacallit
The fabric has been cut. I just need to sew it up now. That's a job for another day. It was unnerving enough to cut the fabric.. I will have to get the hang of sewing in a straight line before I attempt to sew up that skirt. I don't think I am cut out to be a seamstress. I hated cutting into teh fabric. I was so afraid I was going to make a mistake. It's not that ahard cutting a straight line, but I nearly needed a stiff drink before I could do it!
I am certainly re-thinking those curtains. You know, those curtains I thought I'd make for our living room. What was I thinking?!
I'm going to leave you with a picture of our wedding invitations: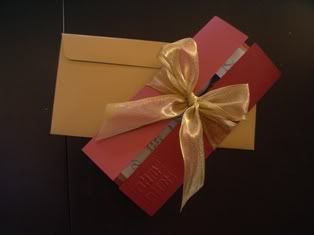 Sunday, April 09, 2006
Cleaning is the bane of my life!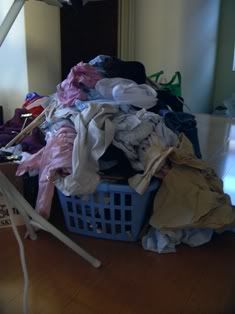 That, dear friends, is a picture of the obscenely, embarassingly large pile of laundry that haunts me. It's waiting to be ironed and folded or hung. Ugh!
A couple of weeks ago, I could have said I didn't have a washing machine or a dryer, or could have made up some silly excuse as to why I have no clothes to wear.
The washing machine has arrived, and I have done about ten loads of laundry since (making up for lost time, perhaps?), but I have not, till Friday, done any ironing. I made an attempt, and the pile that you see is all that is left. For whatever reason that is quite beyond me, I just can't get one with it, and that ugly pileof clothes is still sitting in a pile beside my bedroom door.. just sitting, waiting patiently, as all unironed clothes do.
Cleaning...
is truly the bane of my life. I hate it, but it has to be done.
When we moved into this flat, I noticed that the stove did not have an overhead rangehood. Instead, it was located
beside
the stove. "Weird", I thought to myself. I turned it on when I was cooking. We heard a lot of noise, like a really loud fan, but the steam and fumes from the pan weren't going anywhere.
Chris and I dismissed it as the owner's token effort of installing a range hood - token in that it didn't work.
I peered in at it and all I saw was a black grate. It looked dirty. "Wonder whether it can be cleaned" I thought to myself.
I finally got around to attempting to clean it last week. After about seven or eight kettle-fuls (kettles-ful??) of hot boiling water and much scrubbing with dish washing detergent and a brush, I got most of the grease off the filter. Much better.. It's not mostly silver and a small part of it is still brownish. I dare not scrub too hard lest it comes apart. The bottom of the filter was also grease laden. It was a rather icky job trying to clean the grease of it. What on earth did the previous tenants do with it?Certainly not clean it, that's for sure!
I cooked an ommelette after that, and
abracadabra
, the steam was magically sucked through the filter as soon as I turned the fan on. Ah,so it was not just a token effort after all.
We spent all of yesterday cleaning up Chris' old flat. He had lived there for the last 8 or so years, and all 8 or so years of dust and dirt from bachelor living caught up with us. We had his whole family there - thank God for them! We cleaned and packed and cleaned and cleaned and cleaned. After some ten or more hours, we are nearly done. We had made progress. It was difficult to see at first but after we had moved stuff out, it became obvious. We wiped down the cupboards, disposed of cans of food from the middle ages, cleaned the blinds, moved furniture out, etc. etc. etc. All in all it was an extremely tiring but fulfilling day.
By the end of it, I was feeling itchy and dirty, and for the first time, I ran myself a bath (in the new flat,not at Chris'!) Ah.. what better than a soak to wash away the day's weariness...
Wedding stuff
We've made most of the wedding invitations. We decided to break convention and not have the usual white/pastel/gold/silver cards. We made red cards embossed with the Chinese "double happiness" character on the lower right corner. On the inside we included a close-up picture of the both of us. The outside will be tied with a gold ribbon, and it is presented in a gold envelope. A little unusual, but it was what we wanted.
Almost everything is done and ready and we're pretty much just waiting for the big day. We still have to hand out some of these invitations. We'll get there.. We also have to meet with the pastor who is marrying us. That will be done tomorrow. We're going to have to tell her which vows we have chosen and the order of service. We're meeting with the photographer on Tuesday to give him the balance payment and discuss the details of the photos we want of the day. It's finally all falling into place...
Oh, and that silly petticoat.. I still have to make it. The truth is I am
afraid
terrified
petrified of cutting the fabric in case I get it wrong. How silly is that! It will have to be done. I have 2 weeks to do it. No, really, it will HAVE TO be done!
Knitting news
I don't have much to report aside from that I am making good progress with that jacket from the Garnstudio Drops pattern. It's looking a little strange, but I have decided to continue. I am finding that I don't like knitting with large needles. These 6.5mm needles are killing me. Sure, the pieces are going quickly, but I don't like teh feel of them in my hand and I am not sure I like those huge stitches. they look.. coarse and
cheap
unrefined, somehow.
I have completed one front and one sleeve. I am working on the second sleeve now. When this is done, I will work on the second front. I am attempting to finish all these before working on the back so as to avoid the dreaded second sleeve (or front) syndrome. Smart? Or foolish? We'll see. If this project gets relegated to the UFO pile, we'll know won't we?
Thursday, April 06, 2006
New beginnings
Those of you not in Sydney wouldn't know this, but it's suddenly turned cold over the last week or so. For me, it has been, anyway, and I'm not sure whether it's this nasty cold that I am fighting off, or whether it's truly been cold. In any case, cold is cold.. and I need a cardigan or jacket of some sort.
Trawling through the free pattern websites, I found this: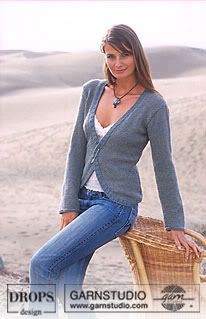 You can click on the picture, and a new window will pop up with the pattern.
I am absolutely in love with this thing. In love, I tell you! I HAVE to have it.
I started swatching last night. As usual, I don't have the specified yarn, and being on a yarn diet, I can't go out and buy more. I just have to make do with the cupboard full that I have. Poor me .. (yeah, right!)
Swatch 1: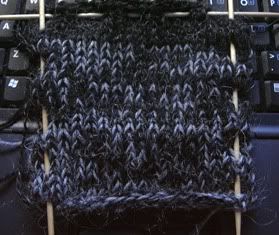 Top to bottom - 2 strands black mohair/acrylic blend, 2 strands black mohair/acrylic blend 1 strand grey wool/nylon blend, 1 strand black mohair/acrylic blend 1 strand grey wool/nylon blend
I like the thickness of the plain black bit (top section) but I don't like the colour. I want that tweedy sort fo look you get by combining two or more strands. The combination of one of each strand was too floppy.. and I didn't get the right gauge. Middle section seemed okay, so I cast on.
Oh so exciting!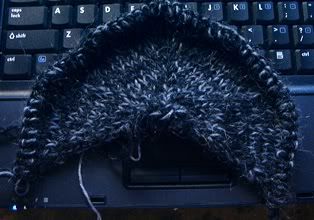 Hmm... maybe not so exciting, eh? The gauge tightened significantly - don't ask me why! I ended up ripping it out.
Okay, so let's try again.. different yarns this time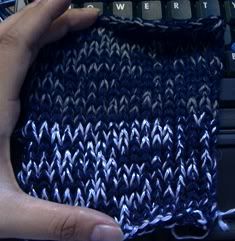 Top to bottom - 2 strands navy blue 5ply wool 1 strand grey wool/nylon blend, 2 strands navy blue 5 ply wool 1 strand light blue cotton/viscose blend
I decided the cotton viscose was a little too shiny for me. I like the navy and grey together. Do you think it's a little drab? I am in two minds about it. The gauge is nearly there - 15.5 st to 4inches instead of teh recommended 15. I think I will go try it on 6.5mm needles instead of the recommended 6mm, and it should all be fine. The fabric is about the right weight.
That's a job for tonight, I think, since I have to get to work soon.
I leave you with a picture of the flower pin I made to go with mum's shrug.