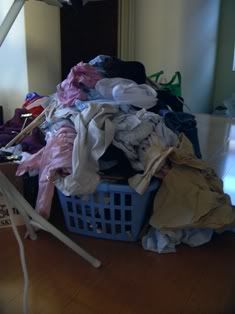 That, dear friends, is a picture of the obscenely, embarassingly large pile of laundry that haunts me. It's waiting to be ironed and folded or hung. Ugh!
A couple of weeks ago, I could have said I didn't have a washing machine or a dryer, or could have made up some silly excuse as to why I have no clothes to wear.
The washing machine has arrived, and I have done about ten loads of laundry since (making up for lost time, perhaps?), but I have not, till Friday, done any ironing. I made an attempt, and the pile that you see is all that is left. For whatever reason that is quite beyond me, I just can't get one with it, and that ugly pileof clothes is still sitting in a pile beside my bedroom door.. just sitting, waiting patiently, as all unironed clothes do.
Cleaning...
is truly the bane of my life. I hate it, but it has to be done.
When we moved into this flat, I noticed that the stove did not have an overhead rangehood. Instead, it was located
beside
the stove. "Weird", I thought to myself. I turned it on when I was cooking. We heard a lot of noise, like a really loud fan, but the steam and fumes from the pan weren't going anywhere.
Chris and I dismissed it as the owner's token effort of installing a range hood - token in that it didn't work.
I peered in at it and all I saw was a black grate. It looked dirty. "Wonder whether it can be cleaned" I thought to myself.
I finally got around to attempting to clean it last week. After about seven or eight kettle-fuls (kettles-ful??) of hot boiling water and much scrubbing with dish washing detergent and a brush, I got most of the grease off the filter. Much better.. It's not mostly silver and a small part of it is still brownish. I dare not scrub too hard lest it comes apart. The bottom of the filter was also grease laden. It was a rather icky job trying to clean the grease of it. What on earth did the previous tenants do with it?Certainly not clean it, that's for sure!
I cooked an ommelette after that, and
abracadabra
, the steam was magically sucked through the filter as soon as I turned the fan on. Ah,so it was not just a token effort after all.
We spent all of yesterday cleaning up Chris' old flat. He had lived there for the last 8 or so years, and all 8 or so years of dust and dirt from bachelor living caught up with us. We had his whole family there - thank God for them! We cleaned and packed and cleaned and cleaned and cleaned. After some ten or more hours, we are nearly done. We had made progress. It was difficult to see at first but after we had moved stuff out, it became obvious. We wiped down the cupboards, disposed of cans of food from the middle ages, cleaned the blinds, moved furniture out, etc. etc. etc. All in all it was an extremely tiring but fulfilling day.
By the end of it, I was feeling itchy and dirty, and for the first time, I ran myself a bath (in the new flat,not at Chris'!) Ah.. what better than a soak to wash away the day's weariness...
Wedding stuff
We've made most of the wedding invitations. We decided to break convention and not have the usual white/pastel/gold/silver cards. We made red cards embossed with the Chinese "double happiness" character on the lower right corner. On the inside we included a close-up picture of the both of us. The outside will be tied with a gold ribbon, and it is presented in a gold envelope. A little unusual, but it was what we wanted.
Almost everything is done and ready and we're pretty much just waiting for the big day. We still have to hand out some of these invitations. We'll get there.. We also have to meet with the pastor who is marrying us. That will be done tomorrow. We're going to have to tell her which vows we have chosen and the order of service. We're meeting with the photographer on Tuesday to give him the balance payment and discuss the details of the photos we want of the day. It's finally all falling into place...
Oh, and that silly petticoat.. I still have to make it. The truth is I am
afraid
terrified
petrified of cutting the fabric in case I get it wrong. How silly is that! It will have to be done. I have 2 weeks to do it. No, really, it will HAVE TO be done!
Knitting news
I don't have much to report aside from that I am making good progress with that jacket from the Garnstudio Drops pattern. It's looking a little strange, but I have decided to continue. I am finding that I don't like knitting with large needles. These 6.5mm needles are killing me. Sure, the pieces are going quickly, but I don't like teh feel of them in my hand and I am not sure I like those huge stitches. they look.. coarse and
cheap
unrefined, somehow.
I have completed one front and one sleeve. I am working on the second sleeve now. When this is done, I will work on the second front. I am attempting to finish all these before working on the back so as to avoid the dreaded second sleeve (or front) syndrome. Smart? Or foolish? We'll see. If this project gets relegated to the UFO pile, we'll know won't we?