And it took less than a week. I'd model it, if I could fit into it, but since I can't, this will have to do.
From the front...
From the back...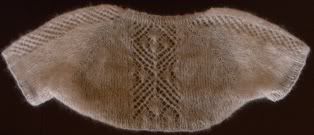 I used one skein of KSH with a little leftover. It may be enough for a small crocheted flower. On 4.5mm needles, this project sure went quickly! It's light and folds up into a tiny bundle, small enough, I think for mum to fit into her handbag.
The bind off is a little tight, but I'm not ripping it back for now. Let mum try it on and see whether she complains. Can you imagine ripping back KSH?!