It doesn't feel like it's been that long since I last blogged, but you know what, it has! I have now moved into our new home. There's lots (and LOTS) of tidying up to do, but almost all my stuff is here now. I just need to make one last trip back to the old place to pick up a couple of things and then it will be bye bye old flat.
I think this will give you a clue as to how much tidying actually needs to be done: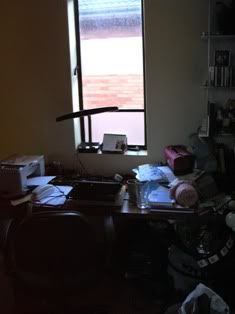 That's a picture of my study in its current state - not for much longer I hope. What you can't see in that dark grainy picture is that there is more mess below the table! I also have my wheel and spinning supplies tucked beneath the table. That's where they will live, I think. My study is actually a built-in table betwen the stairs and the bathroom (no, really, it's better than it sounds), so I really should have it tidy at all times, since anyone coming into the flat will see it immediately. For now I have an excuse.. and I'm wondering when that will run out.
As well as trying to downsize my stash, I have also gone out and bought some space bags. I am hoping that they will be my friend, and squish my stash to a more reasonable looking space (note I said reasonable LOOKING. There is nothing reasonable about the size of my stash, and I'll be the first to admit to that). Right now it has pretty much taken over all the available space in Chris' study. (Chris gets a study room and I get the little nook so that we can lock him away behind closed doors when he plays noisy boy games on his computer!)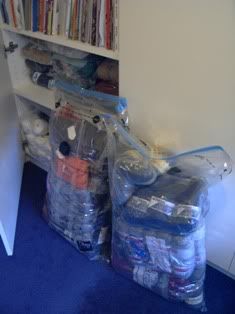 That's what the bags look like pre-vac. I'll give you a post vac picture when I can start up the vacuum cleaner. It's still a little early on a Sunday morning to do that. Don't be fooled, though, that's not even half my stash put away yet. If these space bags work like I hope they will, I'm going tobe out there buying another four or six or eight!
Oh, and those books and magazines above the yarn - all mine! There's probably a 30-70 split between cooking books and knitting books on that shelf. I have another shelf in the adjoining cupboard that is holding all my non-knitting/cooking/academic books. Books for school will live on my desk.
Oh our poor bank account!
We have been buying furniture and appliances so that we can stop sitting on the floor and borrowing mum-in-law-to-be's vacuum cleaner. Two weeks ago, we ordered our sofa, which is still yet to make anappearance. Last week we ordered our dining set -w hich arrived yesterday while I was out at Rubi and Lana's knitting with the girls. Chris very kindly waited at home for its arrival, and had put half of it together by the time I got home to see it.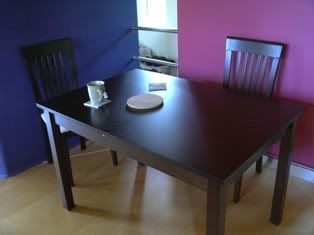 That's it, in it's present state. We still have two more chairs to build. The table is extendable to fit six, but having six people in that tiny dining room will be quite a tight squeeze. It's possible, but not the best situation. I guess our friends will have to come in twos, or we will have to host cocktail parties. No sitting, everyone, please stand!
Yesterday, we went out and ordered a new vacuum cleaner, a washing machine - a 7kg one! woohoo! - and a microwave oven (which isn't really an oven in my opinion, so I don't know why it's called that). The man at the shop thinks it will arrive by Tuesday this week - yay! I am looking forward to having a washing machien again. Last week Chris had to take clothes back to his flat tow ash as I still don't have a washing machine. I'd much rather wash my own clothes. I'm sure Chris will be relieved to hear that!
We've also been shopping for small things, like a step ladder (since much of the storage space in this place reaches up to the ceiling), some bins for my study, his study, the bedroom, the bathroom, etc. (I never realised how many bins I needed!), just miscellaneous little things that we need.
No tv...
About a week ago, my tv went up in smoke - literally. When Chris plugged it in, it started smoking, and I can assure you that the smell of burnt capacitors is somewhat unique and lingering! We've not had a working tv here for a week now. It's been good. It's peaceful, and I don't miss it one little bit. However, Chris has taken that to be a sign that God wants us to have a nicer tv - yeah right, I think it's a sign that God doesn't want us to have a tv at all! We've since ordered a tv, and are eagerly awaiting its arrival - Chris more so than I, I think.
The down side to not having a tv is that it also means I can only play music on my laptop, which does not offer the world's best listening experience. No, far from it. You see, at my old place, we didn't see the sense in buying a 'uni tasker' for playing music since the dvd player will play cds and pipe the sound out through the tv. Well, that and the terrible lack of space. Now that I have no tv, I have no music. [sigh] Maybe I do want a new tv more than I think.
No knitting?!
I have been so busy ove rthe past few weeks that I had not picked up my needles till yesterday. Wow! That's 2 weeks without knitting. I didn't think I'd be able to survive that long, but I did. This is what I have started: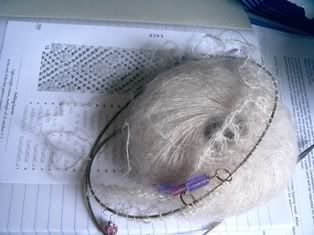 It's a little shrug for mum. I am knitting it with Kidsilk Haze in the lightest colour I could get. I think I was foolish. I bought two balls of the stuff, but I am starting to think taht one will be more than enough. It's based loosely on the One Skein Wonder. I am adding lace panels to it and lengthening the sleeves. It's so light and squishes into a ball of almost nothing, so I'm hoping that it will turn out to be small enough for mum to carry in her handbag. It almost never gets cold enough in Malaysia to need a wool cardigan - even at night - but soemtimes it gets a little chilly in airconditioned places. I think this will be just perfect for keepingout the chill. I am kntiting like a little fiend, hooping to have it done by next week so that my dad can take it home to mum when he comes.
Those cute little stitch markers are from the stitch marker exchange hosted by Lainie. In fact, those markers are FROM Lainie. Thanks Lainie!