Thursday, August 31, 2006
All done
I think the colours came out really well. It doesn't show well in the photos though, so I'll apologise for the poor quality of the photos.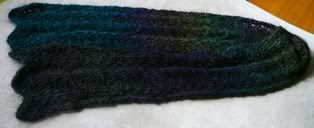 I was very worried that it will be a very short scarf, as I am only using one skein of this yarn. It turns out that the scarf is longer than I expected, and shorter than I had hoped- typical, isn't it?! The scarf measures about 55 inches from end to end and I tried it on myself. It wraps around my neck once and dangles nicely. Good enough, I say!
I tried to get a closeup of the colours, but I don't think that came out too well either, but you get the idea.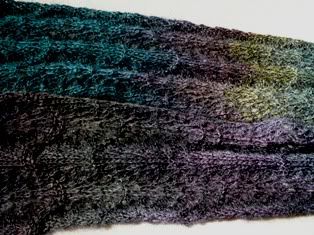 Two more sleeps till Chris gets home. Whoopeee! It sounds like he's been having a good time in Paris, and I am glad. It would have been a pity fro him to have travelled all that way and not enjoy his time there. They had dinner at a restaurant at the Eiffel Tower last night for his mum's birthday. Sounds nice. He did say thatthe view was very nice. I can imagine that it would be.
I am still fighting off this awful cold and cough. I went to see the doctor on Tuesday and he gave me a script for some 'safe' antibiotics, but I am waiting to see whether it gets any worse before getting it filled. It feels like it's getting better. I have been working at home all week. I didn't think my colleagues would want me to be sharing my germs around. I see the obstetrician again next week, so I'll probably run it by him before I start on any course of antibiotics, if I do decide to do so.
I think it's time to start another baby outfit. I just don't know what to make. I was considering a baby cardigan in self striping Regia yarn, but I am not sure that i want to be knitting at such fine gauge. We'll see, I guess. Next time I post, I would probably have finished half a cardigan!
Tuesday, August 29, 2006
The yarn whispered
And it said it wanted to be a feather and fan scarf. I decided to use a variation of the feather and fan pattern and this is what it looked like on Sunday.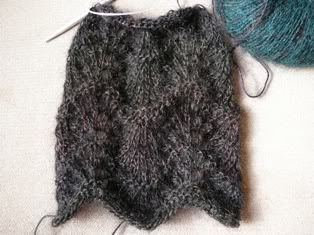 It's a pity that the colours can't be seen clearly in that picture, so I took another picture yesterday and you can kinda see the colours now.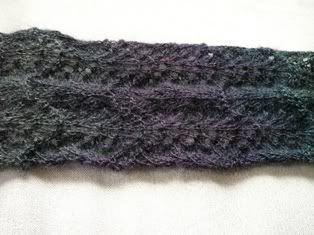 I am sure it will look better once it has been blocked. In the mean time, like all lace, it just looks like a crimpled clump of nothing. I am about 50% dne.. it will be completed soon, Ihope and be sent off to my One Skein Exchange pal. My poor pal is still waiting for her final parcel because I have been so slack. Sorry, pal!
Saturday, August 26, 2006
Bobbi Bear is completed
Bobbi Bear
This is what Bobbi Bear looked like when I came home from knitting with the girls at Rubi and Lana:
He didn't have a face but he had all his other bits. I finally got around to sewing his face this evening with a small amount of brown yarn I had lying around and now he looks like this:
I am not sure I like how his arms stick up in the air. No amount of massaging would bring them down, so I suppose that's the way they will have to stay. He is rather cute, I think, despite the factt hat his arms stick up liek that.
I used the original Bobbi Bear pattern but didn't feel that I could afford the cost of buying the recommended yarn - 4 skeins of Blue Sky Alpaca + shipping!!! I substituted with some Cascade 109 Bulky which was on special at
Yarns Online
. I ended up buying too many skeins- oops. I only used slightly more than 1 skein (so two would have been more than sufficient). I bought four skeins. Oh well. Since it was so easy to knit Bobbi Bear - all done in two days - I think I will make another but with smaller needles. I used 7mm needles for this bear and the fabricis just a little loose for my liking. I'd prefer a firmer fabric and the next time I make it, I'm going down to 6mm needles.
I was amazed when I read that the original Bobbi Bear will turn out to be 2 feet tall. Ugh, that is bigger than what Bubba is going to be when he is born. My version of Bobbi Bear measures 13 inches, which is a good size, I think. When I go down a needle size, He will probably measure a little less - closer to 10 inches perhaps?
Look what followed me home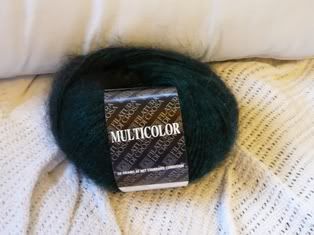 It's not clear in the picture, but it's beautiful. The colours change depending on the light and there are gentle colour gradations. It is destined to be a lace scarf. I have not decided which pattern yet, probably nothing too complicated. I am ashamed to say that I am yet to make the third exchange gift for my One Skein Exchange pal. How slack is that?! This is going to be that third exchange gift. Can someone help me find a pattern, please? Pretty please? If I can't think of anything else, it will be a simple feather and fan scarf.
Family found
Chris has arrived in Paris and is now with his family. I am so thankful he managed to find them. It's not like he didn't have a phone or that they don't have one, but you know.. Chris doesn't call me a worry wart for nothing. We have been sending text messages back and forth and it sounds like he is enjoying himself. I am SO jealous.. but I guess I did have the chance to go and I turned it down.
Oh well, I guess I should go back to working on that silly assignment. Anyone want to help? It's a paper about the "moments of turth" in customer service.
Friday, August 25, 2006
It's a boy!
We had our second ultrasound scan this week and it's confirmed - we have a boy baby!
It's all a little exciting and I am still trying to get used to the idea that 'it' is no longer an 'it', but a 'he'. Many of the clothes we bought in Malaysia are more suitable for a boy than a girl. I figured it's okay to dress a girl in boy outfits but not so okay to do the reverse! There is a cute little red dress that we bought which won't get used. Seems a pity. I am still determined to keep it - for next time!
What a sook!
I am being a bit of a sook at the moment. Chris left last night to go to Paris to surprise his family there. They are holidaying there and it's his mum's 60th birthday next week. I guess I could have gone with him, but really, a 24 hour flight when I am tired and pregnant wasn't exactly appealing. I was also not keen on being surrounded by food I can't eat and wine I can't drink - seemed too much like self-imposed torture to me.
So here I am in Sydney, and in about ten minutes, he will be landing in Paris. It will be another few hours before he meets his family as they will soon be catching the train from London to Paris. They still don't know he is going to be there! I did suggest that he tell at least one of themm that he will be going, but he wanted it to be a total surprise. I sure hope they don't change their plans, otherwise it will be Chris who will be getting a big surprise!
I didn't think it would feel this bad to be home alone. It isn't as if I have never lived alone before. For some strange reason, it feels far more lonely now than ever before. perhaps it is because I have gotten so used to his presence in the flat and it feels weird to be here alone. The bed feels big and empty now when it never did before when I used to live alone. It's the same bed, for crying out loud! I never thought I'd be sad that he's not here, it's only for a week, for goodness sake!
I am just being a sook...
Presents
I received my third One Skein exchange gift this week. I have had a great secret pal. her name is Helene, and Helene, if you're reading this, I think you're tops!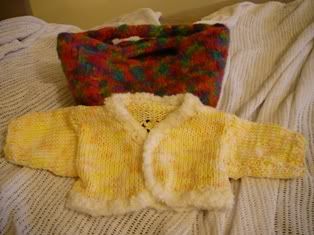 She sent me a felted clutch bag and a child's bolero. I love it all. Helene has been really generous over the exchange. I never got a package with just one skein. Oh no.. I always got more! Helene, you're amazing!
I also received my August swap package from
Kate
. Here it is:
The black yarn is acrylic, but it's the world's softest acrylic. I am still trying to work out what I want to make with it. I am considering a baby's blanket with eye-burning bright stripes. What do you think? I also received a skein of Rowanspun and a st of short dpns amongst other things. I love the Bobbi Bear pattern. Unfortunately I did not have any suitable bulky yarn for it,so I
had to
.. yes,
HAD TO
buy some Cascade Bulky for it
The gauge is different but it's working out so far. The yarn arrived this evening and so far I have knitted the body and one leg. I still have to make the other leg, the arms and the head. I think I can finish it this weekend. Yes, really!
Of course I am meant to be doing something else - an assignment due on Monday. Bobbi Bear is so much more fun, though. I am just goign to knit a little more till Chris calls me from Paris, and then I'll start on my assignment.
Friday, August 11, 2006
3rd International Scarf Exchange
Cynthia
and I have decided to run the next scarf exchange. We will start taking names from now. To submit your name, you will need to send us an email
here
. Leaving a comment on this blog or the scarf exchange blog or Cynthia's blog does NOT count. We need to have all your names at one central location, otherwise someone will probably get missed.
The rules are all up on the
scarf exchange blog
. We have a couple of new rules compared to last time, so go read all of that before you sign up. Every time we run this we learn something new, and we try to make it fun and fair for everyone, which is why the list of rule grow longer with each exchange!
Thsi time we're just going with a scarf swap - no hats or mittens. So let us know if you are interested and we'll contact you to let you know whether you're in.
Wednesday, August 09, 2006
I am knitting again!
It feel so good to pick up the needles again. Wool doesn't make me feel sick anymore. So far, I've churned out mostly booties and mittens. I have evidence too!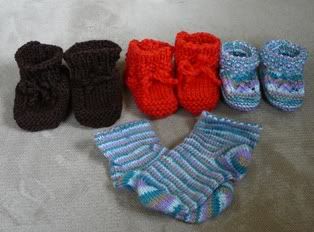 Booties are so easy to make and I can knit them while watching tv at night. As you can see, I've gone a little bootie crazy.
That's not all. I have also knitted some hats. The reddish one is just some random wool I found lying around the house. The stripey one, whcih I think is rather boyish, is made from a ball of Gedifra California Color, which I received from my One Skein Exchange pal. It's a lovely self striping cotton blend. Although it feels a little stiff now, I think it will soften once Ihav washed it.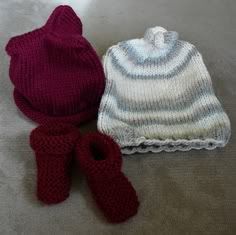 However, what I am most proud of is the baby cardigan. It's nearly complete. It just needs some buttons or ties for the closure.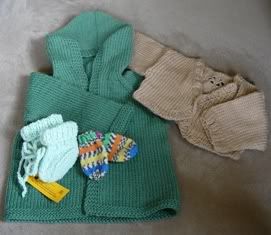 I have not decided yet what Iam going to do with it. I am waitign till after the 20 week scan to see whether I am carrying a boy or a girl. If it's a girl, I think I will embroider some flowers on the cardigan and give it some ribbon ties or chinese buttons. if it's a boy, the cardigan will be left plain and I may just use some large press-studs instead of buttons or ribbons.
The booties with the tag in the picture above are made from handspun wool. Sue, one of the ladies at spinning classspun and knitted them for Bubba.. isn't that sweet of her? That's Bubba's first present.
The beige bolero is from Last Minute Knitted Gifts. I wish they had given more than one size. That is sized for a newborn, though I think it does look rather large. (Then again, i don't think my idea of how large/small a newborn will be is necessarily realistic.) I'd like to make a larger one for when Bubba is older. I guess I'll just have to do the maths and write out the pattern for myself.
Aside from that I don't have much in the way of news. I am home today because I caught Chris' cold. He went to see the doctor yesterday (poor man, he's been home since Monday) and was told it's a virus and there isn't much he can do aside from resting. Well, I am guessing since I think I caught whatever he has, I have to rest too. I'm not going to bother seeing the doctor unless it gets any worse. So I am resting.. well, blogging and reading of blogs
IS
resting, right?
I can now feel the baby move. It feels like a cross between a flutter and a twitch in my belly. At first we thought it was gas, but these days, it's stronger and I am quite sure it's
NOT
gas. After the scan a couple of weeks ago, I had blood drawn for the Triple Test (which is meant to calculate the risk of me carrying a child with Down's Syndrome). I am relieved (and rather pleased) to say that the doctor has called to say that the risk is lower than he expected for my age - somwhere in the vicinity of 1 out of 1000 chance. The next scan will be at the end of this month and that's the morphology scan. Apparently that is when they measure all the limbs and organs of the baby to make sure that it is growing at the right rate and proportions. I am looking forward to it, as is Chris. We both want to see the baby move and find out its gender. However, more than that, I think Chris is excited by the prospect of getting a 3D picture of Bubba! Oh, boys and technology...