It feel so good to pick up the needles again. Wool doesn't make me feel sick anymore. So far, I've churned out mostly booties and mittens. I have evidence too!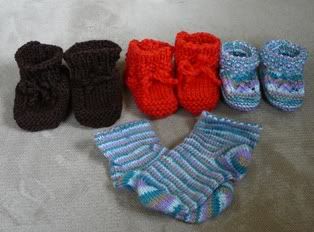 Booties are so easy to make and I can knit them while watching tv at night. As you can see, I've gone a little bootie crazy.
That's not all. I have also knitted some hats. The reddish one is just some random wool I found lying around the house. The stripey one, whcih I think is rather boyish, is made from a ball of Gedifra California Color, which I received from my One Skein Exchange pal. It's a lovely self striping cotton blend. Although it feels a little stiff now, I think it will soften once Ihav washed it.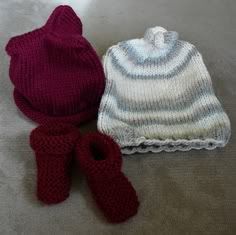 However, what I am most proud of is the baby cardigan. It's nearly complete. It just needs some buttons or ties for the closure.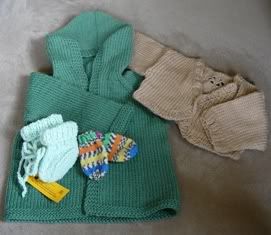 I have not decided yet what Iam going to do with it. I am waitign till after the 20 week scan to see whether I am carrying a boy or a girl. If it's a girl, I think I will embroider some flowers on the cardigan and give it some ribbon ties or chinese buttons. if it's a boy, the cardigan will be left plain and I may just use some large press-studs instead of buttons or ribbons.
The booties with the tag in the picture above are made from handspun wool. Sue, one of the ladies at spinning classspun and knitted them for Bubba.. isn't that sweet of her? That's Bubba's first present.
The beige bolero is from Last Minute Knitted Gifts. I wish they had given more than one size. That is sized for a newborn, though I think it does look rather large. (Then again, i don't think my idea of how large/small a newborn will be is necessarily realistic.) I'd like to make a larger one for when Bubba is older. I guess I'll just have to do the maths and write out the pattern for myself.
Aside from that I don't have much in the way of news. I am home today because I caught Chris' cold. He went to see the doctor yesterday (poor man, he's been home since Monday) and was told it's a virus and there isn't much he can do aside from resting. Well, I am guessing since I think I caught whatever he has, I have to rest too. I'm not going to bother seeing the doctor unless it gets any worse. So I am resting.. well, blogging and reading of blogs
IS
resting, right?
I can now feel the baby move. It feels like a cross between a flutter and a twitch in my belly. At first we thought it was gas, but these days, it's stronger and I am quite sure it's
NOT
gas. After the scan a couple of weeks ago, I had blood drawn for the Triple Test (which is meant to calculate the risk of me carrying a child with Down's Syndrome). I am relieved (and rather pleased) to say that the doctor has called to say that the risk is lower than he expected for my age - somwhere in the vicinity of 1 out of 1000 chance. The next scan will be at the end of this month and that's the morphology scan. Apparently that is when they measure all the limbs and organs of the baby to make sure that it is growing at the right rate and proportions. I am looking forward to it, as is Chris. We both want to see the baby move and find out its gender. However, more than that, I think Chris is excited by the prospect of getting a 3D picture of Bubba! Oh, boys and technology...