Since I have already shown you what heaven it was at Langkawi, I thought I'd share some food and wildlife pictures.
Let's start with food, shall we?
This was one of our first meals at Langkawi. We had decided that 7 days and nights of hotel food was too much for us and so we ventured out. I thought I'd gently 'ease' Chris into the whole 'local food in local surroundings' experience, and we chose to eat at a slightly more tourist-y eatery near the hotel. It wasn't bad, except that it was expensive for what it was. Having said that, it still wasn't too bad. We had food for both of us and 2 (or was that 3?) large drinks. It cost us about US$11 or so.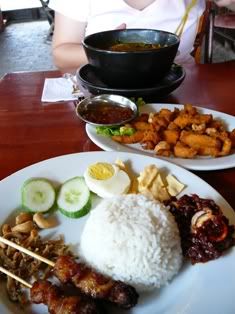 The dish in front is "Nasi Lemak" which is coconut flavoured rice served with sides of curries, sliced cucumber, boiled egg and fried peanuts and anchovies. Chris' order of it included satay which you can see near the front of the picture (that's marinated meat on skewers roasted over a coal fire).Here's a close up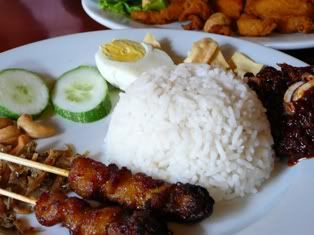 We also went to the local night market at the main town of the island (otherwise known as 'pasar malam') and bought a whole lot of food. I thought I'd let Chris sample as much local Malay food as I could get, resulting in us purchasing more food that we could eat. About US$8 later, we came staggering back to the hotel with this: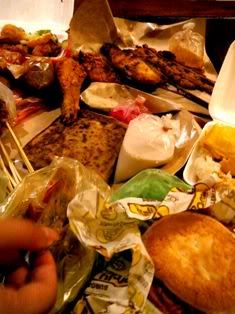 I know, it just looks like a mess. The lighting wasn't great and I was eager to dig in and did not wait patiently for Chris to finish photographing his feast. I think that's my hand that you see there. I won't go into the details of what we had - we had simply too much to list! We ended up having to discard of about a quarter of the food, but it was a great experience.
By the time we got back to Kuala Lumpur (also known as "KL") we thought we were all 'food-ed' out. However the next few pictures will show that we obviously weren't.
My aunt took us to lunch at *Teochew restaurant at a local shopping mall. It was
the
best!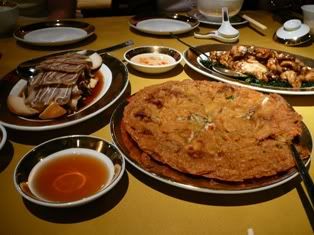 We also ate at
Senses
, which was an
AMAZING
meal.
This was one of Dad's dishes. I think it's the wagyu sirloin with mushrooms and something else.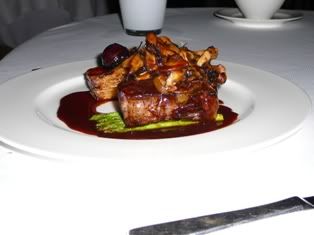 This was Chris'. It's a wagyu tenderloin served with truffle butter and some sides.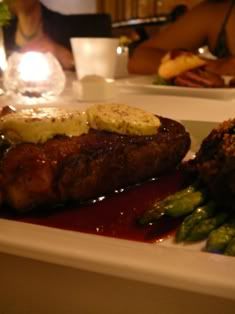 This was mine - a lamb loin with a goat's cheese dumpling.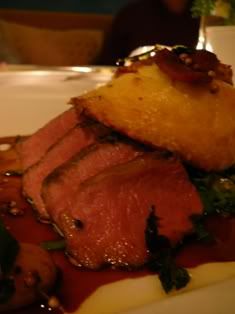 They all had fancier names on the menu. I just can't remember what they were. We didn't manage to get a picture of mum's meal or any of the other courses. Well, we did, but lighting was poor and doesn't do the food justice. If you happen to be in town, try this restaurant. It's very expensive by KL standards, but when you're spending foreign curency, it's not too bad at all. in fact, that didn't cost us any more than a meal at a nice restaurant in Sydney would have, but the quality of that meal was simply amazing. Chris and Dad both had the matching wines for each of their courses, and they both said that the matches were spot on.
Okay, and now you get to hear about our adventure trying to get home. Did I mention we were bumped off the flight on the way in to KL? They put us on the next available flight which was a Malaysian Airlines flight. The bad news was that we have to wait an additional 5 hours for that flight! After that experience, I thought I'd call the airlines to reconfirm our seats eventhough I had been told by the airlines themselves that re-confirmation of seats is totally unnecessary. Unnecessary my ass! I didn't want to get bumped off again! I managed to reconfirm our seats and was even given seat numbers! I was as pleased as Punch, seeing how check-in time for the flight was at the unearlthly hour of 2am, and I really didn't want to find out at 2am that I had been bumped off.
We got to the check-in queue and were attended to immediately. That's when the trouble started. They started by telling us that we had the option of being bumped off. They'd 'compensate' us. We really wanted to get on that palne, but they then proceeded to tell us that only one of us had a confirmed seat allocation and if we got on board we would be seated separately. Ugh. What happened to the other seat I had been given? It's been taken by some other passenger. This flight comes in from Vienna and obviously my seat had been given to a passenger from Vienna. Oh, I was sh*tty. Anyway, they said they'd compensate us with some money (okay.. maybe we can have another meal at Senses), a hotel room for the night, and we'd be given seats on a flight the next day. We agreed. We waited for about 30 minutes to get our vouchers and money, only to be presented with a hotel voucher and 2 discount vouchers for use on our next booking with them. What?? How do I get the money? Apparently I don't. What I did not know was that it wasn't cash they were offering but a voucher.
We argued with them and pleaded with them, but they had no seats left on the plane and there was no way we were going to get on that flight. We tried to request that the vouchers be swapped for cash as there was no way Chris or I would be travelling in the next year (the vouchers are only valid for a year) with the new baby in tow. All that to no avail. We finally gave up.
We ended up leaving our bags at the hotel and sleeping at my parents' house. It's just that much mroe comfortable. The next night, when we got back to the hotel, we had dinner and then went off to try to speak to the duty manager about getting an upgrade. Heck, if I had to beat work less than 24 hours after arriving in Sydney, I didn't want to be cramped up in economy class. We didn'tmanage to catch him, so Chris rang him, explaining how tired I was, and that I was pregnant and really really needed to sleep. Guess what! He was really nice and said he'd try. I didn't hold my breath waiting.. yeah right, 'try'! (Can you tell I didn't have much faith in them?)
At 2am, when we went to check in, they had come through with the goods. We flew back to Sydney in business class comfort. We still have vouchers that we probably can't and won't use, but we got our upgrade, and we got to sleep on the plane. I don't know if I can say I am happy, after all that, but I am not angry.
During our extra day at KL, we took my parents out for lunch at Eest, the Chinese restaurant located in Westin Hotel. Oh what a feast!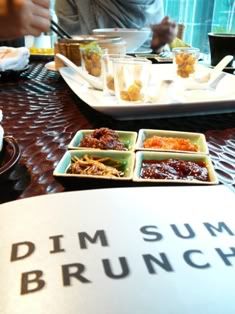 For about US$18, we had as much dim sum (or yumcha, for all you Aussie readers) as we could eat. It wasn't just any dimsum, it was very good quality dimsum too!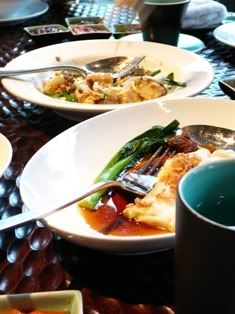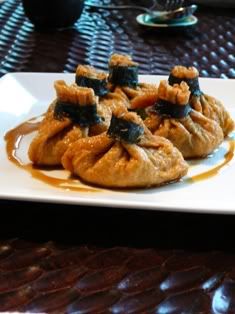 Okay, so I'll leave you with a picture of a funny thing we saw while going around Langkawi Island, at a stall selling local snacks (kinda like Twisties and Cheezles, but local versions)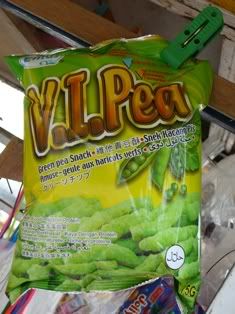 * Teochew is a Chinese clan and their dialect. They have some dishes unique to their culture, including a great yam dessert and delicious braised duck.
Oh, wait, I can't go without showing you the local 'wildlife'at Langkawi.
The hotel had a resident cat, which I think was not meant to be there, but had been ''adopted' by the guests. It's an outdoor cat and willonly visit you if you are eating on one of the tables by the beach or in the verandah.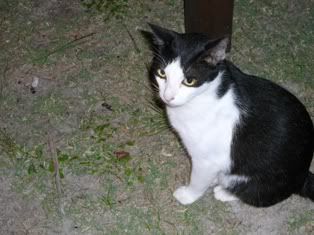 It's a real cutie, don't you think?
This is our friend, the crab.
Chris spent alot of time testing the zoom function of our new camera on this little guy. Chris was standing upright and the crab is about the size of my thumbnail (yes, they
are
tiny crabs.). I thought it was pretty amazing that he managed to get a closeup of it at all.
Everywhere that we went on the island, there were cows. Like this: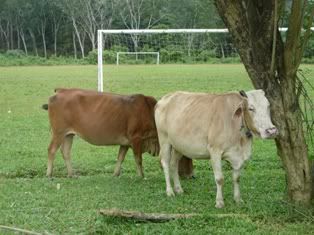 and this: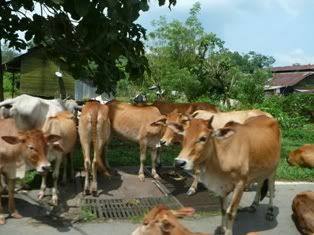 There were also monkeys, but we didn'twant to risk getting too close as they were wild, and wild monkeys bite! This picture was taken from the safety of the car.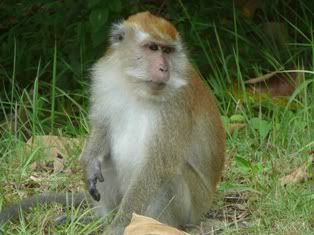 At the birdpark, we were allowed to feed the budgies. I didn't think they'd actually come to feed on our hands, but boy, was I wrong!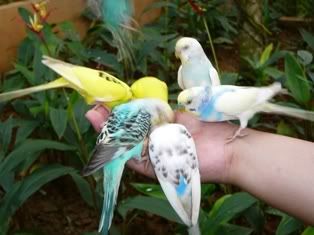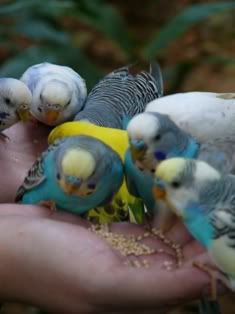 More knitting news next time...