It's been ages since I last posted. I do have an excuse, though. I have, in the past couple of weeks, handed in two papers. Uni is nearly done for this semester - thank God! I certainly have not enjoyed this semester. I hope next semester is going to be better, but I'm not holding my breath. I think it's just that I am so close to completion that I just want it to be over.
Castlehill Show
Okay, so the show is old news.. right, so it's been over a month since the show. But I didn't get to show you pictures of my ribbons. Just indulge me, okay? Give a girl a chance to show off a little..
I sbmitted four items, of which two were handknit and two were handspun and handknit.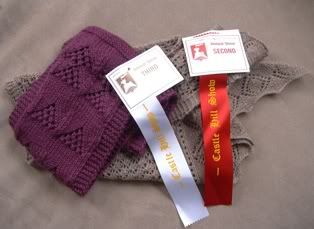 Thsi is the handknit stuff. My Ene, from 1 1/2 skeins of KnitPicks Shadow, came in second in the knitted shawls section. The other is my version of the Birds Nest Shawl (well, mine is a scarf) from Folk Shawls. That was knitted in KnitPicks Andean Silk. I love the colour! It is a nice soft scarf, perfect for those cold days when a scarf makes all the difference.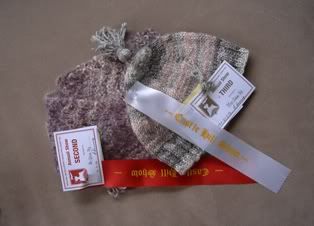 That's the handspund/handknitted stuff. On the bottom is my handspun mohair neck scarf. It's knitted in a simple feather and fan pattern and is just long enough to go around my neck and fastened with a pin. I bought the kid mohair locks already hand-dyed from
Virginia Farm
. I spun it soft and then brushed it. It's not at allprickly.. That was actually a surprise to me as I always (in the past) associated mohair, even kid mohair, with itchiness. The beanie was knitted from hand dyed hand spun Optim top, which was Navajo plied to keep the colours together. I love the stripes and the tassle.
That's four out of four, baby. Yeah!
Thank you Secret Pal
If you think you have the bestest secret pal, you're wrong! Mine rocks!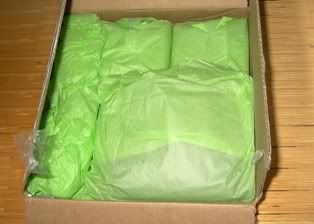 It came wrapped in this month's project spectrum colour. It was neatly wrapped.I could not resist opening the little bundles. Ah.. bliss.. I did keep a few of them wrapped for the photograph. When I got home, I opened all the littlepackages to reveal this: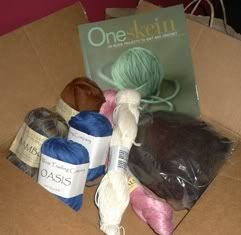 I have already completed one project from the book. How quick was that?!
I have a couple of colleagues whose wives are pregnant. I could not resist making the baby bolero. It's in newborn size and oh so cute! The babies are going to be summer babies so this was the perfect project too. oh how cute! It's now drying on a towel. I'll take a picture later and show you. It's irresistable.
Knitting
Okay, on the knitting front, Melinda is nearly done.
I offer you a picture of the front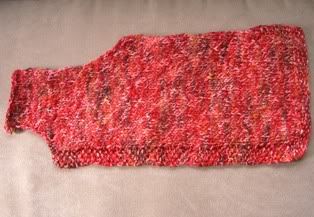 Aside from that, I haven't had the time (or energy) to do much else..
More pics in the next post.. which, I hope will be some time in the next few days.