I can't believe I am actually counting sleeps now!
How exciting is that?!!!!!! My, my.. the day has come around really quickly. I hardly felt it.. it was like it sneaked up on me and all of a sudden, there it is.. 3 more sleeps to go.
We took a drive out tonight to deliver the last of the invitations - yes, I know, very slack of us! That's okay, though, because all the guests have been invited verbally and they ARE coming - to the best of our knowledge.
We are just tying up all the loose ends now. Tomorrow will be my last day at work. Today was Chris'.
The hair and make up trial was last night. We settled on colours and a hair design. My dad thinks I look like a china doll in the picture - and I don't think that was meant to be complimentary. Mum is fussing.. [sigh] I guess there are some things that only one's parents can say. That's what parents are for, right?
It will all work out on the day. We're keeping our fingers crossed. the hairdresser knows what needs to be changed and/or tweaked for just the 'perfect' look. I am hoping so! My nerves are getting a little frayed. The day is drawing closer and even with all the promises I made to myself that I will NOT (no, never!) turn this into a stress-fest, I am getting worried. It's not cold feet.. it's just nerves - you know, the "what if it rains? or if the restaurant burns down? or if..." kind of irrational worries.
Stash organisation
I have this: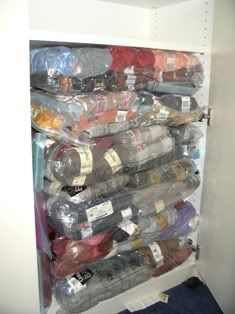 and more..
I guess that kinda says it all, huh?
I am having a hard time putting away all my yarn.. getting there.. but real sloooow.
My secret pal ROCKS!
Ok, so I was impatient.. I could not wait to open my presents..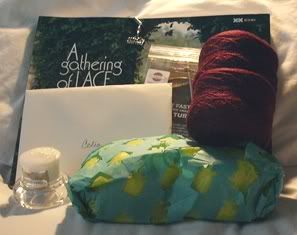 I left one lot wrapped up so you can see the pretty paper she (I am assuming she's a 'she'...) use to wrap the presents. The rest got ripped off in my excitement.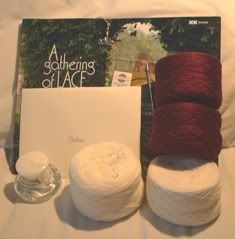 This is the complete picture. 2x58g balls of burgundy Zephyr and 2x58g balls of white Zephyr. Oh my.. I feel like all my Christmases have come at once! I have been wanting that book for the longest time.. I went through it last night, making little mental notesof what I want to make.. oh so many things! The stoles interest me, as do the socks, and the cardigan, though I think I will have to lengthen it if I do make it. She also included a wedding candle.. how sweet is that? Let's not forget the Addi circular needles, the book mark and the card. Oh I should show you teh card. It's really cute. It has a picture of a sheep with some wool glued onto it. Then there is a piece of yarn extending from the patch of wool to a pair of tiny needles knitting a small piece of something.. really cute! She also included a bookmark, did I mention that?? And it says "I love knitting".. this is like the bumper edition of secret pal gifts!
Knitting stuff
Been trying to knit the Garnstudio circle jacket.. and not getting very far...
My family gets in tomorrow night. I may be gone for a little while.. so if I don't post, you know where I am.. kind of...