It hasn't just been party party party around here. I have been "working" too. Granted that I have had two weeks off from my day job for Christmas and New Year. I have, however, been doing lots and lots of dyeing.
I have a few lots of Blue Faced Leicester combed top listed in my
Etsy store
. As well as that, I also added two lots of hand-dyed Optim. I love Optim. It's gorgeous and soft while being silky and with lovely drape. It actually feels quite heavy.
What I am most excited about is my newly dyed merino silk laceweight yarns. I only managed to get 7 skeins of that and so have made them one of a kind never to be repeated colourways. There are only 5 left so hurry if you want any of them.
At first I wanted to keep them all for myself but realised that there is no way I will every get around to knitting that much lace, especially not with Alex climbing all over me. The wool base is a beautiful mix of 50% silk and 50% merino. It's so soft and silky, it's almost unbelievable. I dyed them in gentle blends of colours suitable for lace knitting. If you're like me you won't want your colours to flash all over your work detracting from the beauty of the knitted piece.
Oh, and I almost forgot to mention my new line of sock yarns. It is a blend of merino and nylon but so soft you would not know it has nylon in it.
I can't believe it's been two years since I popped him out. How time flies!
It doesn't seem that long ago that he looked like this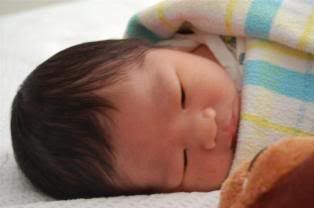 I still remember willing him to come out earlier than expected as it was so hot and summer was killing me. It didn't help that my blood pressure was rising and poor Chris was bearing the brunt of my increasing grumpiness and narkiness. I think we were both grateful when Alex finally decided to be born a couple of weeks early.
We had a look at photos of his last birthday and could not believe how tiny he was.
There's no way he'd sit still on the table now. Neither would we attempt to sit him in front of a pile of cakes with a lit candle. He would
1. reach over for a cupcake
2. knock the candle over
3. probably damage the table and himself in the process
This is this year's photo. He had two cakes. Chris' mother made him a mocha cake in the shape of the number 2. I made him a mango and cream sponge sandwich cake because he loooooves mangoes.
We tried to make sure that his birthday was not overshadowed by Christmas and so split his presents between Christmas and his birthday. I am not sure we did so well on that front. He did receive lots and lots of books which he loved. He actually stopped between opening each present as he wanted to read the books there and then.
Hasn't he grown!
He had a great day running around, eating everything he wanted, opening presents, playing in his kitchen, and watching some of his new dvds. He finally went down for a nap (with much protest) at about 5pm.
Phew!
That's right. I'm still here. Just a little busy over the Christmas and new year period but definitely still here.
So.. happy belated Christmas. I hope you had a good one. I sure did!
As usual we spent Christmas eve with Chris' folks. For dinner, my contributions were roast pork and potato bake.
It was not till we looked at last year's photos that we realised that I contributed the same dishes to last year's Christmas eve dinner! Could this be the start of a tradition?
This was Alex's dinner. He had pan fried chicken drummettes, hand cut chips and some potato bake. I can just hear some of you asking yourself about his high carb diet. He refuses to eat salad and that was the only vegetables we had that night. I did offer him some, which, to his credit, he did try. He spat it out and proclaimed it "YUCKY!".
After dinner, we opened presents. Alex very quickly went from not knowing what to do with the wrapped packages to ripping them apart and asking for "An one" (another one).
Here he is, surrounded by his haul of presents:
He loved the kitchen Chris' family bought for him. The apron and kitchen utensils
Emily
gave him came in handy too. He wears the apron every time he plays in his kitchen. I think it is a good sign that he has not tired of it yet and he runs to it as soon as we get to my in-laws' house.
Amidst all of that I even managed to get some knitting time in:
They are socks for a friend's child. I used some of my own hand-dyed wool. It's "Sock" in the Fern Gully colourway.
A few days after Christmas, Alex and I caught up with some of the mums and bubs from an online mothers' group I frequent. All the "babies" were born in January 07 and it is astounding to see how much they have all grown. He had a great time playing in the sand and water, climbing on everything, and just getting hot and dirty.
He did remember to stop for a snack.. but not for very long.