I can't believe it's been two years since I popped him out. How time flies!
It doesn't seem that long ago that he looked like this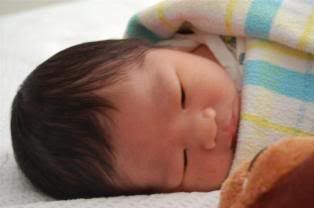 I still remember willing him to come out earlier than expected as it was so hot and summer was killing me. It didn't help that my blood pressure was rising and poor Chris was bearing the brunt of my increasing grumpiness and narkiness. I think we were both grateful when Alex finally decided to be born a couple of weeks early.
We had a look at photos of his last birthday and could not believe how tiny he was.
There's no way he'd sit still on the table now. Neither would we attempt to sit him in front of a pile of cakes with a lit candle. He would
1. reach over for a cupcake
2. knock the candle over
3. probably damage the table and himself in the process
This is this year's photo. He had two cakes. Chris' mother made him a mocha cake in the shape of the number 2. I made him a mango and cream sponge sandwich cake because he loooooves mangoes.
We tried to make sure that his birthday was not overshadowed by Christmas and so split his presents between Christmas and his birthday. I am not sure we did so well on that front. He did receive lots and lots of books which he loved. He actually stopped between opening each present as he wanted to read the books there and then.
Hasn't he grown!
He had a great day running around, eating everything he wanted, opening presents, playing in his kitchen, and watching some of his new dvds. He finally went down for a nap (with much protest) at about 5pm.
Phew!