Thursday, September 29, 2005
A package, a package!
Package!
I came home to find a box at my door, and on it was a label that looked like this: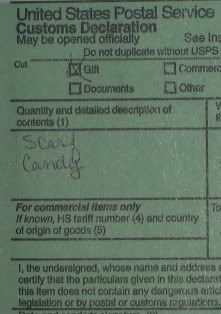 Imagine my surprise and excitement!. I ripped it open to find this: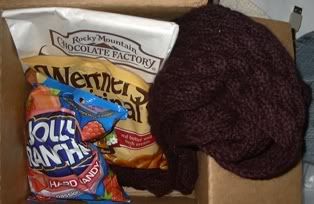 Thank you
Kristen
!
I didn't know who was making my scarf since Cynthia was the one who organised the knitters for the Knit Only group. (thank you Cynthia!) This is what I said when I was doing the blog update:
Kristen
's scarf is competed too. I love the colour, Kristen!
My, am I happy or what! I love the scarf. Also, which little birdie told you that I loooove Werthers Originals, Kristen? THANK YOU! I love the dark chocolate too. I can't bear to eat it because the picture is so pretty. Sorry folks, no pictures as the picture doesn't show up in the photos.
Folks, if you want to see a close up picture of the scarf, look
here
.
Shredding my finger
This is what happens when you put a flicker and me together with some alpaca fleece: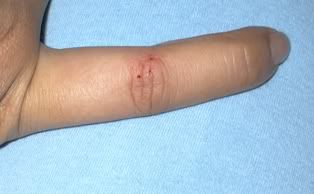 Can you see the holes in my fingers? I kept catching my finger ith the flicker. Once I put on the band-aid it was much better. It didn't matter if the flicker descended upon my poor little finger, it was protected!
I am spinning some white/cream alpaca, and I am trying to spin it finely. I am aiming for somewhere between lace and fingering weight. I am not sure it's sucessful. I have a feeling I am putting too much twist in. However, when I have less twist, it doesn't seem very sturdy. Oh well, we'll see. I have another 10 or 15g to spin before changing bobbins to spin the rest. Once I have done that I can ply and we'll see how good or bad it is.
Uni Assignment
Thank you Thelma and Joy for replying to my questions.
Those of you who were curious about my project, I guess I do owe you an explanation. It's for one of the subjects I am taking this semester - International marketing Management. We have to write a marketing plan for a salad-based fast food chain expanding their operations to Hong Kong. I was looking at competitor information. Anyway, tese are the answrs I have so far:
1. How much does a Big Mac cost?
HKD12
2. How much does an average meal at a stall (dai pai dong) cost? How much would a drink cost?
about HKD25. About HKD12 of that is for a drink (Isn't tat a very expensive drink??)
3. Are food courts common? If so, are they normally local food stalls or western food stalls like MacDonalds and KFC?
Yes, they exist, and they serve up all manners of food!
4. Are there any salad fast food outlets in HK? If so, what are they?
Doesn't look like they exist. Let me know if you know of one!
5. How much would you pay for a salad (like Caesar salad or Thai beef salad) from a fast food outlet?
I was told about HKD20 but when I looked up some websites, it looked like the cost was closer to HKD40-HKD50. can someone clarify this for me, please? Pretty please?
I have more questions.. sorry folks, but I have no other contacts in HK!
1. If I were to open a salad based fast food kiosk style outlet in HK, what areas should I be looking at?
2. What are the main shopping areas in HK?
3. What is the main business area in HK?
4. If we charged HKD40 for a caesar salad, would you buy it? What if it was HKD50?
5. Is food delivery to offices common? Do office workers get lunches delivered to their offices?
Thank you!
Wednesday, September 28, 2005
Want to help me with my assignment?
Hi folks. I need a little info about fast food in Hong Kong. Anyone out there able to help me out? Here's what I need to know
1. How much does a Big Mac cost? (in HKD is fine)
2. How much does an average meal at a stall (dai pai dong) cost? How much would a drink cost?
3. Are food courts common? If so, are they normally local food stalls or western food stals like MacDonalds and KFC?
4. Are there any salad fast food outlets in HK? If so, what are they?
5. How much would you pay for a salad (like Caesar salad or Thai beef salad) from a fast food outlet?

Thank you!
Tuesday, September 27, 2005
Quick Scarf Exchange Update
Rox
has received her scarf from "
wonderful, talented, fabulous Judy
" (Rox's words, not mine, though I can't say I disagree). It's a beautiful piece of art!
Amanda
has completed her scarf and you can see a picture of it rolled up in a mug. Show us more, Amanda!
Michelle
has knitted "Backyard leaves" for her buddy and has a picture of it on her blog.
Kristen
's scarf is competed too. I love the colour, Kristen!
Jennifer
has recived her scarf from
Amy
who really went all out with her package. Wow!
Colette
also recieved her package from
Fiona
.It's very cute. It looks like it was finger-knitted or something? It's all loopy and arty. I love it.
Lee
has completed her skinny Clapotis. If you go to her blog, go to the category "knitting projects"
Becky
has received her scarf from
Colette
. It's a nice lacey one. Is this the only lace scraf so far? (I read so many blogs I get all mixed up and forget)
Becky
's scarf has also been recieve by
Cynthia
.
Tam
has also finished her scarf and posted it. I can't eally tell frm the picture what it is like, but I am sure it's nice :).
Have I missed your update? Let me know if I have. I swear, next time I run this, I am setting up a scarf exchange blog so all of you can update the blog yoruself! I have realised I am not any good with keeping up with all your progress posts.
I do intend to start another scarf exchange. I am waiting for everyone from this scarf exchange to get their scarves before starting the next.
Now, regarding Scarf Exchange 2, I have these dates in mind
a) start mid November, end late January
b) start early January, end late February
Let me know which you prefer. Leave me a comment or email me.
Also I am thinking of extending this to includ other items (thank you, Cynthia, for the idea)
a) scarf only
b) scarf and hat
c) scarf and mittens
d) scarf and mittens/hat
Which works for you?
I am not officially taking names now. As I said, I'd like this round to end before the next begins. I am just gathering opinions, and I will post again when I am ready to take names.
Thanks!
Thank you SP6!
SP6 gift
There were giggles at work today over the "dead red furry animal" I had received in the post. You see, the envelope was torn and a bit of my gift could be seen. My SP6 had sent me some beautiful red silk/wool top and a set of 4mm Clover dpns. Thank you SP6. You made me so happy. No pictures, yet, folks.. maybe later.
Long overdue pictures
Remember the lace cotton tee I was test knitting for
Figheadh
? Well, I finished knitting it ages ago and have worn it a few times now. I wore it again today and took some fresh pictures for Jen. Here's the back...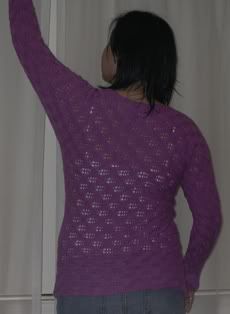 and here's the front...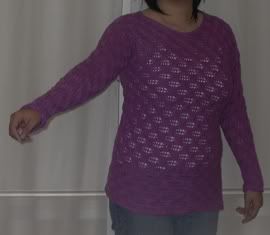 Okay, no rude comments about my access handles. Yes, you there, stop snickering.
Oh, did I mention hat Jen has re-named it? It is now called Marsaili. It's a really easy pattern with minimal seaming. If you are like me, and hate seaming, this is the pattern for you. Jen's got it up at
Figheadh
now, if you want to go take a look. Hey, why am I promoting
Figheadh
, when I am not getting paid? Hmm.. must be cos I really like this top.
One Skein Wonder - real pictures
Front...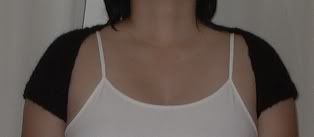 Back...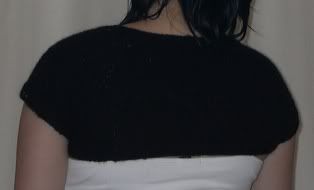 Do you think it will look nice made a little looser and with longer sleeves?
New project
Have you seen
this
? I love it! I don't know whether I have mentionedthat my cousin is getting married next October. She chose the
"I do"
from Knitty, but I am not sure it will be all that flattering, unless the wearer is tall and slim. I am thinking the bolero from elann will work so much better. What do you think? I think she has her heart set on a strapless dresss with a large princess skirt. Do you think the bolero in white will work?
I have some angora yarn that I am thinking of using for it. Maybe I will make one for me first.
Monday, September 26, 2005
I think I've caught a cold, AGAIN
Catch it! Don't let it get away!
My nose is running, and I can't keep up with it. It all started last night, when I became wheezy and my nose started dripping. Well, it's running now - gives the kitchen tap a run for its money! today, when the cold got worse, the first thought that ran through my mind was "Oh no! Chris must have shared my drink with his family when I wasn't looking!" No, seriously, that's what I thought. I think that's the
Monk
in me. I hate sharing food and drinks. If someone has had a drink out of my cup, they can have the rest of it. Just thinking about it makes me ill. Yuck! As my cousin said, "You may as well spit in my mouth". I think that's a fairly apt description of how I feel about sharing food, drinks and utensils. Chris doesn't understand it. That's ok. He can have my food and/or drink after it's been passed round the table. Eeeuw. So anyway, I asked him, and he said he hadn't so I couldn't have caught the cold from his sister-in-law. I must have done it all by myself, not that catching a cold is anything to be proud of. Any old idiot can do that.
Knitting and spinning
Not much is happening. I completed the OSW on the weekend, and it doesn't look like much in the photos. It's like a big black blob. I'll have to model it for you when I get around to it. When Chris saw it, he said, "Where's the rest of it?". It does look a little like that. It's like a mini cropped cardigan.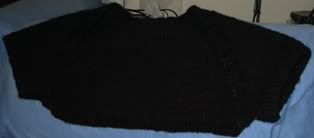 I spent some time pulling apart the silk caps I had dyed, and rolling them up into ready to spin rolls. Can you believe that this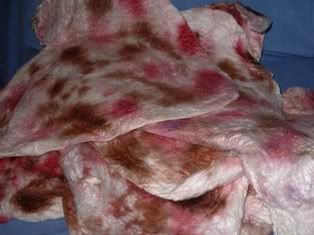 turned into this?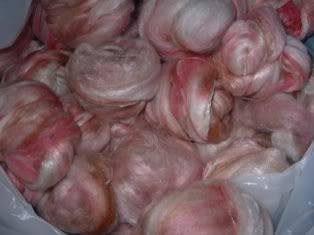 On the weekend, I also started a stole. I am using the mohair blend that Emy sent me a few months ago. It's fairly hairy and has a couple of metallic strands mixed into it. It's really pretty. I am going to weave ribbons through it when I am done. It's being knitted sideways in a simple eyelet pattern with garter stitch. I have not yet decided whether I am going to make it a self-fringing piece. If it is long enough, I will. Otherwise I will just add the fringe separately.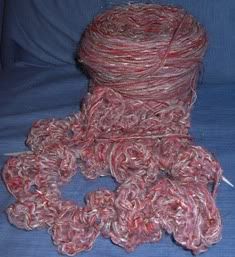 Hmm.. I think I am going through a pink phase...
Lace Cotton Tee
I am so sorry, Jen. I thought I had sent you the photographs. Obviously not. I can't find the photos now, and the cotton tee is in the wash (can you tell that I wear it?). Anyway, I'll wash and iron it and take more pictures for you. I am so so so so sorry for the delay.
Sunday, September 25, 2005
The weekend has ended
And now, may I please, please, please have another one to recover from this one?
Visitor from London
My cousin arrived on Wednesday, and left today. I have not seen her since I was in London three years ago, so it's been a while. She had lost her credit card and cash whilst in LA and had to spend her holiday in Hawaii watching the pennies. So, off I went to meet her after class on Wednesday for dinner, and to pass her some money.
So where is the line between giving her space and neglect? I really didn't want to be the "smothering cousin". We found a happy(for me) balance where I saw her on Wednesday night, and we kept in touch via email for the rest of the week till Saturday when I took her to two markets and lunch.
Oh man! I have not walked like I walked on that day for such a long time. I met her at the YWCA where she was staying, and we walked up to the Paddington markets. From there we walked back into the city and had lunch at
the Tearoom
at the Queen Victoria Building (the kingfish salad is exquisite!). After that, I thought, well, one can't be that close to Pitt Street Mall and not have ice-cream there. In case you didn't know, there is a little ice-cream shop/stall on Pit St mall that makes the world's best (in my opinion) ice-cream. It is made fresh daily, and flavours change regularly. I had the mocha and mango, and my cousin had the hazelnut almond blend and apple. Never had apple icecream? You have got to try it. Don't knock it till you've had it!
We visited the market at the Rocks and walked around there for a while before stopping at the Oyster Bar at Circular Quay for a drink. I had to leave her there as I had to be home in time to dress for dinner with Chris' family.
Oh, and I nearly forgot to mention the present she brought me from Hawaii. I looked at it and thought, "What? She broght me a shellfish in a can?!" Well, that was what it was - a clam in a can. I read the instructions and apparently there is a pearl in the clam. I have to break it open, remove the pearl and polish it. She even bought me a silver chain with a locket for it. How cool! I haven't opened the can yet. I will, when my calves stop hurting! You know how your calves ache when you have done too much excercise? Yeah, well, multiply that by ten, and that will (maybe) come close to what I am feeling right now.
I am never riding on a train again, if I can help it!
I thought that the train would be the quickest way to get back to Epping from Circular Quay. Oh I was wrong, oh so wrong! I ended up switching trains and going to Marayong instead, where Chris picked me up.
There were cops walking up and down the train. I know they are there for the safety for the passengers, but you know, their presence was hardly re-assuring. The fact that they needed to be there was rather disconcerting, to say the least.
Prime
Chris' brother and sister-in-law were leaving for Jersey today. They both have three year contracts working with a law firm there. The family had decided to have their farewell/congratulations/good luck/bon voyage dinner at
Prime
on Saturday night. The private dining room was booked for the evening, and special steaks were pre-ordered. It turned out to be a rather fun night. My stomach, as usual, was complaining today that it has been overworked. There was lots of food and drink and we didn't get home till nearly midnight. Somehow, last night's dinner ended up being a celebratory dinner for Chris' SIL's birthday as well. The present opening and jewellery ogling was probably a good distraction from the less happy thoughts about their imminent departure that some were having.
Half a day at the airport
They left today. We woke up bright and early and headed over to Chris' parents' house. With the cost of parking being as high as it is at Sydney airport, it made sense to all go in as few cars as possible, and that worked out to be two.
We actually spent about 2 hours at the airport but it seemed way longer than that. I gues sit always does when you're not the one travelling. Sitting around while they waited in queue at the check-in counters seemed to take an eternity, though in truth it was probably only about 30 or 40 minutes. We were off to grab some lunch at the food court. Finding a table to seat all of us was easier than I thought it would be. A few Cajun nuggets later, it was time for the 'final' goodbyes. There were tears all around, etc. etc.
If you're thinking I am rather unaffected by the whole thing, you're right, I am. In my mind, it's only for three years, and it's not like they are stuck there if they don't like it. They can always move. Besides, it all seems rather strange to me that the same man who said to me, when I first came here and said how sad my parents were, that my parents should have expected it since they sent me to study abroad, is the same man who is crying today because his brother is ging away for three years. Well, his brother has been talking about moving overseas for as long as I can remember (granted, I don't have a very good memory, and so 'for as long as I can remember' probably only dates back a few years), so this is pretty much expected. I guess, maybe, it all hits home a little harder when it's your own family who is moving away.
Home sweet home
I was glad to finally get home. I collapsed on the bed, and that was pretty much the end of my day. I woke up a few hours later, only to realise that I have
1. missed church
2. lost half a day
3. an empty stomach
What a weekend!
Sunday, September 18, 2005
Picture time!
AKSP gift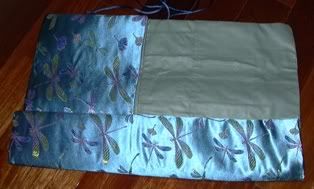 Okay, this isn't all that was sent this time, but was most certainly the most impressive. She made this with her own two hands (and a sewing machine, of course). Wow. I am inspired now. I'll have to gow hip out some of that fabric I have lying around. I want a small needle roll just for my sock needles.
Toy Seal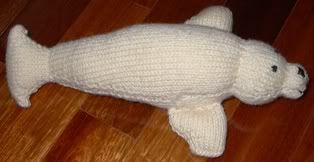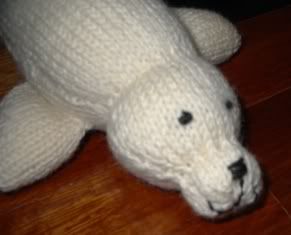 My AKSP also sent me a book -
World of knitted toys by Kath Dalmeny
. The pictures are all so cute, I want to make them all. Okay, so my seal doesn't really look like a seal. I don't know whether it is my fault or that of the book, but I think it is more likel to be my fault. I was meant to use mohair, but I just used a smooth wool yarn. Not quite the same, huh. Thanks, AKSP ! I am going to have so much fun making all the animals in the book!
Kiri Shaw finished


And it's a scarf!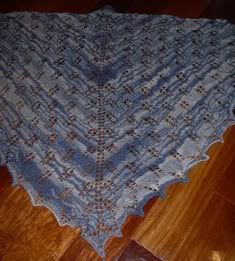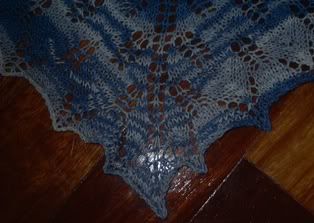 I only had one skein of KnitPicks Shimmer in Morning Mist, so it's smaller than it is meant to be. It makes a nice large neck scarf, but definitely not a shawl unless I am the size of a nine-year-old, which I am not. Remember how I complained about the colours pooling? well, here it is in all its 'pooled glory'. It looks better now that it is blocked and I don't mind the pooling as much. It's also funny, I think, how the pooling is
almost
symetrical across the left and right.
Un-named socks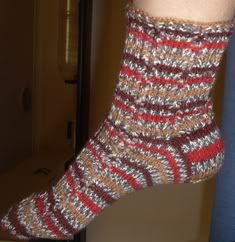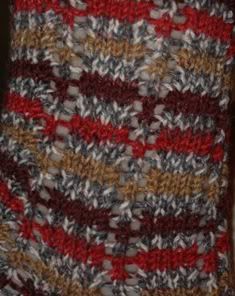 These are the socks I am thinking of submitting to the next issue of Souther Cross Knitting. Before I do that, I need to know whether you have seen the same pattern else where. I made it up on my own. However, there are so many sock pattern out there, I just want to be sure nobody is going to think I copied their pattern. It's a very simple pattern, great for beginners. I plan on two versions, one with garter stitch at the top (like the one in this picture) and one with ribbing at the top (not knitted yet).
I like how the colours dip where the eyelets are. Dippety-dip socks?
Multidirectional scarf completed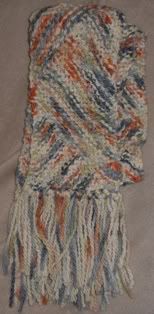 Here it is, fringed and washed.
I knitted it from a large skein of handspun and hand-dyed merino. I don't like the colours, but it is so warm and so soft. Anyway, winter's nearly over, so I'll put it away. Maybe I will find a new home for it, or maybe I will like it a little more when next winter comes around.
Saturday, September 17, 2005
A correction
25. What is your favorite holiday?
I'd have to say it's hard to choose between Chinese New Year and Christmas.

Thank you, Cynthia, for reminding me that my udnerstanding of 'holiday' is not the same as the American understanding of the same word.
Thursday, September 15, 2005
SP6 Questionaire
1. Are you a yarn snob (do you prefer higher quality and/or natural fibers)? Do you avoid Red Heart and Lion Brand? Or is it all the same to you?
I am definitely a snob, especially since I started learning to spin. I am going through a luxury fibre phase. When I say 'luxury', I don't mean quivuit(spelling??). I like the softer fibres that are nice to knit/spin and nice to wear. I don't mind acrylics. I think they have their place (for coasters, kids clothes, etc) but right now the only acrylics I am using are for making toys and charity hats.

2. Do you spin? Crochet?
I do both. I spin more than I crochet. Spinning is my latest passion. I probably would spend more time spinning than knitting if I could carry my wheel around.

3. Do you have any allergies? (smoke, pets, fibers, perfume, etc.)
No allergies that I know of. I think I am a little lactose intolerant but it hasn't been bad enough to stop me indulging in ice creams and chocolates! I am also intolerant off seafood shells (not that this intolerance will affect you in any way)

4. How long have you been knitting?
I have been knitting continually for the past 2 1/2 years. I knew how to knit long before that but was never interested in it long enough to make more than one or two things.

5. Do you have an Amazon or other online wish list?
I do have an Amazon list, but I don't remember what my user name is and so I don't keep it up-to-date. I keep another list here, which I update from time to time.

6. What's your favorite scent? (for candles, bath products etc.)
I like lavender, if it is not too strong. I also like slightly tangy fruit scents like lemon, lime, pineapple and apple. I am not fond of berry scents. I definitely do NOT like the smell of coconut.

7. Do you have a sweet tooth?
Oh yeah. I looooove dar chocolate. I don't like milk chocolate as much, though I wouldn't say no to it, but I don't like white chocolate. It just doesn't taste like chocolate to me.

8. What other crafts or Do-It-Yourself things do you like to do?
Oh, a hard one. I knit, spin and crochet (as you already know).. what else? Uhm... I used to draw and paint a little, but I haven't picked up a brush (except to paint yarn or tops) for ages now.

9. What kind of music do you like? Can your computer/stereo play MP3s? (if your buddy wants to make you a CD)
I like classical music, jazz and gospel. I have a little mp3 player and my computer plays mp3s.

10. What's your favorite color? Or--do you have a color family/season/palette you prefer? Any colors you just can't stand?
I like most colours. I don't wear oranges and yellows, but I will use oranges and yellows when knitting things that I am not wearing, but I don't normally wear yellow tones. I think it makes me look jaundiced.

11. What is your family situation? Do you have any pets?
I live alone. I woud have a dog if I could but unfortunatey it's not allowed in the terms of my rental contract. Also, I think the poor little thing will tear up my flat while I am at work.

12. What are your life dreams? (really stretching it here, I know)
To be happy and to make people around me happier.

13. What is/are your favorite yarn/s to knit with?
Right now I am enjoying knitting with my handspun. It gives me a sense of satisfaction to be abe to knit something out of yarn I spun myself. Apart from that, I do like soft soft fibres. I have some of Elann's Baby Silk which I am waiting to knit up. I also have some angora blend yarn which is waitign to be knitted into a cardigan or a shawl.

14. What fibers do you absolutely *not* like?
I don't like squeaky acrylic. I am also not fond of eyelash yarns. I will probably use boucle as a trim or for accessories like scarves, but not for entire sweaters.

15. What is/are your current knitting obsession/s?
No real obsessions. I knit whatever catches my fancy.

16. What is/are your favorite item/s to knit?
I always have at least one small and one large project going at the same time. My favourite small items right now are scarves and socks.

17. What are you knitting right now?
A pair of socks with Lana Grossa cotton blend. I have a few UFOs hanging around like a bad smell. I will get t them soon enough.

18. What do you think about ponchos?
Don't love them, dont hate them, as long as someone else is wearing them. They have never been my thing.

19. Do you prefer straight or circular needles?
Generaly, circular.

20. Bamboo, aluminum, plastic?
Depends on what I am knitting. I love my bamboos, but I only have one set of bamboo 3mm dpns and one pair of 3.5mm bamboo circulars. The rest are all strights. I hope to one day replace all my metal dpns with bamboo ones. One step at a time, eh?

21. Are you a sock knitter?
Definitely! I currently have more sock yarn than I can poke a stick at.

22. How did you learn to knit?
I was taught by my Grandad's sister when I was about 5. I have never forgotten. Hoever, it did take me another 20 oor so years to get obsessed!

23. How old is your oldest UFO?
Didn't your mum ever teach you it's rude to ask such things?! ;)

24. What is your favorite animated character or a favorite animal/bird?
I love most animals - roasted, steamed, fried.. mmm.. oh, you didn't mean it that way? I think I love monkeys most. I love the show Monkey World on the Animal Planet channel. It's a bit of a misnomer since most of them are apes, but they are funny to watch all the same.

25. What is your favorite holiday?
That I have been to, or that I dream of?
I loved my holiday to Adelaide. It was a short holiday a few years ago when Chris decided to surprise me. It was a quiet holiday with two nights at the Adelaide Hills in a secluded cottage.
I dream to one day spend a few months (or a year) living in houses in Italy and France for weeks at each location, experiencing the food and culture of the place.

26. Is there anything that you collect?
Not really.. does yarn, needles andpatterns count?

27. What knitting magazine subscriptions do you have?
At the moment I am only subscribing to IK
28. Any books out there you are dying to get your hands on?
Dying? I wouldn't put it that way.. want really badly, perhaps. the list is on my destahing blog
29. Any patterns you have been coveting, but haven't bought for one reason or another??
Can't think of any off the top of my head.
Phew! That was a heck of a lot of questions. I am worn out now!
Wednesday, September 14, 2005
Thank you Secret Pals!
I received presents from both my secret pals yesterday. I haven't taken piccies of the presents yet, but I will. I just realised that I have not taken piccies of any of the presents from my AKSP. I hope you are not feeling unappreciated, AKSP. I really love all your presents. I have just been really slack with the camera.
New socks
I started a pair of socks last night using some Lana Grossa cotton blend yarn. I will have to take a picture of it to show everyone soon. I want to make sure it is not the same as ay sock pattern that's already published as I intend to submit it to the next issue of SCKnitting.
Monday, September 12, 2005
Making up for lost time... (LOOOONG post)
Dyeing
Ok first up, here are some pictures of some wool top I have dyed
This one is blue and grey with splashes of pink. I am not sure what it will look like spun up. It will probably be best to spin it and then ply it with a solid coloured strand. What do you think? There is about 100g of this.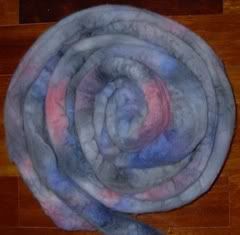 This one was dyed with some pink and brown. It really is much prettier than the picture. I am going through a pink phase, I think. I deliberately left in bits of white so that the final yarn spun from in will be in soft pinks and browns, which will, I hope, blend rather nicely.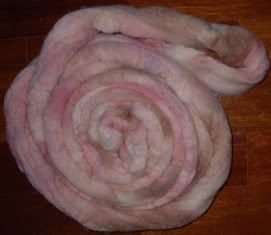 I saw this one and immediately thought "Stormy weather"! There are splashes of blues, greys and black. It really looks like stormy clouds. This, like the two other lts above, weigh in at about 100g.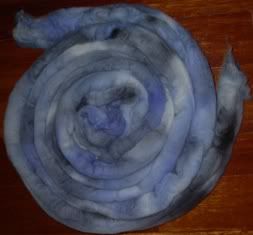 I dyed this lot of Optim. there is about 100g of the roll on the left and about 150g of the roll on the right. The ne on the right, when laid out, looks like cat. I fact it looks like Chris' family cat, Kitty. The one on the right is similar apart from pink splashes. As Chris pointed out, and rightfully so too, cats are usually not pink.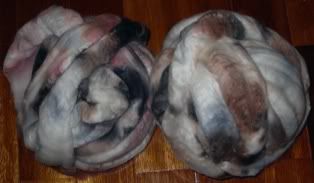 I thnk I have dyed more than I can spin up. Hmm.. I feel a sale coming on. Anyone interested? I'm looking at uhm.. say AU$10 per 100g??
Hmmm.. what else have I be up to?
Spinning
I spun up some pink/brown silk caps a couple of weeks ago: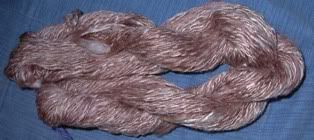 It's actually dyed I the same colours as the pink/brown wool top above. I love the sheen in it. I spun that from about 4 silk caps. The skein is about 50m in total length. I am aiming to dye and spin enugh of this to make a top for myself. Maybe the
Picovoli
?
Knitting
I wish I had more time to knit. It really sucks when life in general gets in the way of knitting. I managed to knit this froms ome hand sun. I forgot to take a picture of the yarn in the skein, oops. Anyway, I was inspired by Emy's assymetrical scarf and decided to design my own. Here it is - my "Vee Scarf":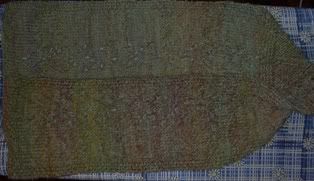 Can you see the 'vee's? No? Okay, here they are again: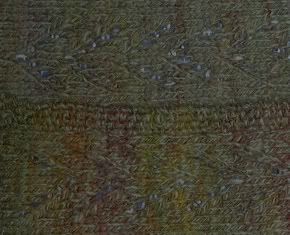 I also completed my multidirectional scarf by Iris Schreier. I joined the yahoo group for this scarf and got the pattern for free. I decided to knit it in some handpainted yarn hat I had spun and then dyed at the dyeing workshop @ Virginia Farm Woolworks about a month ago. It didn't turn out as nicely as I had hoped it would, but oh well, lessons learnt I guess. I am plannign to knit another one. I thnk it's a great way to use up my odds and ends. I can knit a triangle in each yarn!
Okay, those of you who are here to read about the fibre-y stuff only can stop reading now. Cynthia, if you don't want to read about food, go away ;)
Dinner @ Daniel's
Who would have thought that a dinner could be so fraught with errors?
My dad was keen on going there for diner, so go we did. Chris, my parents and I got there at about 830pm on a Friday night and the place was quiet as church funeral.
Chris was in charge of ordering the wine, and he decided on a bottle of Peter Lehmann's 8 Songs Shiraz. when it arrived, we watched in horror as the cork crumbled around the corkscrew. Uh oh. The lady (whom we thought may have been the manager) attempted to rescue it. To her credit, she did come back to tell Chris that she thought it may have been tainted, and she poured a little for him to taste. He confirmed it and she came back with a second bottle. The wine was really nice and I am glad that it was worth the trouble.
Mum and dad decided to share their entree of garlic prawns. Chris and I ordered the same. It was a much larger serve than I expected it to be. There were 8 large-ish prawns in each serve. Mm.. I could do with some of that right about now...
By the time we ad eaten our entrees we were looking forward to our mains. As it turns out the waitress who had taken our orders had gotten almost every order wrong. How hard could it be? there were only four of us. Mum got potatoes with her meal, though she had said that she did not want potatoes and would rather have more greens. That wasn't too bad, since Chris did not get any otatoes with his meal, though he was meant to. So he took mum's potatoes. He had ordered soft shell cras with his meal which he did not get, but he got 3 or 4 crab claws instead. I ordered the rib-eye on the bone, but they had gotten it wrong and trid to serve me a sirloin instead. So that went back to the kitchen. Dad's porterhouse which was meant to be medium rare came closer to being medium well. So that went back to the kitchen too. by that time we were making jokes about the kitchen spitting in our meals since we were sending stuff back. No, no, they were just jokes. I am sure restaurants don't do that. Please, let me rest in my delusions! When the correct meals finally arrived, they were quite good. I think I will go back again to give them a chance to redeem temselves in my books. Maybe we just got a bad waitress on that night. After all, the waitress who took our orders seemed to be the only grumpy one, and she did get all the orders wrong.
We ordered desserts, which were quick. the tiramisu was quite good - drenched in alcohol, just the way I like it. I found the sticky date pudding a little too sweet.
When we got the bill at the end of the night, Chris realised that they had not added the desserts to the bill. He drew their attention to it. The lady who we thought was the manager came and said that dessert was on the house, since we had gone through all that trouble with our meal. I thought that was nice of them. Another reason to go back.
A week of planned meals
It is normal, when my parents are in town, for us to have planned almost every meal in advance. This visit was no different.
We had brunch at Beaches @ Balmoral beach on the weekend. I ordered the poached egg served on a blini with smoked salmon piled above it. I must try making it at home as it was a beautiful meal, and I am convinced it is healthy too!
Have you ever been to the Victoria Room at Darlinghurst? We went there after brunch and had high tea. It's the first time I have experienced high tea like this. To put this into perspective, let me explain the Malaysian concept of high tea. In Malaysia, and to my knowledge, Singapore as well, high tea is a meal between lunch and dinner. It's a full meal, not half a meal, but a FULL MEAL . At hotels it is usually a buffet style meal. The spread almost always includes savouries and sweets of both the local and international variety. What we had at the Victoria room was quite different. The food came in three tiered plates and consisted of delicate little sandwiches, little sweet cakes and biscuits and scones. It was an interesting experience. The ambience in the Victoria Room was unusual. It is so dark it took my eyes a little while to get used to their surroundings. The candles were placed in red glass containers giving the ambient light a red glow. If you have never been, I would recommed that you try it at least once. It is diferent, if nothing else.
We had dinner at Nanna and Granddad's last Thursday. They had put on a lovely seafood feast. At first sight it didn't look like a lot of food for so many people (there were ten of us), but my oh my, was I wrong! Not only was there enough food, there was more than enough. Nanna, after that evening, has very kindly printed and bound a copy of the Cooper cookbook for me. It's a compilation of family recipes. One recipe I'd love to try from the cookbook is the one for boiled dressing. I love it on potato salad.