SP6 gift
There were giggles at work today over the "dead red furry animal" I had received in the post. You see, the envelope was torn and a bit of my gift could be seen. My SP6 had sent me some beautiful red silk/wool top and a set of 4mm Clover dpns. Thank you SP6. You made me so happy. No pictures, yet, folks.. maybe later.
Long overdue pictures
Remember the lace cotton tee I was test knitting for
Figheadh
? Well, I finished knitting it ages ago and have worn it a few times now. I wore it again today and took some fresh pictures for Jen. Here's the back...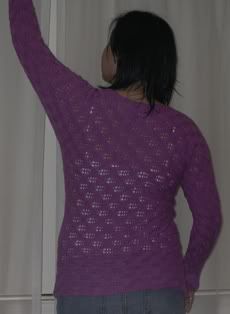 and here's the front...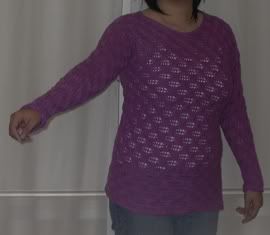 Okay, no rude comments about my access handles. Yes, you there, stop snickering.
Oh, did I mention hat Jen has re-named it? It is now called Marsaili. It's a really easy pattern with minimal seaming. If you are like me, and hate seaming, this is the pattern for you. Jen's got it up at
Figheadh
now, if you want to go take a look. Hey, why am I promoting
Figheadh
, when I am not getting paid? Hmm.. must be cos I really like this top.
One Skein Wonder - real pictures
Front...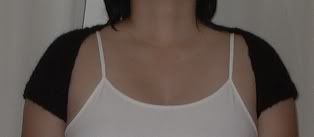 Back...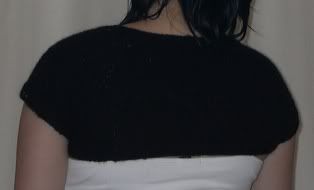 Do you think it will look nice made a little looser and with longer sleeves?
New project
Have you seen
this
? I love it! I don't know whether I have mentionedthat my cousin is getting married next October. She chose the
"I do"
from Knitty, but I am not sure it will be all that flattering, unless the wearer is tall and slim. I am thinking the bolero from elann will work so much better. What do you think? I think she has her heart set on a strapless dresss with a large princess skirt. Do you think the bolero in white will work?
I have some angora yarn that I am thinking of using for it. Maybe I will make one for me first.