AKSP gift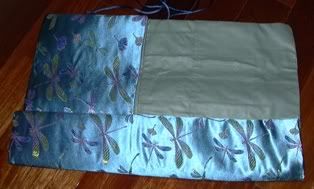 Okay, this isn't all that was sent this time, but was most certainly the most impressive. She made this with her own two hands (and a sewing machine, of course). Wow. I am inspired now. I'll have to gow hip out some of that fabric I have lying around. I want a small needle roll just for my sock needles.
Toy Seal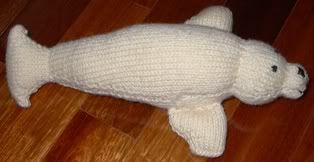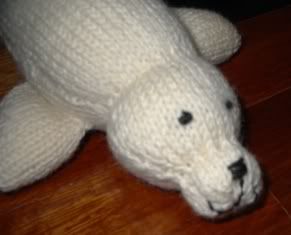 My AKSP also sent me a book -
World of knitted toys by Kath Dalmeny
. The pictures are all so cute, I want to make them all. Okay, so my seal doesn't really look like a seal. I don't know whether it is my fault or that of the book, but I think it is more likel to be my fault. I was meant to use mohair, but I just used a smooth wool yarn. Not quite the same, huh. Thanks, AKSP ! I am going to have so much fun making all the animals in the book!
Kiri Shaw finished


And it's a scarf!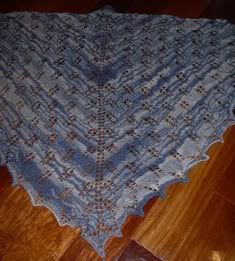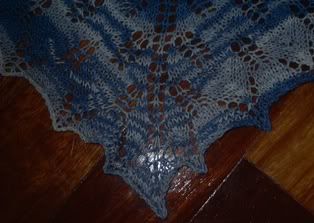 I only had one skein of KnitPicks Shimmer in Morning Mist, so it's smaller than it is meant to be. It makes a nice large neck scarf, but definitely not a shawl unless I am the size of a nine-year-old, which I am not. Remember how I complained about the colours pooling? well, here it is in all its 'pooled glory'. It looks better now that it is blocked and I don't mind the pooling as much. It's also funny, I think, how the pooling is
almost
symetrical across the left and right.
Un-named socks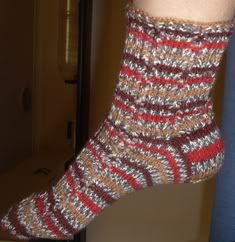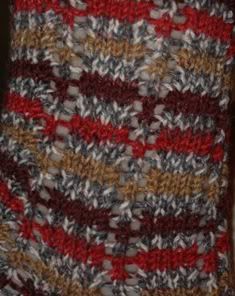 These are the socks I am thinking of submitting to the next issue of Souther Cross Knitting. Before I do that, I need to know whether you have seen the same pattern else where. I made it up on my own. However, there are so many sock pattern out there, I just want to be sure nobody is going to think I copied their pattern. It's a very simple pattern, great for beginners. I plan on two versions, one with garter stitch at the top (like the one in this picture) and one with ribbing at the top (not knitted yet).
I like how the colours dip where the eyelets are. Dippety-dip socks?
Multidirectional scarf completed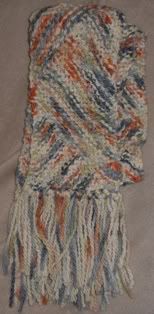 Here it is, fringed and washed.
I knitted it from a large skein of handspun and hand-dyed merino. I don't like the colours, but it is so warm and so soft. Anyway, winter's nearly over, so I'll put it away. Maybe I will find a new home for it, or maybe I will like it a little more when next winter comes around.