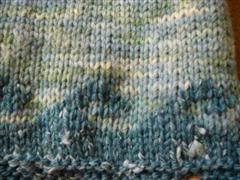 Thank you for the wave pattern suggestions.
Kat's
comments and email came in first and one of her suggestions was very close to what I wanted.
This is the result. It's not bad, I think, and I hope it's what the lady who is getting this pair of pants wants. I am so glad I checked the original design with her before I did both legs. What a lot of unpicking that would have been! I hope that I won't need to unpick again, but I would rather get it right than have a customer "just settle", you know. I want my customers to be happy. That, and I am really enjoying working on these pants. I love a challenge! I am glad I can still afford to think this way (about making customers happy). I don't depend on my knitting and dyeing to put food on the table, and I am more than happy to spend some extra time making sure that my customers get what they want. It will be a sad sad day, I think, when I have to start thinking that it is no longer worth my time to reknit or re-embroider something because I need the time to knit more stuff to sell.
While we are on the topic of knitted pants, I think
this site
is worth a mention. Not all their products are to my taste but I think the detail in the embroidery is really something. That is A LOT of attention for a child's outfit! I know what I said before about keeping my customers happy, but you know, I'm not sure how much I would have to charge for a pair of pants to make this level of detail in embroidery worth my while!
Before I forget, this Sunday is
Sally's
birthday. Go over and say happy birthday. While you're at it, have a read of some of her posts. She has much to say about many things aside from knitting (local politics and the like), most of which are worth a read.
Alex seems to be sleeping better these days. It's not great, but it's better, and there is light at the end of the tunnel. For example, last night, he went to bed at about 7pm, woke up briefly at 9.45 and 2.30 for feeds, and then was awake again at about 4.30 ready to play. At about 630, he went back to bed for another 2 hours. This may sound like an awful night to most of you, but you know what? It's much better than most of the nights we've had in the past month or two! For that, we're grateful. It means, we think, that he's getting better.
He still loves his food. So far, he's had rice cereal, apples, pears, potatoes, sweet potatoes, carrots, mushy rice and sweetpeas. I'd like to try banana and pumpkin next, but only because I am out of ideas. I was also thinking of mushy sweet corn (maize to those of you who know it as that). I want to try feeding him pumpkin because he is likely to get that at daycare when I start allowing them to provide his meals. I need to know whether he is intolerant of it. Apparently many babies are, but they grow out of it in the first year or two of their lives.
Well, I should get moving on the seafoam pantaloonies. I'd like to have them finished as soon as possible and posted out by next week.
Labels: knitted pants, life