Or at least that's what it feels like. I don't seem to find time to post any more and every time I do, I'm just playing catch up.
Our home is finally more or less illness-free. Alex is a lot better as am I. As for Chris, well, I think he was coming down with the same bug but it never did hit him as hard as it did Alex and me.
On Friday, we started feeding Alex with some rice cereal. Oh man! I would never have guessed that he would enjoy it so much. He took to it like a duck to water and we very quickly moved on to larger meals and now two meals a day.
We took a video of him having his first taste of "real" food
How funny is that? He complained every time we took the spoon away and tried to grab the spoon and shove it into his mouth. The carers at daycare are already making jokes about how he is going to eat us out of house and home by the time he is a teenager.
Today he threw a tantrum at daycare. Why? Because he finished his bowl of rice cereal and wanted more. Oh my little piggy.. what a greedy little man! I cooked him some pears yesterday and he totally rejected them. Tonight's meal was a little better in that he did eat some. he did grimace, but at least he ate some. maybe tomorrow will be better.
On the weekend we bought him a high chair. I was very pleased as we got a fantastic discount, paying only about 30% of the marked price. It was floor stock and is missing a manual, but who cares! It's a high chair. How difficult can it be to use?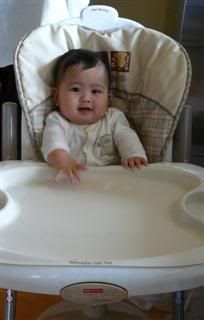 Alex has taken to banging on the tray. Perhaps he is saying, "Service please!"
Oh, and do you remember the purple and brown long pants I knitted? They were for a swap with Mel who owns
SpunkiMunki
This is one of the blankies I got in the swap (she sent me two)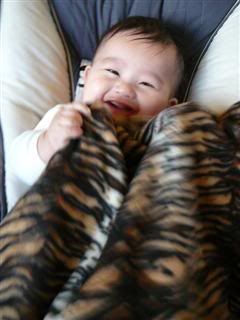 And on the topic of long pants, here's the latest creation - I called them Superstar pantaloonies: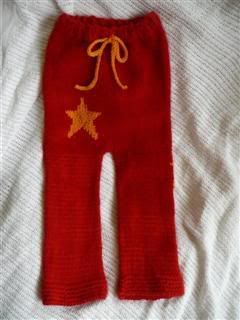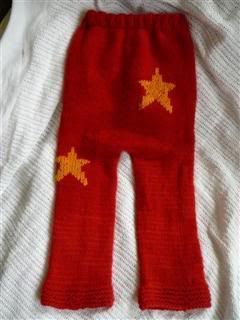 They are up for sale at
Ozebaby
as Alex is still a year or two away from being able to fit into them.
And on the needles right now I have a Baby Surprise Jacket (Elizabeth Zimmerman's pattern). I got really confused when I was reading the instructions and stalled. Luckily,
Sally
came to my rescue. I am now about an inch and a bit into it. I think it's going to come out well. Photos when I have a little more to show. Right now it just looks like grey garter stitch - which is pretty much what it is!
Labels: Alex, knitted pants, life, Ozebaby