Wednesday, November 29, 2006
Lizard Ridge completed and my first mittens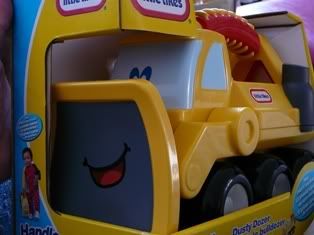 This is the little bulldozer we bought for our
Starlight Foundation child
. I think it's so cute.. and I am still tempted to go out and buy one for Bubba. Maybe next year...I should not get ahead of myself.
I should haveposted about these mittens a long time ago, but they were meant to be a surprise for
Cynthia
. Now that she has received them, and they fit, I can post pictures!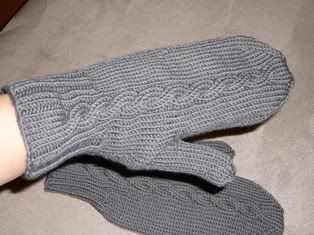 I am very proud of them as they are my first pair of knitted mittens. Sure, I have knitted fingerless ones before and baby sixed ones without thumbs, but this is my first pair of adult sized mittens.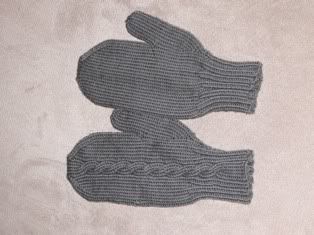 Right front and left palm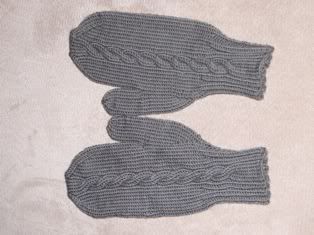 Front of both mittens
In fact, I am so pleased with that pair that I have knitted another pair! This pair is going on a journey to the UK. A friend moved tehre earlier this month and she's not accustomed to the cold yet. I am hoping that these will keep her warm. They are knitted from this yarn which is one strand of merino and one strand of alpaca.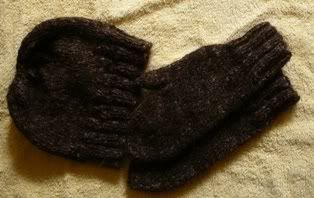 Oh and I finally got the edging on Lizard Ridge done. I washed it and lay it out to dry. I didn't bother pinning it down as I was hoping tokeep some of those alien landscape-looking bumps. I was only partially successful, though. Most of the bumps are gone. The yarn softened in the washing and now the bumps flattened out. It's still not what I'd call 'soft' but it certainly is soft enough to be a nice lap blanket. I don't think Bubba is going to be allowed to drag it through the house. The blanket will not survive that sort of treatment!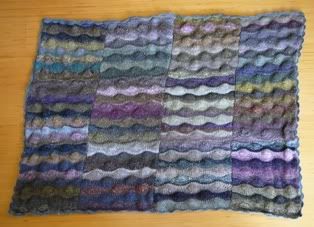 That's all for this mid-week post... May be able to post more on teh weekend, but it's getting late here.
Saturday, November 18, 2006
Christmas shopping - all done!
We went out today to Chatswood to get the Christmas shopping done. I am getting bigger by the day,a dn I figurd that if we didn't at least get most of it done now, we won't get it done by Christmas. It was already starting to get busy at the shops, and Christmas is over a month away!
We've managed to buy almost all our presents - only a couple more to go. I am so thrilled. It did take us the better part of four hours, but at least it's done now. Folks, if you haven't started your Christmas shopping, start now!
My company is collecting presents for for the Starlight Foundation kids Christmas party. We have a Christmas tree in the lobby of the building and instead of Christmas ornaments, it is decorated with cardboard stars. Each star has the age group and gender of a child with suggested gifts. The idea is that we'd take a star (or two or three) and buy an appropriate present to match that star. Chris and I got a star for a toddler and we found a really cute toy at Toys R Us today. It's a bulldozer with a handle so the todller canpush it around by the handle. It is brightly coloured and I almost wanted to buy one for my Bubba. Maybe next year, when Bubba will be old enough to play with it.
Spinning progress
Now that school's out for the year, I can get on with knitting and spinning. Remember that red top that I was spinning for
Hui Leng
? I finally got started on it.
I decided that spinning the two shades of red will produce a really obvious barber-pole yarna nd I wasn't sure that was what I wanted. I have 75g of each colour, so I split them. I am spinning 1 bobbin with 50g fire-engine red and 25g rust red and the other bobbin will have 50g of rust red and 25g of fire engine red. I didn't bother carding the fibers todegther, so they are not evenly blended. Instead, what I did was split the top lengthwise and pre-draft them together. I then spun the top by olding the two colours together, getting a somewhat random swirl on the singles. I hope that once it is plied, the result will be more muted, with the colours showing through without being as 'out there' as the barber-pole I would have otherwise gotten.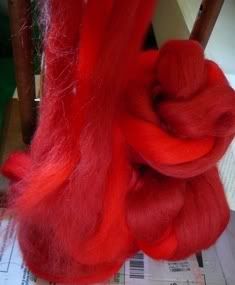 This shows the true colours of the fibre.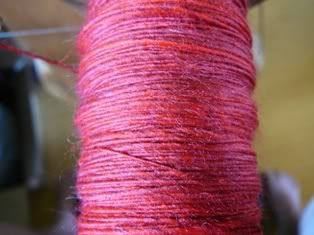 For some reason, the rusty red isn't quite coming through in the photos. I don't know why it looks purplish - it isn't at all!
I also finished spinning the alpaca and wool yarn that I was previously working on.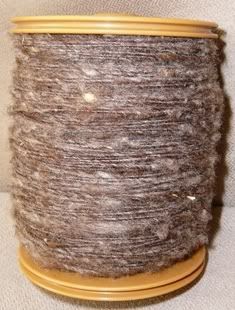 +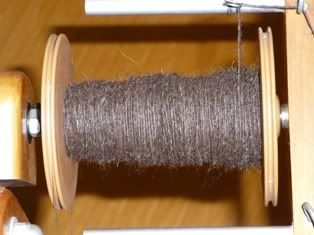 =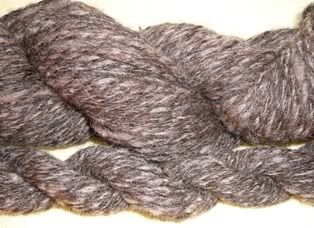 A closer look at the resulting yarn...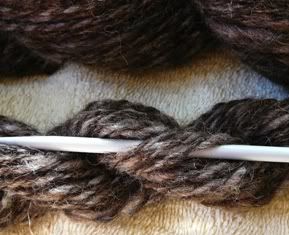 I am not very happy with it. It did come out softer than I thought it would. The alpaca didn;t feel very soft or smooth when it was a carded roving, but now that it's all spun up it does feel better. However, there are quite a number of short fibres that were carded in together with the longer ones. Had I prepared it myself, I would probably not have included those fibres in the mix. After I washed the yarn, it started shedding - a lot. It was like the yarn was molting! The sink was full of short fibres hich I had to fish out to prevent them from clogging up the drain.Yuck. Once it was dry, I thought it would behave better, but it shed again when I was winding it into a ball. In fact, it shed somuch that I had to vaccum around the area where I was winding and use a clothes brush on myself! Perhaps I made the mistake of not spinning it tighter, but I was afraid that if it was too tightly spun, it would end up feeling like rope - coarse and hard. Ugh.. any ideas as to what I cando to stop this shedding? Will it stop shedding on its own after a while?
When I felt the yarn after spinning, it felt soft enough to knit into a hooded scarf for my father-in-law. However,now that I know it sheds so badly, maybe a hooded scarf is not the right thing for it.Maybe it needs to be made into something thatw ill be felted - like felted mittens, for example?? Two or three Christmases ago, I made my father-in-law (who was then just "Chris' dad" to me) a hooded scarf toreplace his old tatty one. He wears a hooded scarf (and is probably the only person I know who does) all through winter and through much of spring and autumn as well. He wears his scarf over a collared shirt so it doesn't have to be supersoft, but has to be reasonably hardwearing and warm. Now that scarf I gave him is also starting to look a little oldandworn,a nd I thought a new hooded scarf may be a good Christmas present. I guess I just have to start thinking fo another yarn to make it from as this shedding alpaca/wool one is just going to make the poor man sneeze!
Baby knitting
Remember the
Pakucho cotton I was using
? I had so much left over that I ended up making ababy bolero out of it. The pattern is from the One Skein book by Leigh Radford. The original pattern was knitted in one colour, but I had enough of the yarn in both colours to knit stripes, so why not?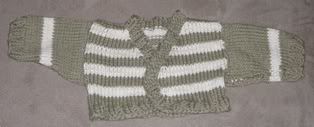 I still have enough left for another hat, so maybe that is what I will make, or perhaps a pair of baby mittens.
Oh and remember
the bonnet I started
? It didn't workout. It's large enough to fit a toddler, so it's going into the charity bag I think. For my colleague's baby, I decided to make the hat from the
Pea Pod pattern
instead.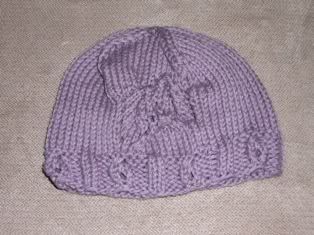 It is approximately newborn size and should fit the baby now.
I also made a teeny tiny version of the hat just in case Bubba has a small head. There isn't much of a chance of that happening since both Chris and I have big heads. Anyway.. just in case, you know.. and if itd oesn't fit, it can go into the charity bag.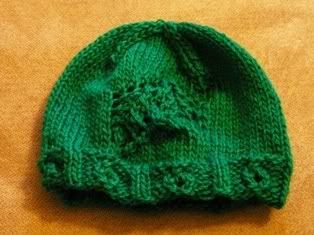 Saturday, November 11, 2006
Knitting with embroidery floss
At least that is what this stuff feels like. It's Pakucho cotton, and while it is soft and has a really nice hand, it's also really splitty. It's like knitting with embroidery floss!
So far I have made a hat and a pair of booties for Bubba.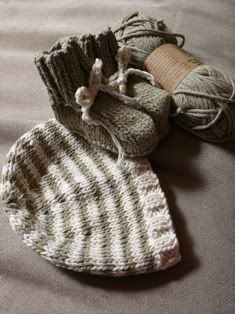 The pattern is from the 2006 Fall Knit It magazine which was given to me by Mary, my secret pal (who is nolonger 'secret', I suppose) from a couple of exchanges back. If I were to knit this again, I'd probably change the instructions and try to make it as seamless as possible. I really dislike the back seams, particularly on teh hat. The upside is that the stripes line up and I didn't get that nasty jog that you often get when knitting in the round.
I had bought 1 skein of white and 2 skeins of green and had plenty left over. I have now started a baby Bolero from teh One Skein book by Leigh Radford. It is the second time I am making it. I had already made one a few months ago, but I think a green and white one will be rather cute. The plan is to have Bubba wear this when he comes home from the hospital. Since it's all cotton, it shouldn't be too hot, although the cotton is rather thick.
I have also been spinning. I went to spinning class last Thursday and now I can't stop. On the wheel I havespun some carded merino sliver in a natural brown colour to go with some heathered brown alpaca that I am yet tospin up. I have about 100g of each. I am not sure what I will do with the resulting yarn yet. I am currently just trying to spin tuff up to move it from teh spinnign stash to the knitting stash. It's like moving deck chairson the Titanic - really doesn't do anything to the total size of my stash..
I also got some red top in two different shades of red to spin up into yarn for
Hui Leng
to knit into a beanie for her daughter. She wanted 'chilli red' but I couldn't find 'chilli' so I bought two shades of red which I intend to spin together and hope it will be close to the 'chilli' she wanted.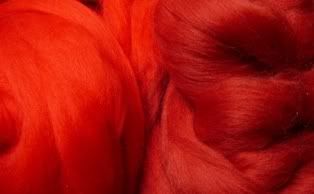 Thursday, November 09, 2006
A baby is born!
Not mine, of course.
My colleague's wife has just given birth to a baby girl on Monday. I'd show you a picture, except she's not my baby and I'm not sure her parents would take too kindly to my showing her picture here.
Since she's the only baby girl I know, I thought I'd take this opportunity to make something girly. I have started a little bonnet for her using Cleckheaton wool/cotton in a lavender colour.

The pattern is simple, but involves sewing up the back seams.I decided to 'be smart' and use short rows to shape it instead. I'll let you know whether it worked once I am done. Right now, I'm not feeling sosmart as the ribbed lace pattern is making short rows a pain, and maybe sewing would have been easier!
I have also washed the baby placket jumper. It's for MY baby, of course. I am not sure I'd be dedicating that much knitting time to someone else's baby at this stage. Selfish, I know, but hey, I only have another 2 months or so before MY baby shows his little face - gosh, I suere hope it's a "he" since almost all the stuff we've got are in boy colours.
Anyway.. the baby placket jumper from LMKG...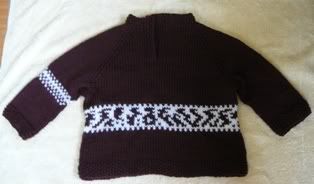 This is definitely a wonky jumper. See the placket? It's off to oneside. My excuse is that it makes the jumper unique.. uhm, special. The truth is that I miscalculated. Ooops... not that the baby will complain.. he'll still be too young to object, I hope.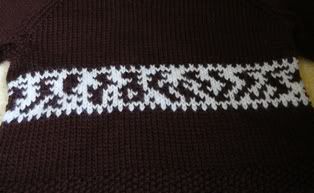 Sunday, November 05, 2006
Another baby project
I started another baby project - just could not resist.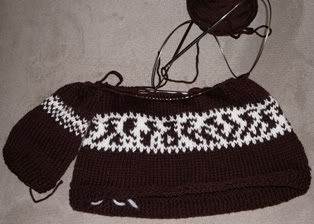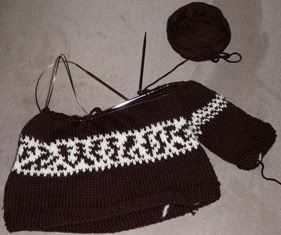 It's the
child's placket neck sweater
from Last Minute Knitted Gifts. I wanted something a little different, so I added a fair isle-ish bit to the body of the sweater and also to one sleeve. Chris calls it 'wonky' now because it only has the pattern on one sleeve! But I like it. Things DON'T have to be symmetrical!
I am a lot further along on the sweater than the pictures show. I took the pictures last night, but I have been working on it since then. I'll probably finish it by tonight and I'll post another picture then.
Baby present
Adelina, a friend from uni came by yesterday and gave us this: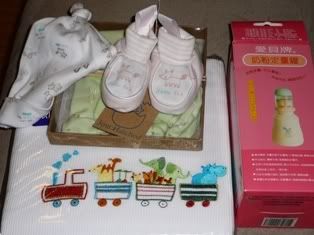 I think it's absolutely darling. We haven't got many newborn sized things. Babies just grow so fast, you know. Ithink we have all of about 2 or 3 rompers in that teeny tiny size and I'll be buying a few Bonds singlets. I think that's all we are going to need. The hats and booties will be useful to keep the little head and feet warm. I also love the blanket with the embroidered train-load of animals. It's our first cot blanket, and I love it!
The pink box contains a formula/powdered milk container. It has a a little measuring device on one end for measuring out exact quantities of formula, which means I won't need to carry around a spoon. I hope to not have to use it in the first siz months as I plan to breastfeed, but I guess I can plan, but who knwos how it will all pan out. Thanks for everything, Adelina!
Friday, November 03, 2006
Not much knitting
Uni is finally over. Thank goodness. I am SOrelieved. i can have my life back now, whatever is left of it anyway, before baby comes along in January. I have been told I should say goodbye to my life as I know it when the baby arrives.
I haven't done much knitting over the past week. This is all I have to show for my efforts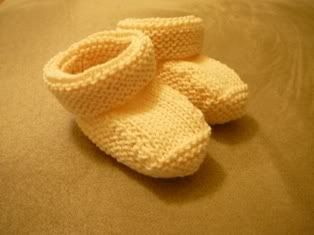 I call them my "plain vanilla booties". The pattern is a modified version of one of the patterns from a Patons booklet I bought on Ebay many moons ago for about $2. It's possibly the best $2 I have ever spent. I have made numerous pairs of booties from that book. The instructions are simple and easy to follow. The sole and the cuff are knitted in garter stitch, witha stocking stitch instep. Simple and effective.I just need to work out what colour ribbons to use for the ties, and whether to keep them for myself or to give them to one of my colleagues who is expecting a baby soon.