At least that is what this stuff feels like. It's Pakucho cotton, and while it is soft and has a really nice hand, it's also really splitty. It's like knitting with embroidery floss!
So far I have made a hat and a pair of booties for Bubba.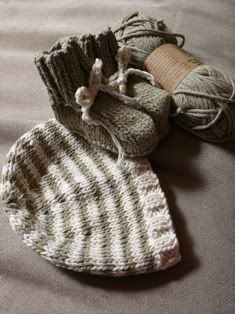 The pattern is from the 2006 Fall Knit It magazine which was given to me by Mary, my secret pal (who is nolonger 'secret', I suppose) from a couple of exchanges back. If I were to knit this again, I'd probably change the instructions and try to make it as seamless as possible. I really dislike the back seams, particularly on teh hat. The upside is that the stripes line up and I didn't get that nasty jog that you often get when knitting in the round.
I had bought 1 skein of white and 2 skeins of green and had plenty left over. I have now started a baby Bolero from teh One Skein book by Leigh Radford. It is the second time I am making it. I had already made one a few months ago, but I think a green and white one will be rather cute. The plan is to have Bubba wear this when he comes home from the hospital. Since it's all cotton, it shouldn't be too hot, although the cotton is rather thick.
I have also been spinning. I went to spinning class last Thursday and now I can't stop. On the wheel I havespun some carded merino sliver in a natural brown colour to go with some heathered brown alpaca that I am yet tospin up. I have about 100g of each. I am not sure what I will do with the resulting yarn yet. I am currently just trying to spin tuff up to move it from teh spinnign stash to the knitting stash. It's like moving deck chairson the Titanic - really doesn't do anything to the total size of my stash..
I also got some red top in two different shades of red to spin up into yarn for
Hui Leng
to knit into a beanie for her daughter. She wanted 'chilli red' but I couldn't find 'chilli' so I bought two shades of red which I intend to spin together and hope it will be close to the 'chilli' she wanted.