Not mine, of course.
My colleague's wife has just given birth to a baby girl on Monday. I'd show you a picture, except she's not my baby and I'm not sure her parents would take too kindly to my showing her picture here.
Since she's the only baby girl I know, I thought I'd take this opportunity to make something girly. I have started a little bonnet for her using Cleckheaton wool/cotton in a lavender colour.

The pattern is simple, but involves sewing up the back seams.I decided to 'be smart' and use short rows to shape it instead. I'll let you know whether it worked once I am done. Right now, I'm not feeling sosmart as the ribbed lace pattern is making short rows a pain, and maybe sewing would have been easier!
I have also washed the baby placket jumper. It's for MY baby, of course. I am not sure I'd be dedicating that much knitting time to someone else's baby at this stage. Selfish, I know, but hey, I only have another 2 months or so before MY baby shows his little face - gosh, I suere hope it's a "he" since almost all the stuff we've got are in boy colours.
Anyway.. the baby placket jumper from LMKG...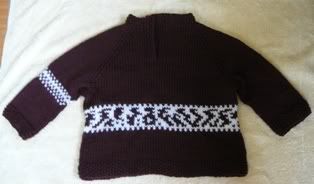 This is definitely a wonky jumper. See the placket? It's off to oneside. My excuse is that it makes the jumper unique.. uhm, special. The truth is that I miscalculated. Ooops... not that the baby will complain.. he'll still be too young to object, I hope.