I have listed the newly painted roving
here
. Go take a look. I don't know which I love most. Every time I dye roving, I feel like I want to keep it all for myself, but I just can;t spin and knit fast enough!
Lizard Ridge progress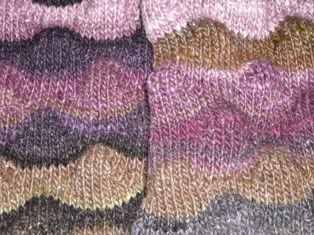 This is a picture of my two latest blocks - bumps and all. It's a little washed out by the flash. The colours are richer than the pictures let on.
One down, three to go
I handed in one of my assignments tonight, and there are another 3 to be finished before the end of the semester. Am I going to be able to finish it all?