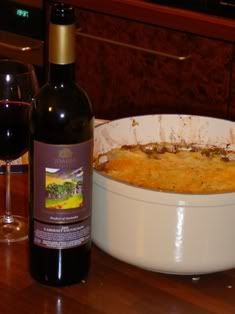 This baby has been making me crave "meat". I don't mean meat, I mean "meat" - like the stuff that is of dubious origin.. you know, like in meat pies, sausage rolls, etc.
For dinner tonight, we had cottage pie. I used beef mince, hoping that I can fool the baby into believing that I have eaten "meat" although I did use real meat. It turned out quite well. I thought I'd share the recipe with you.
1 large onion - diced
4 large cloves of garlic - roughly chopped
2 medium carrots - diced
1 zucchini - diced
10 medium mushrooms - sliced
1 kilo minced beef
about 8 medium potatoes
1 1/2 teaspoon dried basil
1 teaspoon dried oregano
1 teaspoon paprika
3 tablespoon Worchestershire sauce
2 tablespoon tomato sauce
2 tablespoon HP sauce
1 cup red wine (optional)
1 cup chicken or beef stock
Salt and pepper
2 tablespoon corn or wheat flour
2 tablespoons butter
1/2 cup cheese (cheddar or parmesan)
In a large oven proof pot or casserole dish, sweat the onions and garlic for a few minutes. Increase heat. Add carrots and mushrooms. Saute. Add meat and cook till browned. Add zucchini. Sprinkle flour over the meat mixture and stir to combine. This will help the sauce thicken when cooking. Add stock, wine, sauces, herbs and paprika. Season to taste with salt and pepper. Lower heat slightly. Cover pan and simmer for about 30 minutes.
Boil potatoes in some salted water. When cooked, drain and peel. Mash potatoes and butter.
Take the pot off the heat and spoon potatoes over the top of meat mixture and sprinkle cheese on top. Bake in 180 decree oven uncovered until top is lightly browned.
Enjoy! I know I did, and so did Chris. He had wine with his dinner. I settled for water.. I guess it isn't too bad.. only another 3 1/2 months till I am allowed all those forbidden foods and beverages again!
Lizard Ridge
The Silk Garden that
Cynthia
sent me arrived today. Look at all the colours!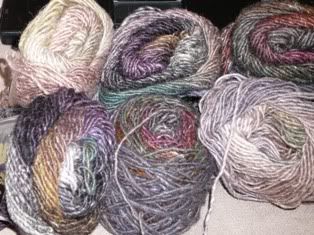 I could not resist, and so I have started a block of the lizard ridge pattern. I found that the yarn that I was using did not have enough variation in it for the pattern, even if I had knitted from the inside and outside of the skein as suggested. I decided to use two skeins instead. Here's the result.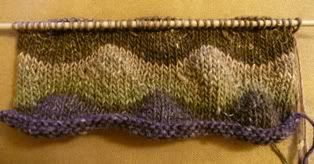 It's not looking too bad, even if I do say so myself. Since it's knitted on 5mm needles, it's going quickly - definitely more quickly than those wool/cotton squares I am making. I am aiming for a square a week so that I am done by the time baby arrives. I am only planning on making 9-12 squares depending on how large the squares are and how bored I am after a while. The original
pattern
says to make 24. I think that would drive memad. Besides, baby won't need such a huge blankie, will he?