It is done!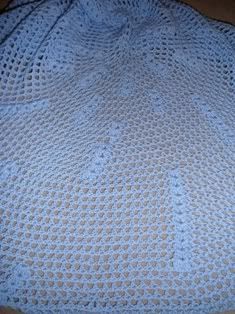 The blanket measures about 38 inches in diameter. I am not sure that it is going to be big enough, but I cam always add a few more rounds once Bubba outgrows it. I gave it a good wash in warm water and dishwashing detergent and most of the smell seems to have come off. I said
most
- not all! I hope another wash will do the trick.
I have also been knitting blanket squares in the hope that I may soon have enough for a blanket for Bubba. I have heard that I will never really have enough blankets for Bubba and I am hoping to have at least 3 or 4 completed by the time he is born.
The squares are knit out of some Cleckheaton wool/cotton I had lying around. I have about 3 balls each of blue and cream and about 12 (I think) of the lilac. I figured that if I mixed the three colurs together, it won't be too girly. I have eight squares now, and I am hoping to get up to 25 - maybe 20 if I get lazy.
The next baby blanket I am planning is based on the
Lizard Ridge
pattern on
Knitty
. When
Cynthia
went to
Webs
, I got her to buy me some Noro Silk Garden for the blanket. In return, I sent her some Online Kashmerino in claret (which is oh so smooth and soft) and a skein of hand-dyed sock yarn from my
store
. I can't wait to receive the yarn and start!
All in all it's been a rather productive weekend for me - some baking, some knitting, some spinning. Unfortunately there was no studying.. but that will come soon, I am sure. I have a couple of assignments due in the next few weeks - UGH!