She's been washed and lightly blocked. This is the result: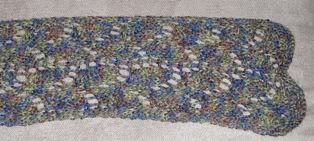 I am thinking that I may need to block it again, a bit more severely this time. Perhaps I should steam it lightly with a warm iron to help the lace open up a little. What do you think?
Right now she measures about 66 inches, which is a good length for my pal. I am so relieved as I only had one skein of that yarn and was afraid it would not be long enough. However, we all know now, one skein of SWTC Bamboo yarn can be knitted into 66 inches of Liesel.
Want to see how much yarn I have left?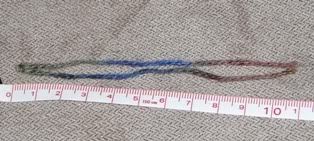 Yup, that's all that's leftover!
Talk about cutting it close. I nearly thought I wouldn't make it, but I did. Only just. Phew...