Chris arrived this morning, and I have never before been sopleased to meet someone at the airport. It sounds like he had a great time in Paris. I almost wish I went now.. almost!
Look what he brought home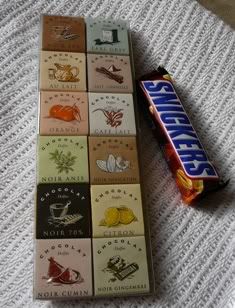 He was under strict instructions not to go nuts with the shopping. I love the chocolates! Oh, how could Inot love chocolates, especially now that I am not allowed coffee.
The Snickers bar came from the plane. It was rather amusingto see a foreign snickers bar. It doesn't quite look the same as what we get here. Look...


But it certainly tasted the same!
His brother and sister-in-law also sent him home with some presents. This is for Bubba...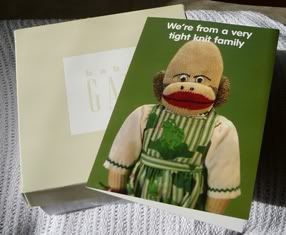 Don't you just love the card? I think it's really funny. The box contained some Baby Gap rompers and socks.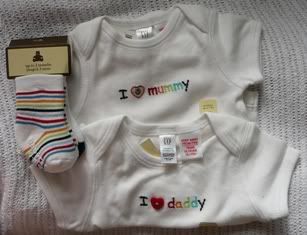 I love how the "I love Mummy" romper is a smaller size than the "I love Daddy" one. I think that means that Bubba gets to love ME first.
Baby Sweater in Progress
Remember how I was contemplating a baby sweater in sock yarn? Well, I decided to give it a try.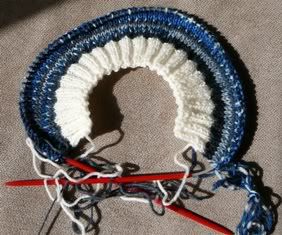 It is going quicker than I thought it would. I have completed the front. Here, look!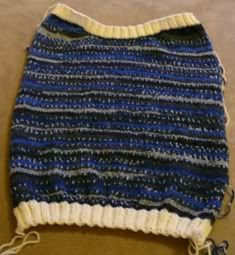 I decided not to shape the two sides separately by cutting and re-joining the yarn. Instead, I used short rows and hope that it turns out ok. It looks ok now, but I don't knot whether it will work until Bubba is wearing it. I am now about half way up the back and hope to finish that by the end of the weekend.
My plan is to just use press studs on the shoulders to close them. That way it should make dressing Bubba easier.. I hope.