I received my copy of
Yarn magazine
last week, and I was pleased to see that two of my patterns had indeed made it into the winter issue, which is their third issue. It's only a young magazine. I know it's not quite the same as getting a pattern into Interweave knits or one of the more internationally known magazines, but I am proud nonetheless.
I feel like a proud mum already. :)
This is Tabby Paws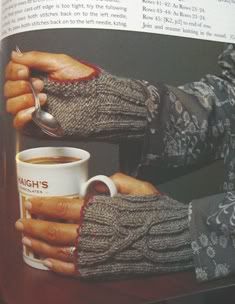 I designed it quite some time ago. It's a simple cabled design knitted so that the left and right paws are mirrorimages of one another. There is a reverse stockinette palm part so that the knit side is facing inwards and is smoother to wear.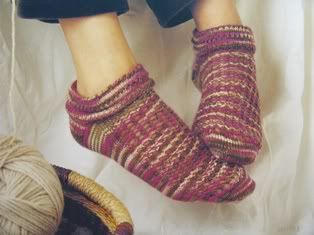 Boudoir Bootie, was not named by me. Actually, neither was Tabby paws. They were both named by the folks at Yarn. I love this sock as it's and easy lace design. I started out by calling them "short-short socks". When my mother-in-law wants to emphasise something, she says it twice. So we're not just late, but late-late, or not just sweet but sweet-sweet, and hence the short-short socks. I like one of the alternative names suggested in the magazine, which is "cleavage sock" as it really does show off some toe cleavage!
I don't think my phot of the picture in the magazine does a good job of showing the lace pattern on the sock. It's a simple lace that looks like a net with square holes. The picture in the magazine is much better!