Well, yes she is.
I took a picture before she was sewn up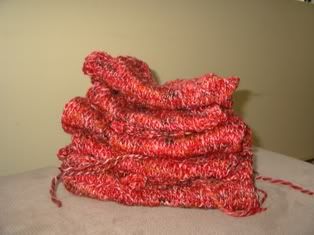 However, I am nto sure I'll fit into her and have actually not tried her on. Does shelook deceptively small, or is she really small? I knitted to gauge and exactly as the instructions said. I swear! There will be a picture (either on her on or with me, depending on whether I fit) by the next post. I will have to send her back to Sarah this week.
She was a joy to knit. The yarn worked up quickly and the pattern was easy to follow. My only gripe about it is the changing of yarns. the instructions said that I have to knit from two skeins so that the colours blend better. Yeah, fair enough... but it's just a hassle. Every few rows I have to twist the two skeins around each other to undo the twisted mess that I had gotten myself into because I was twisting the yarns in the same direction at the end of every two rows to keep them uniform.
I like the way the colours came out. It
was
is lively and vibrant. I have, however, decided that this shade of red is not 'me'. I prefer the cooler reds, the ones that have been mixed with a little (or a lot of) blue.
A party?
Well, not quite. We had some friends over for lunch yesterday. It was great! I had not seen them for ages and it was just really ncie to catch up. These are the same friends who sent us that
'mystery' gift, cake and flowers at our wedding
. I never did show what we were sent, did I? Well, the flowers are gone now, and teh cake is eaten. BUT, I do have the cake toppers (which we discovered AFTER the cake was eaten.Oh well. We kept them anyway.
We also received a framed picture (is that what you would call it, Adelina?) and some stickers for our scrap book (which I am not sure we'll ever make) and a bride and groom candle. It's all lovely and just thinking about their kindness makes me want to cry.
Okay, so back to yesterday. 8 of them came for lunch, and 3 stayed for dinner. It was a simple affair. I did most of the preparation and Chris did most of the cooking. I really enjoyed having them here. It was the first time we are entertaining anyone outside our immediate families here. It's nice. It makes it feel like home, you know. It also feels like a 'grown-up' thing to do - to 'entertain' and not just have Domino's Pizza deliver half a dozen assorted pizzas. Oh dear.. I am what?
Growing up
??
Colourswap Green
I reveived my package from
Judy
last week, and I have been slack. I should have posted earlier, especially since it's such a great package. It's like she knows me! Look, look!
This
unwrapped to reveal this
I love hand cream! Okay, so I have handcream coming out my ears as I keep receiving it, but one can never have too much, I think. I keep a tube by my bedside, one in the bathroom, one in my hand bag, one in my knitting bag and one lying around, just in case you know. However, I can never find that last tube when I need it.. as it's just lying around, it just gets pushed aside and into corners.
The green and white yarn is pretty.. I don't know what to make with it yet, but I think I'll love the green tweedy look it will have. I am not sure what I will do with the shell beads. theya re little flat ones, and I am thinking of just stringing them through some fingering weight yarn and knitting a scarf witht hat on the edge.
I am also busy dreaming up a couple of small items with
the yarn I got from my secret pal
.There are so many good ideas fromone skein. I am dying to cast on something with the linen yarn, but I can't decide what!
La Premiere is SO not worth it...
We thought we'd have a day to ourselves today. We went to
Chequers
at Mandarin Centre, Chatswood for some yum cha ("dim sum" to all you non Aussies). It was pretty good food, if a little on teh expensive side. It felt like they used a lot of MSG, though, as I was really thirsty afterwards. Oh well. It's not often that you can go out for Chinese food and not have it MSG loaded anyway. Or maybe I am just sensitive.
Chris company had given him two
La Premiere
tickets. We thought we'd use it to watch X-Men 3 since we both wanted to watch it and it's probably a movie with enough nice effects to see on a big screen in comfort. So off we went to La Premiere at Chatswood Westfield which was just around the corner. I had heard good things about La Premiere (or was that
Gold Class
? perhaps it was Gold Class...)
We got in for the 12.15 session. We went to the lounge where we were shown where we could get our popcorn and drinks, and order our food if we so wished. We got our pop corn and drinks and headed upto teh cinema. I was looking forward to reclining chairs and being able to put my feet up. Yeah right.. I was sooo mistaken. The seats were pretty comfortable, don't get me wrong. However, there was no reclining and no putting up of feet. Oh well... It's not like it's false advertisement or anything, as they don't say that they offer either of these comforts. I must have just made a mistake about the cinema that actually offered these. It, to me, just felt like
silver screen
with a free soft drink and free pop corn.
All that aside, the movie was good. I enjoyed it very much, though there were a lot of parts where I did not remember from teh comics of my childhood.
Oh... talking about childhood, guess what I found!
They just opened at Westfield Chatswood. Okay, I am under no illusion that they sell the world's best cookies or anything like that. It's just one of those things that brings back childhood memories. It makes me nostalgic. I used to be able to smell the Famous Amos of my childhood from over 100 metres away. I still remember the poster they had which said "Smells are free". This new Famous Amos, strangely enough, does not have a scent. Nope, no smell of fresh chocolate chip cookies. What is going on here? Not even a faint whiff of the cookies. Huh? I bough to some anyway. They taste similar. Perhaps a little sweeter than I am used to, but everything seems sweeter here in Australia.
I was disappointed that they didn't sell the icecream sandwich that I remember. It is, for those of you who don't know it, two large cookies sandwiching a big block of icecream. Oh so yummy and oh so sinful!